Letters to the Editor
My refreshed start
Professionally Speaking welcomes letters and articles on topics of interest to teachers. We reserve the right to edit letters for length and to conform to our publication style. To be considered for publication, letters must provide the writer's daytime phone number and registration number. Address letters to: The Editor, Professionally Speaking at ps@oct.ca or 101 Bloor St. W., Toronto, ON M5S 0A1.
I want to thank Professionally Speaking for the consultation with professionals for my "Fresh Start" contest winnings (September 2013). While my hair and makeup were done, I wanted to say thank you for not making this a "makeover." I looked the way I generally do in real life (minus a little extra makeup). My friends all commented that while the picture looked good, it still did, in fact, look like me. Many even laughed and told me that just like in real life I was wearing a dress!
Most of all, thanks for the consultation with the nutritionist who was super helpful. I never would have gone to see a nutritionist on my own with my busy teaching schedule. As a result of the advice I received, my constant headaches are diminishing every day! I have also been able to decrease my blood pressure medication because I have lost some weight. Part of teaching is learning when to take care of yourself. This is something the Fresh Start contest enabled me to do.
—Sheri Sparling, OCT, teaches Grade 5 at Winston Churchill PS in the Lambton Kent DSB.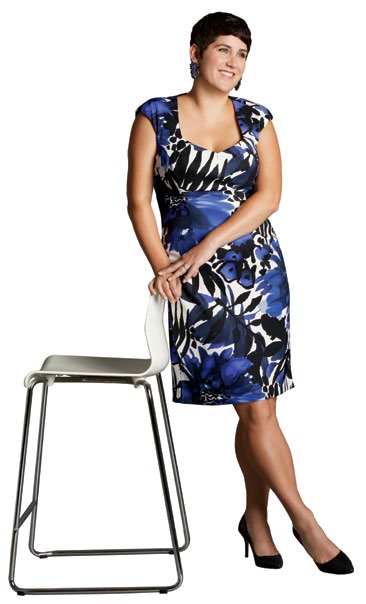 Does the shoe fit?
I would like to call your attention to the photographs on pages 40, 41 and 45 of the September 2013 issue. These are supposed to represent the professional attire for teachers. How misguided. In the three pictures the women are wearing stiletto-style shoes. Not only is this type of footwear not commonly worn by teachers during their workday, it is also a sexist attire. I don't think that as role models for the women of the future we should be encouraging this unhealthy footwear in the workplace. Also, compare this style with the comfortable attire of the male teacher on page 44. The stylist who suggested these outfits is not responsible. She may not know that teachers hardly ever sit down during their workday. The editor of the official magazine of the Ontario College Teachers should know better.
—Liliana Wolosin-Ozersky, OCT, teaches at Ursula Franklin Academy in the Toronto DSB.
ECE story misses the mark
John Hoffman's article "Building Together" (September 2013) does a disservice to Ontario's kindergarten teachers. Hoffman asks if OCTs and ECEs are interchangeable. He argues that this interchangeability should be the norm. If teachers and ECEs are truly interchangeable and if roles are ill-defined, consider their wage differences and you'll reach a disquieting conclusion: OCTs are not necessary in the early years.
It is the differences in preparation, skill sets and experience among certified teachers and early childhood educators that brings strength to the team. Teachers do not "tend" to have higher educational levels; it is a professional requirement. For ECEs, the experience working with young children through their stages of development, while implementing play-based learning, is a foundational and critical element in the success of the program.
Acknowledging our distinctions results in a team founded in mutual respect. ECEs and OCTs are delivering on the promise of rich, engaging programs where children emerge eager to learn more and contribute co-operatively.
—Mark McCormick, OCT, kindergarten teacher at St. Bernard School, Ottawa CSB
A source of pride
All of us at The Bishop Strachan School (BSS) shared a strong sense of pride reading your article by Trish Snyder on our Junior School teacher Harriet Simand (September 2013). Her ability to inspire and engage students in the most creative ways, and her belief that it's never too early for children to become agents of change, endear her to our whole community. The article reminded us just how powerful an inquiry-based, student-centred approach can be.
—Deryn Lavell, BSS Head of School, Toronto.
No longer left out
Thank you for the article "Not Always Right" (September 2013). Being left-handed, I read it with interest and recall instances from my school experience where I would have appreciated more accommodation.
As a kindergartener, I was confused by the difficulty I had during cutting activities. I naturally wanted to use my left hand, but the scissors only cut when used with the right. To my chagrin, it took me twice as long as my classmates to complete cutting activities. To this day, I still use my right hand to cut with scissors or pruning shears.
Later in my school life, I would dread the arrival of the 3-Pitch season not because I wasn't athletic or didn't enjoy sports, but because there were never any right-handed gloves. Using no baseball glove meant the outfield was the only option, but a poor one at that, since bare-handed catches were few and far between.
In classrooms that strive to be more inclusive and supportive of student needs, the provision of resources to support our minority of left-handers cannot be overlooked. Thank you for this timely reminder.
—Stefanie Lemke, OCT, teaches Grade 4/5 at Grand Avenue PS in the DSB of Niagara.
From left field
As being one of those left-handed learners, I would not thank you for the left-handed items mentioned. I had left-handed scissors in elementary school and I curse them to this day. I am curious about the left-handed ruler since I can't figure out that one at all. I have sat at left-handed desks at university and my ink-stained hands just showed I was working hard and had proof of it. The world is right-handed and that is that.
—Virginia McMillan, OCT, is a happy left-hander and an occasional teacher in the Kawartha Pine Ridge DSB.
Accommodating young lefties
I've been teaching for many years and I'm sad to say that it took your article "Not Always Right" (September 2013) to open my eyes to the possibility that I'm not doing enough for these students. After reading the article, I did some research on the Internet and found first-hand accounts of the biases, both mental and physical, that left-handed people encounter. I will be sharing my findings at an upcoming staff meeting and looking into the possibility of getting the tools that our left-handed students need to make their lives easier. It's all very interesting, and the way to make a classroom more inclusive is to accommodate and accept that we all do things differently. This is a good lesson to teach the class as well. I intend to discuss with my students why some of their classmates have learning tools that look a bit different. Thank you for bringing this topic to my attention. I learned that it's not enough to give a student a pair of left-handed scissors. There is so much more to consider.
—Julie Palmese, OCT, teaches at Blessed Sacrament Catholic ES in Hamilton.
Counselling as a calling
I read "A World of Guidance" (September 2013) with such mixed, raw emotion. As a teacher/counsellor, now retired, but always wanting to be a guidance counsellor, I worked hard to remain as a school counsellor throughout my career. Although I received outstanding references from every principal I worked with, I was always faced with declining enrolments and offers of full-time teaching with little or no counselling, which I consistently declined. I stated and knew that my skills were as a counsellor, and I strove to be a member of the school system contributing in my area of expertise.
This was not to be my career path. I was bumped from school to school for the majority of my career; me, always seeking to remain in guidance; the system constantly offering me teaching positions. I resigned; was rehired as a counsellor; took a leave of absence. And finally, after 26 years of attempts to make a difference as a counsellor, I retired.
I read this article wondering if Mercedes Carli will be able to keep her job as a counsellor. Was I just hired at the wrong time? Will she be more fortunate than I was? I truly wish you well, Mercedes. You are making a phenomenal difference to your students.
—Beverly Swerling, OCT, semi-retired secondary guidance counsellor, Toronto DSB
Winners Circle!
Congratulations!
Judy Onzuka, OCT, who teaches at Yorkview Public School in Toronto, wins a prize pack for the handy left-handed tips she shared (see Tools of the Trade, September 2013). She keeps plenty of leftie scissors available, provides a wireless mouse and an electric pencil sharpener for in-class use, and hangs a poster of famous lefties in her class.
Krushnalal Acharya, OCT, is the lucky winner of a signed copy of Joseph Boyden's latest book, The Orenda, (see Final Exam, September 2013) because he liked us on Facebook.