Passport to Learning
OCTs are packing up their lesson plans and heading overseas, gaining more than just professional experience along the way.
By Lisa Van De Geyn
Photos: Markian Lozowchuk; Props & Wardrobe: Ingrie Williams; Hair & Makeup: Buffy Shields, Judy Inc. / This Page: Jacket & Top, Banana Republic; Pants, Joe Fresh; Shoes, Town Shoes / Cover: Jacket, American Eagle; T-shirt, Joe Fresh; Pants & Bracelet, Banana Republic; Shoes, Town Shoes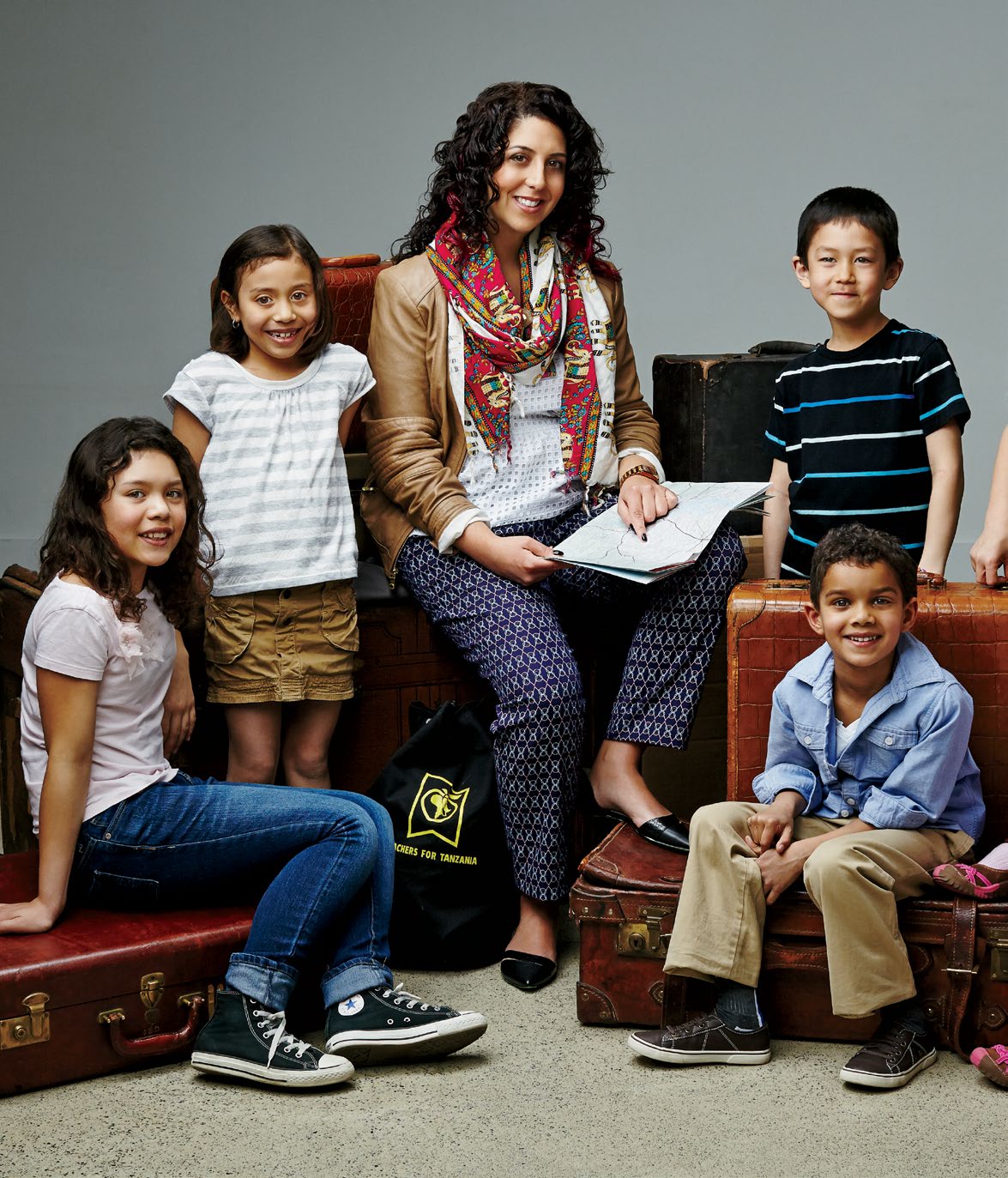 If you can picture a tiny, overcrowded classroom with concrete floors, bare walls, scratched-up chalkboards and windows without glass or screens, then you have a clear idea of where Elisa Graceffa, OCT, last taught. Needless to say, this unadorned and austere classroom — bustling with eager students in threadbare uniforms — is far from her hometown of Belle River, Ont. It's in the Singida region of Tanzania, where the young, enthusiastic teacher recently spent her days working with 40 to 80 students (ages five to 14) and her nights tutoring, delivering supplies, feeding the hungry and repairing buildings.
Singida is both literally and figuratively thousands of kilometres away from the University of Windsor faculty of education where Graceffa did her practicum in 2012. Those classrooms were palatial in comparison. Staples that we expect to have access to in Canadian schools — such as desks, chairs, Smart Boards, notebooks, iPads, art supplies, dictionaries, even electricity and running water — are considered luxuries for those teaching in the developing world.
There are plenty of reasons to work in another country. Some teachers hope to learn a new language and explore a new culture. Others may look beyond Ontario's borders when they can't find the job of their dreams — or any job in their field — on home soil.
The number of teachers who have picked up their passports and packed up their degrees to work abroad has increased over the last several years. The teaching profession in Ontario — and in many of our other provinces — is oversaturated. According to Professionally Speaking's 2013 Transition to Teaching report, the rate of unemployed first-year teachers is growing at a rapid pace — it now stands at 38 per cent, compared with a mere seven per cent just five years ago. Fewer than 30 per cent of teachers find the job they want in the year after they graduate and more than half end up moving out of province (or out of the country) for teaching positions. In fact, 17 per cent of College members who received a full-time post in the field this school year found it outside of Ontario. Survey respondents told us that the United Kingdom, South Korea and China are among the countries most "highly represented" with OCTs.
Taking a job overseas with a reputable organization can benefit both the teachers and the schools abroad that are in need of eager, skilled educators. Through these programs, students in foreign countries get access to well-trained teachers, and teachers have a chance to acquire invaluable professional and personal experience.
Learning experience
Graceffa's time overseas mirrors that of fellow University of Windsor alum, Kimberly Cox, OCT, who was recently teaching in Tanzania gaining practical skills over a two-week period. Cox hadn't been teaching a specific grade prior to leaving for East Africa — instead, she was on the emergency supply list for the Greater Essex County DSB, and volunteering in kindergarten to Grade 8 classrooms. Since she hadn't yet secured a steady position, Cox found inspiration in a world-travelling teacher of hers from high school and decided to join Teachers for Tanzania — a group of University of Windsor education students, faculty and alumni who volunteer at the rundown schools in Singida to teach students from the Kititimo Center for Orphaned and Vulnerable Children. They offer much-needed relief work in the region and it was an opportunity she couldn't turn down. "The value these students see in education is refreshing," says Cox.
"Days at the schools begin with an overwhelming amount of excitement from the students," echoes Graceffa. "It was clear that optimism radiated through the classrooms, and not only did the students want to learn, so did the teachers and the community around them. There are no words to express the experience that I had during my stay," she says. "I discovered more about myself — both personally and professionally — than I would have in a lifetime, if I hadn't gone abroad."
Teaching on the fly
Thanks to her time in Tanzania, Graceffa feels she can handle almost any situation that comes her way. What's her secret? Being prepared for everything. "I was forced to improvise, especially with the resources that were available," she says. "This experience took me out of my comfort zone but, at the same time, allowed me to engage in difficult situations that were extraordinary."
After dealing with daily surprises and challenges in Singida, Cox also came away with a new-found respect for two key attributes within the profession — flexibility and adaptability. Lessons that seem perfect on paper don't always work, says Cox, who understands the value of being able to change plans on the go. "As teachers, we need to be able to connect with our students and adapt our ideas to give them the best opportunity for success," she says.
Andréanne Grenon-Savard, OCT, a Grade 3 teacher who was at École Georges P. Vanier in Windsor for three years, has also learned a few lessons and gained some perspective by working overseas. Grenon-Savard applied for a job exchange last year — in search of adventure. Since then, she's been teaching in Guadeloupe and has had the opportunity to reflect on the teaching methods used at home. "I appreciate the school rhythm here, which is more relaxed than in Ontario. After six weeks of teaching in Guadeloupe, you get one or two weeks off. Plus, I don't work on Wednesdays — I dedicate that day to my course planning, grading or preparing material for my students," she says. "Because of this change in pace, I'm much more rested and effective when it comes to my professional obligations."
Breaking barriers
One of the major issues for a Canadian teacher working overseas is the language barrier. While Graceffa says teachers who go to Singida are offered a few basic Swahili classes, figuring out how to communicate creatively adds to their skillset and makes for impressive notes on their resumé. "I had to rethink and rephrase my own teachings. Non-verbal gestures, repetition and songs were the effective approach for my lessons," says Graceffa, who says she also took advantage of everyday objects to get her points across. "I used the outdoors as much as possible. It pushed me to be more creative than I ever imagined possible."
Cox, too, used every means to connect with her students. For example, she made regular use of rocks, sticks and leaves and used sand as notebooks. She even had her students solve math equations by using a soccer ball with numbers written on it. As with Graceffa, Cox found that language barriers offered a chance to learn something new. "Being in a classroom with students who speak limited English, and speaking very little Swahili myself, I developed a sense of empathy for ELL [English language learners] who were likely feeling similar to how I felt at times — confused and unable to articulate my questions," Cox admits.
Canadian content
Of course, not all cities and schools overseas are alike. Josh Rose, OCT, graduated in the spring of 2013 and for his first year of teaching he travelled almost 12,000 kilometres to Chongqing, in China, when he accepted a position with Maple Leaf Educational Systems. (This offshore program blends Chinese curriculum with British Columbia's curriculum, and is filled with and run by Canadian teachers and administrators.) Rose learned about Maple Leaf when a representative visited his faculty of education. "After graduating, I would have loved to have found a job close to home," says Rose. However, the number of teaching positions was limited — especially for a drama teacher. That's when the idea of teaching in China became a serious possibility. "I'm young and was fortunate enough that moving to another country wasn't just an option but something I was actually interested in doing."
In many ways, his transition to working in China wasn't that difficult. Rose says that one of the most attractive things about moving to Chongqing (a city that has a similar population to Canada) was that the Maple Leaf school board exists under BC's Ministry of Education. "Classrooms over here are very similar to the ones you'd find in Ontario," he says, since it's the board's goal to create a Canadian experience throughout the high school. "I teach Canadian content — this means that I teach our curriculum, all while constantly experiencing and learning new things."
Although Rose gets to keep up with the curriculum back home, he doesn't take it for granted that he's halfway around the world, working and living in a very different culture. "I love the fact that every day is an adventure. Some days aren't great adventures — I've already had a few bouts of food poisoning while travelling — but it's always an adventure," says Rose. "As the superintendent of our board once said, 'China is a constant sensory overload — there are always sounds, sights and smells. They aren't always great but they're always interesting.'"
Homeward bound?
Rose is enjoying his work with the Chongqing's high school students so much that he's signed on for the next school year. After that, he'll decide whether he wants to renew his contract. "Ideally, I'd like to return to southwestern Ontario," he says. "I am a product of the Ontario school system and I did my practicum there, so that's what I'm familiar with. Plus it's where my family and friends are, so Ontario will always be home."
For Rose, the benefits of working overseas outweigh the challenges. "When teaching internationally, you have to deal with varying degrees of culture shock — it's easy to get overwhelmed, but if you can remember that you're there for the students, you'll enjoy what you do." He adds, "Having a good relationship with the children and your colleagues will get you through the occasional frustration that comes with living abroad — it will help you appreciate the experience for what it is — one amazing adventure."
Gaining Global Experience
Your professional association can help you find the right teaching opportunity outside of Ontario.
Elementary Teachers' Federation of Ontario (ETFO): Take part in Project Overseas (bit.ly/1mwX3Ut), a Canadian Teachers' Federation (CTF) program in which candidates co-tutor workshops for teachers in a developed or developing country. Participants volunteer three to five weeks during the summer and travel to Jamaica, Barbados, Trinidad, Saint Vincent, Dominica, Sierra Leone, Liberia or Uganda. ETFO sponsors 14 participants, while CTF and the affiliated federations cover all expenses.
Ontario English Catholic Teachers Association (OECTA): Apply to Project Overseas (bit.ly/1mwX3Ut, please see ETFO item for more information) or trade places with an Australian Catholic school teacher for a year. The Canadian Education Exchange Foundation runs this exchange program (bit.ly/Prm0ma), an Australian adventure that has been designed especially for Catholic teachers who are employed and paid by their school board while they work abroad.
Ontario Principals' Council (OPC): Principals, vice-principals and other supervisors can experience a leadership exchange with colleagues in Australia, when they sign up for the OPC's Leading Educators Around the Planet (LEAP) program (bit.ly/1j5JCqM). Members also have access to the International School Leadership program (bit.ly/1pYzJOB) offered by Education Leadership Canada (a division of the OPC), that provides online courses and certification, as well
as global job opportunities.
Resources for Jet-setting Teachers
Looking to expand your horizons by teaching abroad? These trusted organizations will point you in the right direction: