Reviews
Your guide to recently released books, CDs and other teaching resources.
For additional reviews of French-language resources, visit pourparlerprofession.oeeo.ca. With the exception of some classroom sets, items reviewed are available on loan from the Margaret Wilson Library at the College. Contact us at 416-961-8800 (toll-free in Ontario 1-888-534-2222), ext 679 or email library@oct.ca.
Visual literacy begins early. Long before they can read words, children are sophisticated consumers of images — decoding information, emotions, relationships and moods from even the simplest illustrations. Now, in the era of the Internet and comic books for grown-ups, visuals are no longer merely the gateway to words. In this issue, we look at some of the best new picture books and graphic novels.
Tap the Magic Tree
This colourfully illustrated book about the magic of the changing seasons has a wealth of wonderful elements for children including rhyming, counting and movement. By adding a special action (jiggling, knocking or clapping) to every page, the author takes storytelling to another level of interactivity. The annual cycle of an apple tree comes alive with great detail and child-friendly vocabulary, making this book highly instructive and a fun read.
Janet Cottreau, OCT, is an occasional elementary school teacher with the Ottawa-Carleton DSB.
Tap the Magic Tree, HarperCollins Canada, Toronto, 2013, hardcover, ISBN 978-0-06-227445-8, 36 pages, $17.99, harpercollins.ca
Dot.
Meet Dot, the surfer queen of digital media. She can tap, tweet, tag, swipe and share all day, every day — until she's all charged out. One day, her mom instructs her to go outside and play because it's time to reboot. Once outside, Dot rediscovers the jubilation of what it really means to tag, tweet, surf and talk.
Powerful and direct, this picture book delivers an important message about the dangers of social isolation caused by an increased dependence on social media. Surprisingly, the message comes from one of the members of Facebook royalty, Mark's older sister, Randi Zuckerberg. The message is simple but worth repeating: Put down your devices and go outside to play! Being among your friends is a joyful, palpable experience that the digital world can never equal.
As a read-aloud, this book is sure to delight elementary-grade children with its charming writing and vivid illustrations. The stark contrast between the inside and the outside colours reinforces the impact of light and colour on mood and emotions. It could lead to any number of discussions about Internet safety and the dangers that lurk behind the attractive facade of social media. For educators it provides food for thought as more and more schools allow portable devices into their classrooms.
Anjana Thom, OCT, teaches a Junior Communications class with the Peel DSB.
Dot., HarperCollins Canada, Toronto, 2013, hardcover, ISBN 978-0-06-228751-9, 24 pages, $21, harpercollins.ca
Mr. Flux
By Kyo Maclear, Illustrated by Matte Stephens
Love it or hate it, change is the way of the world. And, if we're going to embrace it, we need many so-called 21st-century skills, including flexibility, adaptability, risk taking, critical and divergent thinking, planning, resilience and creativity. Mr. Flux is a story about change — the change makers and the change resisters.
A self-proclaimed artist, Mr. Flux does not create art. Rather, he creates the disequilibrium that is the foundation of all art and creative living. Martin, a little boy in Mr. Flux's new neighbourhood, believes the unknown is frightening. But once he begins to taste the unknown in small, manageable bites, he realizes how much fun taking risks and creating change can be. So, with Martin's help, Mr. Flux helps residents of his new community explore the possibilities of change, from wearing a different shirt to painting a house a new colour. Mr. Flux encourages the members of his community to question the status quo and to look at events, objects and others through a different lens that eventually allows them to open their minds to new and exciting possibilities.
Loosely based on the 1960s Fluxus avant-garde art movement, the book is beautifully illustrated using gouache on paper. The story can be used for a lesson in art, perception or technique, but its most obvious connection is to the character education component within the curriculum. Mr. Flux and Martin embody characteristics that, as teachers, we try to model for our students as we attempt to instill the grit, courage and creative thinking they will need for the world of tomorrow.
Jennifer Wyatt, OCT, is a vice-principal and director of curriculum, Junior School, at The York School in Toronto.
Mr. Flux, Kids Can Press, Toronto, 2013, hardcover, ISBN 978-1-55453-781-5, 28 pages, $18.95, kidscanpress.com
The Man with the Violin
By Kathy Stinson, Illustrations by Dusan Petricic
The scene is a Metro station in Washington, DC. The characters are a little boy, his mom and a violinist. The context is a visual and aural swirl of music. Dylan, the little boy, stops to listen. Meanwhile, his mom tugs at his hand, hurrying him to catch the train.
The Man with the Violin is a lyrical story based on real-life events. The violinist was the world-renowned Joshua Bell, who one day in 2007 played in a Metro station for 45 minutes. Only a handful of people stopped to listen for a few moments. The rest rushed on. The fictional little boy draws the reader into his enchantment with the soaring notes of the music. The vocabulary is vivid with melodic words and the illustrations depict the eloquent rhythm and clear sound that only a violin can make. Working in watercolour and using smooth, swirling brush strokes, the artist depicts not only the sound of the music but also the bustle of the subway station. Dylan can hear the music in his head throughout his day, and by the end of it he makes his mother stop and really hear it, too.
In an afterword, Bell sums up the importance of music with a quote from Plato: "Music gives soul to the universe, wings to the mind, flight to the imagination and life to everything." The Man with the Violin is a rich springboard for creative learning across the curriculum, great for all age groups. It's a must for any classroom or school library.
Sarah Lynn Frost Hunter, OCT, is a Grade 3 teacher at Kindree PS in the Peel DSB.
The Man with the Violin, Annick Press, Toronto, 2013, hardcover, ISBN 978-1-55451-565-3, 28 pages, $19.95, distributed by Firefly Books, annickpress.com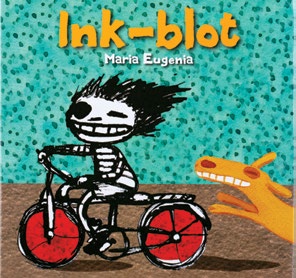 Ink-blot
By Maria Eugenia, Illustrations by Dusan Petriciby Maria Eugenia C
Young women are bombarded with media images of how they should look. They're told what their eyes, nose, mouth, skin, body size, body shape, clothes — what every inch of them — should look like. Ink-blot is an antidote to this, replacing familiar pop-culture images with positive images to promote self-acceptance and self-esteem. The central character looks more or less like an ink blot, and that's also her name. Although her school friends are drawn in tidy ink lines and appealingly coloured with watercolours, Ink-blot is unperturbed about being splotchy or looking different. She's too busy having fun!
Ink-blot is a simple, powerful book that can be used as a positive platform for a variety of discussions and activities about body image and beauty. The reading range is suited to primary grades, but late teens will find the story relatable, too.
Ink-blot will help to promote discussions of all levels of sophistication on such topics as equity, oppression and social justice, and easily integrates into the healthy living component of the health curriculum.
Cheryl Woolnough, OCT, is a Special Education teacher with the Peel DSB.
Ink-blot, Second Story Press, Toronto, 2013, hardcover, ISBN 978-1-927583-22-7, 28 pages, $15.95, distributed in Canada by UTP, secondstorypress.ca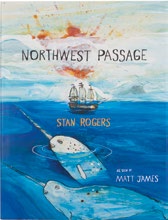 Northwest Passage
By Stan Rogers, Illustrated by Matt James
What do you get when you combine a classic Canadian folk ballad with the imagination of an award-winning Canadian painter and illustrator? A breathtaking picture book that resonates with the mystery and the grandeur of Canada's North.
Using the lyrics from Stan Rogers's iconic song, "Northwest Passage," as inspiration, Matt James depicts a unique vision of the centuries-old quest to find a passage from the Arctic Ocean to Canada's Pacific coast. With bold brush strokes, James tells a pictorial story of the frozen landscapes, animals and waterways encountered by explorers such as Mackenzie, Thompson, Kelsey and Franklin as they made their perilous forays into Canada's northern frontier.
History buffs will enjoy the details, particularly of the disastrous Franklin expedition of 1845. In addition, the author supplies a captioned gallery of Canadian explorers, a musical score of Stan Rogers's well-known song, and a list of sources for readers wishing to learn more about the brave individuals who helped shape Canada's past. Northwest Passage would be a welcome addition into any elementary classroom or library.
Michael Bellrose, OCT, is the principal at Algonquin Road PS in Sudbury.
Northwest Passage, Groundwood Books, Toronto, 2013, hardcover, ISBN 978-1-55498-153-3, 48 pages, $24.98, an imprint of House of Anansi Press, groundwoodbooks.com
The Boundless
Set on a train headed across Canada (The Boundless), this book is not only the story of a boy but also the story of our country. It tells of the building of our national railway starting on the Atlantic coast and finishing at the shores of the Pacific. Will Everett is on the train with his dad, the conductor of The Boundless, the first train to make the cross-country trip. After witnessing a murder, a killer chases Will from car to car. As he races along, he sees how each class on the train differs from the next. In one car, he finds, "Threadbare blankets and lumpy makeshift pillows are scattered everywhere. There is scarcely room to move," and then, "In the next car he slows down to cross the slippery deck of the swimming pool. The water flashes with colour, and he looks down to see all manner of exotic fish darting about."
We also learn that Will is a gifted artist, but when he expresses his desire to go to an art college in the United States, his father says he won't pay for anything so impractical.
The Boundless incorporates into its fast-paced and compelling narrative a wealth of useful social studies integrations — including the geographical differences between provinces, the disparity in class structures across Canada and how a child's desire to follow a vocation in life is often at odds with their parents' wishes. It's a wonderful novel to read with your class — an action-packed story that also covers key history and geography curriculum.
Kara Smith, OCT, is a curriculum creator and associate professor of English language arts at the Faculty of Education, University of Windsor, and is bound for Banff by train this summer.
The Boundless, HarperCollins Canada, Toronto, 2014, softcover, ISBN 978-1-44341- 026-7, 332 pages, $19.99, harpercollins.ca