On the Road to Great Nutrition
Teachers Play a Big Role in Shaping Students' Healthy Habits. Here Are Inspired Ideas From Seven OCTs.
By Kira Vermond
Photos: Susan Ashukian; Food Styling: Sugar Tart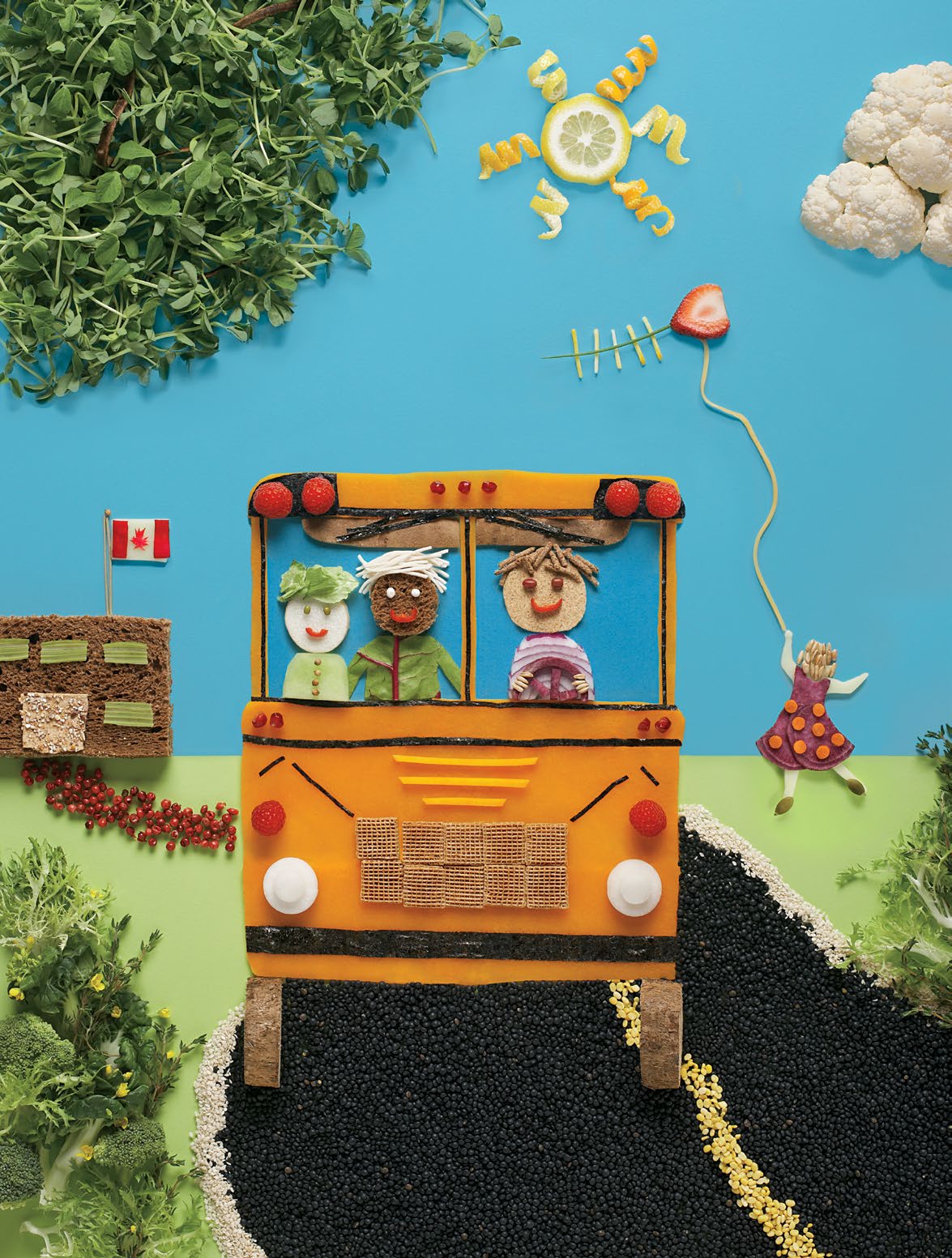 It's a sunny Sunday afternoon in June, and while the school year is winding down, Jeremy Durgana's fitness routine isn't. Heading back to his car after spending time on the treadmill at the gym, he lowers his trim frame through the door and settles in.
He hasn't always looked like this. Durgana, OCT, a Grade 5/6 teacher at Trillium Woods Public School in Richmond Hill, Ont., is the first one to pull out old "before" photos of himself from when he was a bullied, obese child who weighed 244 pounds.
In fact, he shows these photographs to his students each year to prove a point: anyone who leads an unhealthy lifestyle can trade it in for a healthy one. If he could do it, so can they. Durgana just has to convince the students the photos weren't digitally altered.
"When I'm teaching these children [about the importance of good nutrition], they believe me because I look, dress and eat like an athlete," he says. "If I'm preaching something but don't act the part, am I credible?"
He's credible and has an award to prove it. He won one of this year's provincial Teach Nutrition Awards, which recognizes creative nutrition initiatives in kindergarten to Grade 8. His winning entry — a public service announcement his students wrote, animated and edited over the course of a month — merged health education with technical and artistic skills.
"I'm a hands-on teacher who creates opportunities for kinesthetic learners," he explains. "I want to engage them."
A weighty issue
It's no secret that Canada — and much of the world — is facing a children's health crisis. According to Statistics Canada, one-third of Canadians aged five to 17 are overweight or obese. When it comes to teaching students a healthy approach to diet and exercise, innovative ideas like Durgana's are necessary.
The proliferation of sugary drinks (juice, once considered part of a healthy diet, no longer enjoys a free pass) and fatty processed foods in our diet is partially to blame, as is an increase in sedentary time spent in front of screens playing video games and watching TV. Obesity experts have also pointed to other factors that fuel the weight problem, such as bigger portion sizes at restaurants and grocery stores to getting less sleep.
The result of this misguided eating and inactivity? Ill health and poor marks.
A growing body of evidence links physical fitness to academic performance and brain health. In one Spanish study published earlier this year, researchers found that children who have advanced motor skills and cardiorespiratory capacity (in other words, their hearts are in good shape presumably because they were fitter) do better in school.
Trying to turn the tide on such a complex problem requires an equally complex solution and seismic societal change, says Dr. Katherine Morrison, associate professor in the department of pediatrics and co-director of the MAC-Obesity Research Program at McMaster University. "It's important to realize there's no simple solution to fix this. That's just not the nature of the biology or sociology of obesity," she says.
Teachers are also beginning to understand exactly how multi-faceted the child weight issue is. Morrison points out that over the past decade schools have tried numerous initiatives to stem the trend of growing waistlines, from banning vending machines and opening salad bars in school cafeterias, to launching the daily physical activity (DPA) program that gets students up and moving at least once a day.
There may be a problem with going after the issue in such a methodical yet piecemeal way, however. Children keep getting bigger and enthusiasm for some activity programs eventually wanes.
So what can teachers do to actually make a difference? Be a role model, advocate for change, Morrison advises, and learn from other teachers who work food and fitness into their students' daily lives in innovative and creative ways.
Turning the class into a salad bar
When Laura White, OCT, started work at Central Public School in downtown Guelph two years ago, she took a peek into her Grade 4/5 students' lunches to see what they were eating. While some had a good selection of fruits, vegetables and other healthy options, many consisted of prepackaged, processed food.
So she asked the class if they were interested in creating a salad bar every Friday afternoon. Each student would bring in one fruit or vegetable selection sliced up for the class to share, as well as a bowl or plate to leave at school. The children jumped on the idea, and to tie it into their curriculum they wrote a persuasive letter to their parents asking them to help out.
Two years later, what is now known as Fresh Friday is a real success. Students have tried everything from starfruit, kiwi, cucumbers and sushi, to goji berries, watermelon and dragon fruit; and in the second year parent council money paid for the plates.
"The students with the prepackaged foods — the ones I thought would really benefit from the program — were the ones eating more of the fruits and veggies. It blew my mind," says White. "I thought I would have to push it on them, but [that wasn't the case]. They were really into it."
While White may have been surprised by the children's positive reaction to their greens, Karen Le Billon, author of French Kids Eat Everything (And Yours Can Too), 2012, is less so. In her book, the Vancouver-based writer and professor chronicles her family's eating adventures while living in France for a year and explores why North American children seem so much pickier than their French counterparts. Her second book, Getting To Yum, 2014, shows parents and teachers how to put what she learned into practice. (See sidebar: Resources to Try.)
According to Le Billon, French children eat a healthier and more varied diet because the French culture, including the school system, treats eating as a skill to be learned and fostered in children. Few start out loving bitter endive, but when exposed to its taste often enough they will eventually enjoy it.
"This is [something that children] can learn, just like learning to read. In North America, we have never been taught to think like that," she says.
To create adventurous and healthy eaters, French schools require students to sit for a minimum of 30 minutes to eat, digest and learn how to enjoy the process of sharing food with friends. School-provided lunches follow a four-course structure: a vegetable starter, main dish and vegetable side, a cheese course and dessert — usually fruit. Meals are served with fresh baguette and water. (A real Paris school's menu for one day? Lentil salad with tomatoes, roast turkey with peas and carrots, brie cheese and a kiwi.) Students won't be served the same menu more than once a month.
French parents are just as invested in the cause. As Le Billon puts it, "How was your day?" was not the most common question she heard when they picked up their children. It was, "What did you eat today?"
Ultimately, though, as both White and Le Billon discovered, children don't need a huge amount of convincing to eat well. "People are amazed when children eat this stuff, but they rise to our expectations," Le Billon says.
White came to the same surprising conclusion after just a few Fridays eating alongside her students. "They were excited and happy about Fresh Fridays," she says now. "I couldn't believe that I had a dozen children racing toward me for little, organic, baby carrots. It was hilarious!"
The big fruit bowl
At South Branch Elementary School in Kemptville, Ont., principal Karen Bryan, OCT, and Special Education teacher, Jodi Taylor-Morrow, OCT, work hard to ensure all children in the rural school have access to healthy food.
For starters, there's the fruit bowl in the office that any child can reach into for a snack. Taylor-Morrow, who was also a winner of the Ontario 2014 Teach Nutrition Awards, fills the bowl, which sits on a secretary's desk. "We probably have 50 or 60 children a day coming in for fresh fruit," she says.
A local grocery store delivers 240 or more pieces of fruit each week and by Thursday the 408-student school usually runs out.
The fruit bowl is just one way South Branch incorporates healthy and adventurous eating into the students' daily lives: A few times a month, junior students prepare and deliver healthy food to younger grades. One week they head down to the kitchen to chop fruit and blend it with yogurt and milk to create fruit smoothies. On alternate weeks they make up veggie trays to deliver.
Like White, Taylor-Morrow says she's been amazed by the children's reaction to the food. "It's like you're walking in with candy! There's never a morsel left on our veggie trays," she says of the subsidized program.
Eating like a pioneer
Although Ann Vieira, OCT, from Anson Taylor Public School in Scarborough, Ont., is now a teacher-librarian, she has a long history (think 25 years) of being in the classroom.
She's seen a number of positive changes in terms of healthy nutrition and children over the years. Parents now rarely show up with bags of fast food for their children's lunches and, particularly in her urban setting with its larger immigrant population, many students arrive with diverse and healthy meals. Her school also pushes plenty of active play, while her board restricts the selling of junk food for fundraising.
Vieira says it's quite easy to blend nutrition and curriculum requirements in a way that students will connect with. For years she had her Grade 3s examine their own diets and compare them to those prepared by pioneers, as part of the pioneer unit. The students created charts, and developed advertisements to promote pioneer food, which highlighted vegetables, fruits and whole grains. At the end of the unit, the class prepared a heritage meal buffet and dug in. "Anything with food motivates students," she says. "They love it."
"Children are sharing their new knowledge and taking the intiative to cook at home."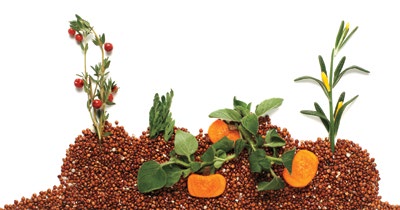 Keeping food real in high school
While numerous studies have shown that it's easier to turn children into healthy eaters if you start when they're young, there's plenty of hope for teens in high school too. Husam Chehada, OCT, a teacher at École secondaire Michel-Gratton in Windsor knows this first-hand.
As the person who teaches the elective nutrition course, in addition to the hospitality and tourism program for Grades 9 to 12, he has his students prepare meals for their peers. His nutrition students even plan, make and sell lunches in the cafeteria. Not only do they learn how to make healthy food for large groups, it teaches them how to be entrepreneurs.
Parents love these new life skills too. "Their children are sharing their new knowledge and taking the initiative to cook at home," says Chehada.
The next step? Harvesting vegetables from their new garden. In April, his class planted radishes, carrots, green peas and other veggies in the schoolyard.
"These hands-on learning activities help students develop self-confidence when it comes to food," Chehada explains.
Meanwhile, at École secondaire Gabriel-Dumont, a small French school in London, Ont., teens pile in between 7:35 a.m. and 8 a.m. three times a week to eat cereal, yogurt, fruit and homemade muffins. The school has been running the program since 2007 and 90 students — nearly half of the school's population — use it.
"Many young people have to get up very early to come to school, and they arrive without having eaten," says Carole Beauchesne, OCT, the vice-principal. "This is a good way to encourage them to start their day right, while making them more aware of healthy food choices."
It's the little things…
Programs and curriculum requirements do help shape how students think and feel about their bodies, food, activity and nutrition, but back at Trillium Woods Public School, Durgana says he's convinced that his students are just as likely to make lifestyle changes based on modelling.
That's why he'll never tell children to do 10 push-ups in gym class without getting down on the floor and doing them too. "I want to be a role model," he explains. "This is coming from the heart."
Unhealthy Numbers
Children and youth average six hours of screen time daily.
$5 million is spent every day for marketing fast food to children.
Canadian children and teens enjoy an average of only 14 minutes of moderate to vigorous physical activity after school.
Resources to Try
familykitchen.ca: Richmond Hill teacher Jeremy Durgana, OCT, uses this site to help his students find healthy recipes.
heartandstroke.on.ca: Visit the Heart and Stroke Foundation website for information about healthy nutrition and exercise, as well as recipes children love.
Who Wants Pizza? The Kids' Guide to the History, Science & Culture of Food (2010): Author Jan Thornhill helps children rethink their relationship with whole and processed food.
GettingtoYum.com: Karen Le Billon, who is working on teacher resources to help children learn to enjoy and eat a variety of food, offers free resources on this website — including printable placemats — and lists related books. Readers can sign up for a newsletter, while those who are science-minded can check out the studies referenced in the book.
The Ontario College of Teachers offers numerous AQs that incorporate concepts such as health and well-being. Visit oct.ca/members/services/FindAnAQ to find out more.