Governing Ourselves
Governing Ourselves informs members of legal and regulatory matters affecting the profession. This section provides updates on licensing and qualification requirements, notification of Council resolutions and reports from various Council committees, including reports on accreditation and discipline matters.
Appointments
New Managing Editor
Kristin Doucet
In May, the College welcomed Kristin Doucet as the managing editor of Professionally Speaking/Pour parler profession.
Doucet brings over 15 years of professional association magazine experience. Most recently, she spent 12 years working in a senior role at Advocis, the Financial Advisors Association of Canada, where she was the editor of FORUM magazine for 12 years, as well as the director of communications for the last three.
Prior to working at Advocis, Doucet was the editor-in-chief of CMA Management magazine, produced by the Society of Management Accountants of Canada.
Originally from the Niagara Region, Doucet is passionate about "telling a good story," and is excited about the opportunity to further champion the College's mandate through its flagship publication.
"Having two children in the public school system, I can appreciate first-hand the important work teachers do," says Doucet. "I am grateful to be a part of this award-winning team, and look forward to providing our readers with new ideas and information to help them progress in their careers."
New Council Member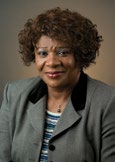 Adannaya Nwaogu, OCT
Adannaya Nwaogu, OCT, teaches a core Grade 8 and history/geography and drama/dance at Henry Kelsey Senior Public School with the Toronto District School Board.
From 1999 to 2007, Nwaogu taught Home School Programs (HSP), social science and arts at Maple Leaf Public School and Beverley Heights Middle School.
As the art teacher and equity representative at Beverley Heights, she organized students to successfully participate in the board's poster competition. In 2006, her Grade 7 art class designed one of the winning posters used in the launching of the Model Schools for Inner Cities initiative.
In her role as a host teacher, Nwaogu contributed to the preparation of future teachers by providing a safe classroom for teacher candidates to experience growth and success. She was an Access Initiative adviser at the York University Faculty of Education mentoring minority teacher candidates, and was also the site leader at the Albion Heights Junior Middle School summer program in 2005 and 2006.
Nwaogu is the first-born of a retired school principal, a spouse to a high school teacher and a mother of four children, which affords her the opportunity to understand the importance of quality public education.
She brings to this position cultural competency and diversity management skills that will be assets to the College and the Council.
As a member of the Elementary Teachers of Toronto's (ETT) Anti-racism, Equity and Social Justice Committee, she presented Introduction to African Dance workshops from 2008 to 2011 at the annual ETT African Heritage Month intermediate students' conferences at the University of Toronto.
Nwaogu has completed the ETFO Leaders for Tomorrow program and the board's aspiring leaders and minority leadership mentoring courses. She has served as a union steward, the ER 19 FOS regional councillor, and was a delegate to the ETFO annual general meetings. At the Ontario College of Teachers' open forum in 2006, she initiated and facilitated a workshop titled "Education for Social Reconstruction."