Exemplary OCT
Little Voices
Renee Hiltz, OCT, gives medically fragile students the necessary tools to express themselves, and finally be heard.
By Trish Snyder
Photos: Markian Lozowchuk; Hair & Makeup: Buffy Shields, Judy Inc.
Beginning with this issue, visit Professionally Speaking for video documentaries of our Exemplary Teachers.
"OK, everybody, now we're going to do an art activity," announces Renee Hiltz, OCT, holding up brushes and canvases for everyone to see. The class is building a portfolio of abstract works for its legendary annual art fair, which raises money for supplies. In most classrooms, painting would be a fairly routine task. The difference here is Hiltz's students have special needs beyond any others in the province.
Her Complex Continuing Care (CCC) program at Toronto's Bloorview School Authority serves in- and day-patients aged four to 21 at Holland Bloorview Kids Rehabilitation Hospital, Canada's largest facility for children with disabilities. Students are in rehab for chronic genetic diseases, post-surgery recovery or because they have acquired brain injuries (ABI). Many are non-verbal, some require ventilators and others are sight- or hearing-impaired, but almost all arrive having relied on someone else to wash, feed, dress and harness them into their motorized wheelchairs. If not for their daily detours for active rehabilitation therapy, as well as in-class support from Hiltz and her devoted team of eight educational assistants (EAs) and a number of volunteers, these students would not be capable of attending a community school.
During the art class, some students apply their own paint, while EAs help others by guiding the child's hand with their own. Hiltz switches on music to engage the senses, then roams the aisles making every artist feel like an Old Master. "Fatima, I can see the copper paint shimmering! Look at Felix's — I love those colours together!" Don't be fooled by her laid-back nature and huge smile: this resource teacher is determined not to let severe disabilities stand in the way of learning — or fun.
Hiltz stops the song, just like in musical chairs, and gives a laminated paper spinner to a girl named Victoria, who concentrates on pushing a red switch to trigger a spin. The arrow points to six-year-old Johnny who barely contains his excitement as his teacher delivers a handmade playing die, as big as a cube-shaped Kleenex box, with different instructions taped on each side. An EA helps the student tumble the die to the floor, then Hiltz scoops it up, reads it and calls out, "Change it up please. Let's pass tools, canvases and paint to the person on your left. Give them everything you've got!"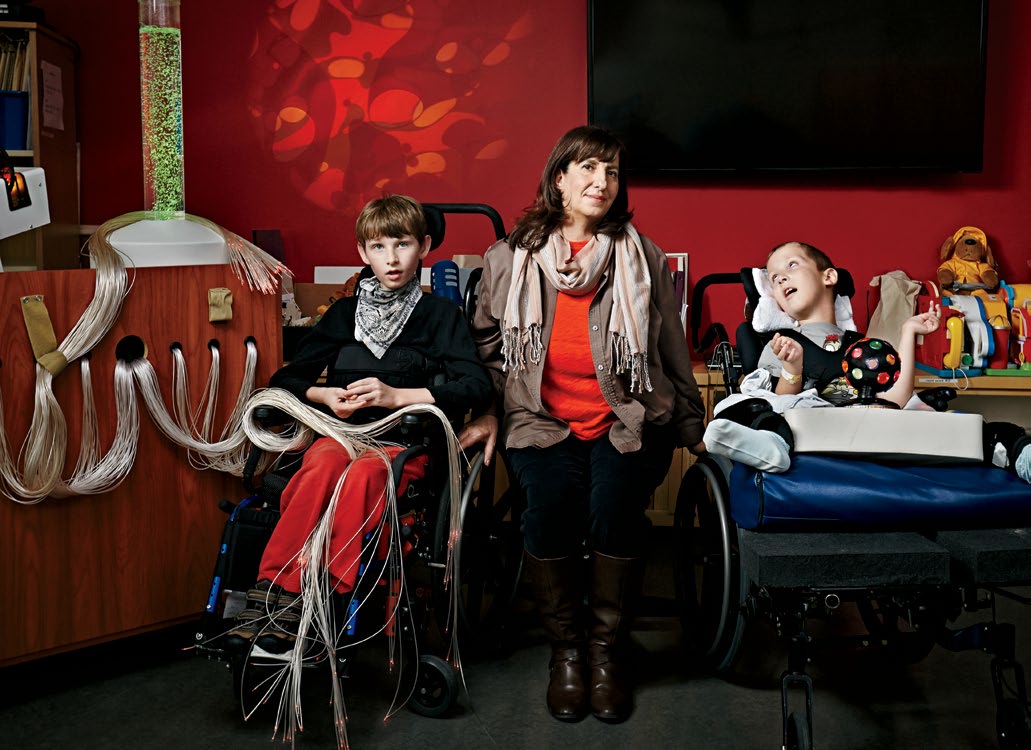 Give everything you've got; that's pretty much Hiltz's motto. By setting individual goals and offering the right support — from adaptable lessons to high- and low-tech tools, as well as a bottomless well of patience — she's proving that anyone with intense physical needs and steep cognitive barriers can learn. She's helping students who can't hold a fork create paintings sold at art fairs, and showing others who can't speak how to perform songs in concerts. And she's giving these children and their families something that's not in the curriculum at all — a few hours each day to enjoy a normal childhood. It's little wonder that phys. ed. teacher Rose Monacelli, OCT, calls her colleague a modern Anne Sullivan (Helen Keller's teacher). Or that Hiltz received a 2013 Prime Minister's Award for Teaching Excellence — which, she insists, belongs equally to her EAs. "Some students can't move or show facial expressions until Renee gets her hands on them," says school director/ principal Michael Walkington, OCT. "She's truly in it to make a difference for every child."
Making a difference required some ingenuity back when Hiltz started her teaching career at the school 35 years ago. In those days, you couldn't search the Internet for techniques on how to teach students with ABIs — commonly caused by accidents, strokes or unexplained viruses — which manifest differently from person to person. Some must cope with fractured attention spans and cognitive deficits, while others struggle with impulsivity or aggression. For instance, a student may retain all his pre-injury knowledge but, by noon, he can't recall how he spent the morning. For some parents, it is unbearably painful to consider the massive difference between how their child was before an accident or illness, and how they'll be after. "That's why I try to be upbeat in the classroom. If you're not, you'll get down about what you can't do, instead of what you can."
Like many teachers of students with exceptionalities, Hiltz is a master at IEPs (Individual Education Plans). With input from the family, medical team and an assessment of the child's current skills, she creates a road map that plots the goals each student should be aiming for next. She steers them there by breaking down tasks into small, obtainable steps. Hiltz reminds EAs and volunteers to prioritize these goals daily; targets for each student are displayed on the classroom wall.
Literacy is a major focus in the CCC classroom. Since many of Hiltz's students are non-verbal, it's less about learning to read and more about basic comprehension and communication. On an average day, she pulls out a binder — one of dozens she's assembled — filled with laminated pages of line drawings. By pointing to sketches that represent math and art, she asks one boy which activity he'd like to do next. He nods eagerly at the numbers. For other students who are trying to regain their language skills, she's stacked some binders with stories composed of keywords that can be removed and manipulated thanks to a Velcro backing. With the majority of her class being non-readers, Hiltz flipped the Reading Buddies concept on its head — once a week, she invites the Grade 1s to read to her students.
Hiltz sleeps better knowing that her non-verbal students can rely on their communication skills when they leave the classroom. "People feel badly for [little ones with disabilities]; they talk to them," she says. "We want to get the older children communicating, so they have some way of [interacting with] the world."
She has discovered a number of tricks for connecting with just about every child. She trains students with hand skills, for instance, how to operate two giant buttons — there's soft fabric on a green one labelled "yes" and a scrap of burlap on a red one marked "no." Those who are sight-impaired learn by touch and non-readers by colour. Giving students the chance to express their wishes by making choices is another big one. During an art activity, Hiltz reminds her team to ask students to select the paint, canvas and tools. Victoria watches attentively as an EA flashes a selection of coloured canvases and waits for a response. When the aqua blue canvas appears, her lips slowly curl into a grin.
Getting technical
Hiltz isn't afraid to embrace new technology to boost student progress. For those who aren't able to manage a laptop's keyboard or mouse, she'll give them an iPad; many will have better luck swiping a screen. Voice-output devices are also excellent tools for children who are non-verbal or difficult to understand. Ten-year-old Felix, for instance, practises communication using a modified iPad as his voice; it speaks when he presses picture symbols. Hiltz has also taught her class to use a virtual musical instrument that makes sounds when it detects motion; as a result her non-verbal students were able to "sing" "Jingle Bells" in the holiday concert.
But even high-tech gadgets don't work without Hiltz's old-school persistence. One young man used to scream when he didn't like something, and used to flick away the unfamiliar iPad every time Hiltz offered it. Six months later, he's using it all the time. "If they don't access something the first time, it doesn't mean that they can't. If you try once or twice, you may not get your answer. If they won't use an iPad, for example, try a laptop," she says. "My philosophy is to never give up. It's not just that students need to keep trying; it's our job to figure out how we're going to reach them and move them to the next level. If you give up, what else is there for them?"
Moving forward
The unstoppable Hiltz has also become a familiar sight in the hospital attached to the school. Collaborative meetings with medical staff are essential for sharing updates and progress. But to maximize learning, she and a group of EAs arrive most mornings to help the nurses wheel in-patients to the classroom on time. Medically fragile students can enjoy the Snoezelen cart, a mobile station of calming/stimulating therapies that fills the classroom with moving light patterns and other sensations. "If she knows a student loves gym, she'll go out of her way to rearrange their therapies to get them to the gym," says Monacelli. "She looks for ways to give them joy."
Students in the CCC classroom find success in many forms. Some who recover enough learning skills are able to transition back to community school with support. Hiltz bumped into one former student, for instance, who had become a father. Another, a young woman who had once been a top student — and was left with a brain injury as well as cognitive challenges after a motor vehicle accident (even after rehabilitation) — pursued her dream of becoming a teacher. It took six years, but she completed a college diploma in Early Childhood Education and landed a job. "Just because you face learning difficulties doesn't mean your hopes and dreams can't be achieved in a modified way," says Hiltz.
The unfortunate reality is that some students won't ever feed themselves, much less earn a living, but Hiltz is equally proud of their victories. She lights up when talking about Rachel, who has learned to communicate using her eyes. First, Hiltz taught her to make eye contact by drawing the girl's attention to objects she liked. The next step was training her to say "yes" by looking up, which took years. (She's still working on saying "no" by blinking or looking down.) "You might think, 'Years — wow, that's a really long time.' But you should see her parents; they're so excited that she's developed these skills," says Hiltz. "Even small gains are valuable."
Some have questioned the value of Hiltz's handcrafted board games and sensory activities. What's the big deal if they learn to press a button or blink? What it means is being able to use a device that says thank you, or tell someone you want the blue paint, not the red. It means finding your voice. "Whether by creating a painting, helping at a fundraiser or participating in the school concert," says Monacelli, "she gives students experiences they may never have had and allows parents to see their children in a different light."
The Exemplary Teachers featured in this department have been recognized with provincial or national teaching awards.
Six Life-changing Apps
Renee Hiltz, OCT, sees her students' faces come alive when she hands them an iPad. Download her favourite apps for teaching cause and effect, numeracy and early literacy.
Cause and Effect
Fireworks:

Direct a fireworks display by tapping the screen to control a spectacular light show.
Apple: bit.ly/1y6lyJA, 99¢
Android: bit.ly/1t1EOL1, free

Pocket Pond 2:

Create ripples in the water or feed fish by touching the screen in this virtual koi pond.
Apple: bit.ly/1qWyE9u, free
Android: bit.ly/1zUATQa, free
Numeracy
Math Kid:

View simple math problems; select the correct answer from three choices.
Apple: bit.ly/X2akL3, free
Early Literacy
Little Speller Sight Words:

Tap a word to hear how it sounds and drag letters down to spell it.
Apple: bit.ly/V287gQ, free

ABC Print Big Trace & Letter Tracing:

Trace a finger over letters and numbers to learn how to write them.
Apple: Print Big Trace, bit.ly/1y6pZ74,$1.99
Letter Tracing, bit.ly/1sx7xz87, free