Professional Practice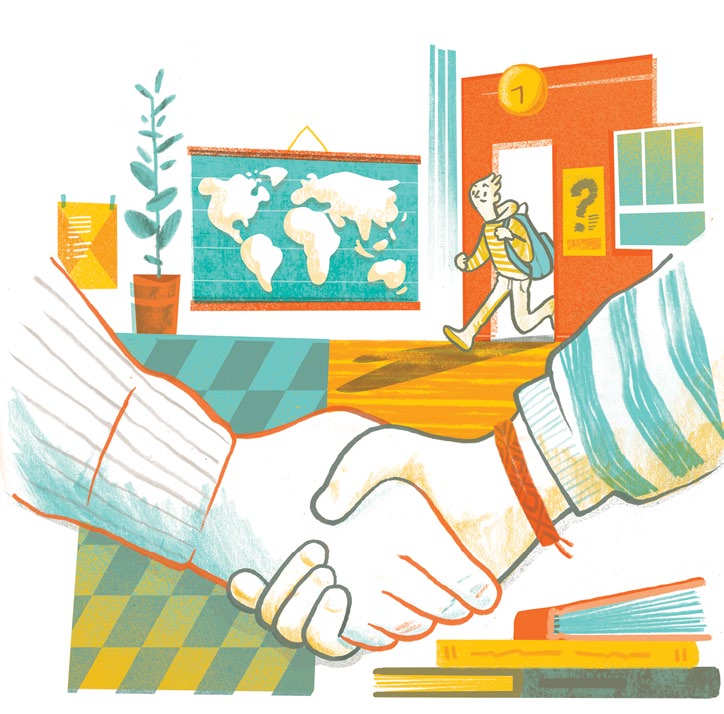 Begin each class with a warm welcome and improve students' respect and engagement levels in no time. As students enter, take a moment to individually greet them by name, letting them know that you're pleased to see them. The added step of making eye contact while you shake their hands will help to reinforce that their attendance is not only noted but appreciated. As a sign of respect, wait until each student acknowledges your actions before moving onto the next. Repeat this ritual at the end of the class for the opportunity to thank everyone for their participation. Do this every day and watch how quickly a small but kind gesture will create a huge shift in your classroom culture.
—Jan Siegel, OCT
Retired, Toronto District School Board
Have a classroom tip to share?
Send it to us at @EnviroEducatorsand if we choose to publish your helpful tip, you will receive a $50 Staples gift card! Check out our Professional Practice research archive at bit.ly/16mofMi.
Taking care of Business
By Melissa Campeau
Whether your fledgling enterprisers are five or 25, it's never too soon to provide them with the skills they need to succeed. The University of Waterloo's entrepreneurial program, Velocity (bit.ly/1pDikvL), helps business-minded youth take their ideas to the next level. Four of their startups have created these technologies, designed with you in mind.
What: Make volunteering, and managing volunteers, a snap. Students can search for opportunities and keep tabs on their hours, while schools and boards can monitor volunteers and post positions as they come up. Bonus: Built-in analytics mean teachers can track skills students pick up with each good deed done.
Languages: English & French
Platforms: Mobile (Apple & Android); Web
Cost: Free
What: Get organized with this software suite. Plug into Planboard to prep and collaborate on lesson plans. Tap into Markboard, launching in late August, to share grades with students, parents and admin. Tie it all together with Campus, to share resources, hold discussions and create secure online communities.
Languages: English; French & Spanish to come
Platforms: iPad; Web
Cost: Free for individuals; prices vary for schools
What: Use puzzles to add pizzazz to your next programming lesson. Students select basic commands to guide a robot and light up tiles, mastering coding essentials such as loops along the way. Select the version that's right for your students, available for ages 4 to 8 and 9+.
Languages: English, French & several others
Platforms: Mobile (Apple & Android); Web (trial)
Cost: $2.99
What: Collect and circulate student info in a pinch! Now you can upload assignments, notes, visuals (for example, art projects and drama productions) and videos (everything from guest speakers to class presentations) into individualized portfolios to share with students, teachers, administrators and parents.
Languages: English
Platforms: Mobile (Apple & Android); Web
Cost: Free (basic); $10 per month (upgrade)