Letters to the Editor
Professionally Speaking welcomes letters and articles on topics of interest to teachers. We reserve the right to edit letters for length and to conform to our publication style. To be considered for publication, letters must provide the writer's daytime phone number and registration number. Address letters to: The Editor, Professionally Speaking at ps@oct.ca or 101 Bloor St. W., Toronto, ON M5S 0A1.
Mixed Messages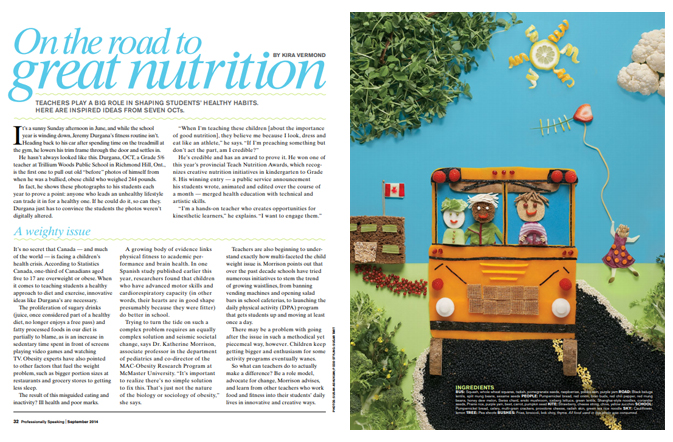 I found it disheartening to see the article "On the road to great nutrition" in your September issue followed by a photograph of very unhealthy eating choices being presented to a young student by a volunteer in the article "Valuing our Volunteers." Several years ago, the Ministry of Education was beginning to mandate healthier food choices for bake sales, etc., placing more emphasis on healthy eating generally in schools.
I hope that this kind of fundraising practice is not the norm and that the road to great nutrition continues with the help of educators who care about what their students eat at school and at home.
—Patricia Drimmie, OCT, is a Grade 3/4 teacher at Confederation Central School in Sarnia.
Firstly, I want to thank you for the many wonderful articles that are presented to teachers through Professionally Speaking. "On the road to great nutrition," in the September issue, discussed the importance of good nutrition and was well written. Unfortunately, the bake sale picture that follows on page 38 contradicts all that was written in the previous pages. Having a picture of a volunteer serving sugar doughnuts with candy-coated cupcakes gives [the wrong idea] about what our schools should be promoting.
—Roberto Santos, OCT, is the principal of St. Stephen Catholic School in Stittsville.
In the September 2014 issue there was an excellent feature article devoted to the importance of healthy eating. In the article that follows these pages, however, there is a picture of a volunteer taking part in a bake sale! This creates ambiguity in the messaging that is being delivered.
—Serge Brisson, OCT, is principal at École élémentaire catholique Saint-Thomas-d'Aquin in Sarnia.
As someone who has been an advocate for healthy living for my entire career, I was pleased to see the focus on school nutrition in the September issue of Professionally Speaking. The colleagues who shared their personal experiences and practices offered great encouragement and practical ideas for those wishing to embed healthy living into the curriculum.
Our board, Waterloo Catholic, has worked very diligently, in co-operation with the Region of Waterloo Public Health, to make healthy eating a priority with our students. The deck of your article, "Teachers play a big role in shaping students healthy habits," is true, but we have learned that it is not just teachers who influence students' eating habits, but all adults who work with students in the school environment.
I was dismayed to see the photo of a volunteer serving doughnuts, cupcakes with candies and other unhealthy treats to students. If we as an education system are going to change the obesity health crisis in this country, then our messaging needs to be consistent at all times — especially by those who directly influence the lives of our students.
—Kathy Doherty Masters, OCT, is a part-time teacher at Holy Rosary Catholic School in Waterloo, and a part-time Healthy, Active Living consultant with the Waterloo Catholic District School Board.
In the Public Interest?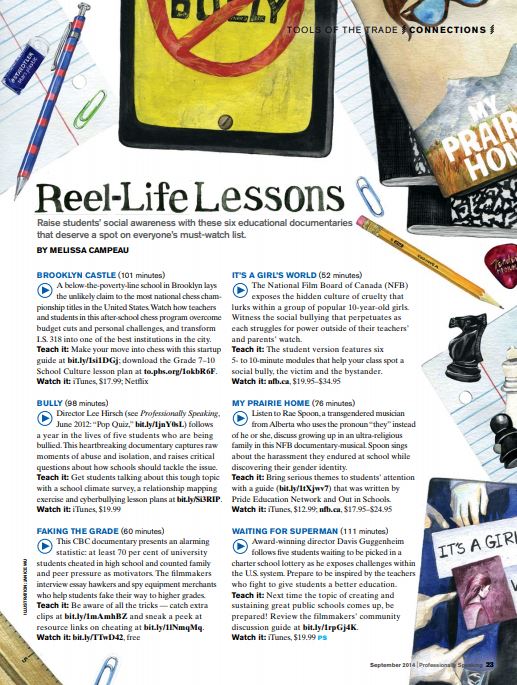 I am disturbed by the endorsement of the film Waiting for Superman (along with the filmmaker's discussion guide) in the most recent issue of Professionally Speaking. Neither education nor the public interest is served by suggesting that this film be allowed for classroom screening.
Waiting for Superman blames bad teachers and our unions for the problems in U.S. education, and claims that the solution lies in using charter schools (which, unlike public schools, can refuse students) and increased corporate influence on education.
—Jody Dales, OCT, is a teacher with the Durham District School Board.
Alternate Routes
Securing a full-time teaching position after graduation is a fear many teacher college graduates like me have. I was happy to come across the article "Unearthing Opportunities" (March 2014) and read about the success stories of fellow teacher college graduates who chose alternative routes in their teaching careers. The article was reassuring for soon-to-be teachers like myself, and opened my mind to the non-traditional job opportunities my education degree can bring.
—Winnie Wong is a B.Ed. student at the University of Ottawa.
Teaching Overseas
I was very happy to read the article "Passport to Learning" in the June issue. Six months after graduating from York University's faculty of education five years ago, I left for South Korea on a whim and have been teaching abroad ever since. My time in accredited Canadian and American international schools abroad has allowed me to hone my teaching skills and work in an ESL environment while immersing myself in another culture. The international school experience is a unique one, as teachers come with training from every corner of the globe and build upon each other's strengths.
—Andrew Shutsa, OCT, teaches Grade 1 at the Universal American School in Dubai, UAE.
PS Giveaways!
CONGRATULATIONS
Kate Hancock, OCT, a Grade 6 teacher at Herb Campbell Public School in the Peel District School Board, will receive a signed copy of Our Man in Tehran (see September 2014: "Ken Taylor's Final Exam," p. 88), for tweeting a selfie of her favourite Professionally Speaking article from our June 2014 issue.
Don't Forget...
To Pay Your 2015 Member Fee
If you do not pay your annual College fee through payroll deduction, please make sure to pay your 2015 membership fee of $150 directly to the College.
Protect your good standing status and preserve your ability to teach in an Ontario publicly funded school.
PAYMENT IS EASIER THAN EVER:
Pay online at oct.ca by debit or credit card.
Pay through your bank or financial institution.

Use the seven-digit invoice number we assigned to you the last time you paid your annual member fee as your online account number. Please call us if you've forgotten or don't have it.

Pay via the College's mobile app available for free.
Pay by phone. Call 416-961-8800 (or toll-free in Ontario at 1-888-534-2222) and follow the prompts.
THE DEADLINE FOR RECEIPT OF PAYMENT IS APRIL 15, 2015.