For three teachers, it's GAMES ON
The Pan Am and Parapan Am Games are coming to Toronto July 10–26 and August 7–15. A trio of OCTs who will be taking part — as a competitor, a theatre performer and a coach — talk about their Games experiences, and how sports helps inform their professional practice in the classroom.
By Stuart Foxman
Photos: Raina+Wilson; Hair & Makeup: Celeste Morton; Props: Kate Curcio, Studio141 Inc.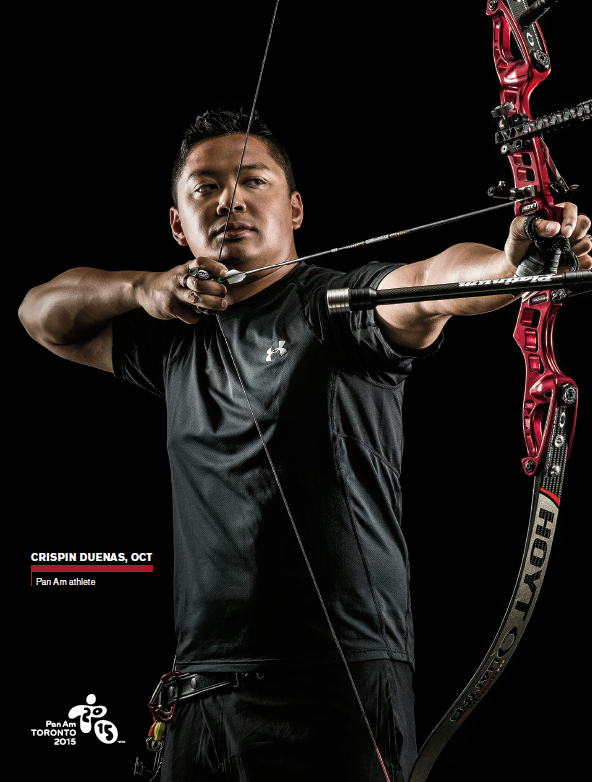 Straight Arrow
As a physics and math teacher, Crispin Duenas, OCT, helps students to get the point and stay on target. That's something he himself excels at outside school.
Duenas, one of the top archers in the world, was a member of two Canadian Olympic teams (Beijing 2008 and London 2012). The occasional teacher with the Toronto District School Board is excited about the chance to perform in his hometown at the 2015 Pan/Parapan Am Games.
"When I'm competing, that field and my target are the only things that exist. But it will be nice to be able to go home and do what I do in a normal day," says Duenas. "It's also great for Toronto to see a multi-sports event. A lot of Canadians aren't very sports-centric outside hockey."
What attracted Duenas to archery? The movies played a part. Growing up, he was fascinated with Robin Hood and Westerns. He was also a fan of Back to the Future Part III, set in the Old West. In one scene, Marty McFly finds an arrow stuck in his car and tosses it away. "I remember saying to the screen, 'Why aren't you keeping that, it's such a cool thing,'" says Duenas. "So the spark of archery was in me."
Something else lit that spark. Duenas is intrigued by the quest for precision and perfection. When he was a student, Duenas was on the swim team, did gymnastics, and studied karate and music (he can play piano, guitar, trumpet, flute and drums), all while doing well at school. "I was always drawn to the idea of excellence," he says.
That makes archery an ideal fit. One of the sport's appeals is that it holds the promise of an ultimate score — hitting every 10, or the bull's-eye. Still, says Duenas, "Not every arrow lands in the middle, so you get a little tickle in the back of your brain — I can do better."
Duenas started training as an archer in 2000. In 2007, at age 21, he won silver at the Pan Am Games in Rio de Janeiro, Brazil, and won another silver at the 2011 Pan Ams in Guadalajara, Mexico. He also earned a bronze at the 2013 World Archery Championships in Turkey.
Archery is a highly technical sport, but physically demanding too. "Your core is always stretched, and your arms are always at shoulder height. If you're not strong, any amount of wind will twist you," says Duenas. "Your cardio also has to be very good because some of our competitions last eight hours."
"Archers make it look easy," he continues, "but imagine 50 pounds of pressure on three fingers, pulling the bow all the way back to your face, holding it for three to six seconds, and then hitting a target the size of a CD a football field away."
During summers, Duenas is at the archery range by 9 a.m, shooting for three to four hours. He'll break for lunch and often hit the gym for 90 minutes of work on stability and cardio (like doing planks and rowing). Then he'll rest and head back to the range in late afternoon to shoot until sunset.
On teaching days, Duenas will go home for a bite after class, then head to either the gym or to the range for about four hours of shooting.
Duenas feels that his physics degree from the University of Toronto, and his subject matter as a teacher, give him some advantage as an archer.
"The goal is to make the arrow leave the bow as straight as possible. You have to knock the arrow onto the string in a perfect spot and adjust the tension in the spring. That tuning process is made easier by my knowledge of physics."
Archers also need to be aware of the environment, like the effects of crosswinds and humidity on the flight of the arrow. Does Duenas play up the science of archery — projectile motion and transfer of energy — in his teaching? You bet. "It's all classical physics," he explains. "I can make those connections, but what hooks a lot of kids is just that they're being taught by an Olympian."
Duenas says that being a teacher has made him a better archer. "I've learned patience and how to roll with the punches." But he also brings some lessons from archery about perseverance into the classroom.
"Some kids want to give up because school is too hard and they feel they can't do it. I tell them there's no reason to get down on themselves," says Duenas. "I know there's always a chance to redeem yourself. There's always another practice, another tournament, another arrow to be shot."
Still Making Waves
During their events at this summer's Pan Am/Parapan Games, the competitors will take centre stage. So will Victoria Nolan, OCT, but on an actual stage as part of "Panamania," the arts and culture program happening in tandem with the Games.
Nolan is a Special Education teacher at Gledhill Public School in Toronto, and a world-class rower. She is one of the stars of Push, a play about athletic achievement and overcoming barriers that weaves together the personal stories of five Canadian athletes.
"It's about how disability has shaped our lives, and how sports has affected it," says Nolan. "I enjoy the chance to raise that awareness."
When Nolan was a student, she once failed phys-ed. She was forever tripping, bumping into classmates and missing the ball. Nolan never dreamed that one day she would represent Canada as an athlete. Or that her troubles in gym stemmed from a serious eye disease: retinitis pigmentosa (RP).
RP is marked by night blindness and then a narrowing of vision. The disease is progressive. Nolan was diagnosed at 18 and describes her vision now as similar to looking through a pinhole or a stir stick.
In 2005, when she was 31, Nolan was at a low point. RP was making her feel restricted, and she worried that her two young children would view her as less able. She decided to get active. Why rowing? Nolan couldn't drive anymore, but rowing gave her a feeling of freedom — gliding over the water with no fears.
One day, another rower urged Nolan to consider joining a competitive team. By 2007, she was a member of Canada's national adaptive rowing team, which won a medal at the World Rowing Championships. She won another in 2010, and also competed at the 2008 and 2012 Paralympic Games.
Nolan is retired from rowing, but has taken up tandem cycling with Sarah Chaudhery, a former Olympic rower. They started out doing a charity ride, but the competitive itch got to both of them, and now they're aiming for the national para-cycling team. Nolan trains an hour-and-a-half each morning before her children, now ages 10 and 12, get up. She uses a bike that's set up on a stand and programmed to offer resistance: "It's a speed workout to increase RPMs."
"I feel like I can go all out and be safe, because Sarah is controlling the bike," says Nolan. "The speeds we can get to are incredible, up to 76 km/hour. It's riding the line between terrifying and thrilling."
Nolan jumped at the chance to be an official volunteer ambassador for the 2015 Games. The role involved recruiting other volunteers and promoting what's happening this summer. Her involvement led to Push, which will be playing at the Michael Young Theatre in Toronto's Distillery District throughout the Parapan Am Games.
"[Having a disability] has taught me a lot, that there's always a way to succeed even though you might not see it right away."
While Nolan hasn't acted before (unless you count a 10-line performance in The Wizard of Oz when she was seven), she has done extensive public speaking and looks forward to being on stage. All of the athletes appearing in Push were interviewed to inspire the script. In the performance, they'll be seated in a semicircle and play parts in each other's lives. Besides playing herself as an athlete, Nolan will play a mother and a teacher.
She says having a disability has in fact helped her to become an elite athlete. "It has taught me a lot, that there's always a way to succeed even though you might not see it right away. That gave me mental strength to be a competitor."
Teaching Special Education, Nolan draws on her own experiences to try to encourage the students. "I tell them that just because you're not good at something now doesn't mean you can't excel at it later."
She also reminds them that every little improvement can make a huge difference, even though it might not be immediately apparent. "In rowing, the boats are so long that it takes a lot to move them. You can be right beside another boat, putting the effort in until it feels like you're going to die, and it looks like you're not going anywhere. But those little inches add up, and before you know it your boat is out in front."
Nolan feels the lessons she has learned — in dealing with a disability, becoming an athlete, and teaching Special Education — can help anyone become a better teacher.
"I don't focus on what a student is not able to do. Find out each student's strength and build their confidence around that."
Getting a New Hold
For Tonya Verbeek, OCT, teaching high school students and coaching future Olympians are two sides of the same coin. "I'm just trying to get the best out of them," she says.
Verbeek, 37, retired from wrestling in 2013 after a sterling career. She won silver at the 2004 Olympics, the first time women's wrestling was added to the Games. She also earned a bronze at the 2008 Olympics, a silver at the 2012 Olympics, and multiple medals at the Pan Am Games, Commonwealth Games and World Championships.
Since 2004, Verbeek, based in Thorold, Ont., has also been a supply teacher with the District School Board of Niagara. When she retired as an athlete, she took on a new job as talent identification coach with Wrestling Canada.
"Basically, I'm looking for and working with our future high-performance athletes, trying to lead them down that pathway," says Verbeek.
She assists during camps and on domestic and international tours, touching on everything from physical tests to nutrition. As a recent competitive athlete herself, she can relate well to the up-and-comers. For the Pan Am Games in Ontario, Verbeek will act as a mentor to the wrestling competitors.
"I'll assist with the training, serve as a training partner, and be someone they can speak to about getting prepared and what to expect," she says.
Growing up, Verbeek did gymnastics and figure skating, but competed most heavily in jump rope (Double Dutch was her specialty). With her agility and endurance, wrestling was the next challenge. She took it up in Grade 11 as an extracurricular activity, and loved the combination of physical and tactical challenges. Verbeek compares a match — with its moves and holds — to "chess on a mat."
"The satisfaction of coaching is that it's unselfish. As an athlete, the goals and training are all based on you. With coaching, you're helping others."
During her last six years as an athlete, she dabbled in coaching. "It was something I really enjoyed. The satisfaction of coaching is that it's unselfish. As an athlete, the goals and training are all based on you. With coaching, you're helping others. The teacher in me comes out. So that pushes different buttons and challenges me in different ways."
Verbeek feels that she's a far better coach because of her teaching skills. "The way I communicate with the athletes, knowing there's not only one way to learn, [allows me to] reach them in different ways. And it's not just about telling, but about showing, about feeling."
Her experiences as an athlete and a coach continue to inform her teaching. It took Verbeek eight years of hard work to make the national team, which she calls her greatest challenge. Through all the years of competitions, she had to remain totally dedicated and disciplined, and now nurtures the same traits in the younger athletes. She sees similarities in what she has to foster in the classroom, and brings the students her first-hand lessons.
"It's about finding a way to stay committed to your ultimate goals, and striving for that continuously," she says.
She tries to instil that attitude in the classroom (she teaches two to three times a month), and in her other speaking opportunities with children. She recalls a presentation to a group of Grade 5 students, where she read aloud the Dr. Seuss book Oh, the Places You'll Go! "We talked about what some of that means, the ups and downs, the struggles, and how we learn from mistakes and grow. That book is a useful learning tool for any teacher."
To help students to develop and succeed, Verbeek advocates extracurricular activities. The right balance between school and play, or work and play, can boost anyone's well-being and abilities. She is learning that herself.
"When I was an athlete, everything was so regimented because I was on a training plan all the time. For me, balance is being active. I get to do that while I'm coaching, so I'm fortunate that my job entails that. But it's also important to be active on my own time, with my own choices. So I lift weights, do hot yoga, run and play hockey."
She says that when students find their own passions outside the classroom they can become better learners.
"You learn from experiences, in finding what you enjoy, the things you want to get better at. For me it was sports. For others it's the arts or being involved with clubs. When you love something and want to make it part of your life, you get to grow so much as a person. You learn more about yourself when you're trying to reach goals. Being able to work hard, stay focused and have an outlet outside the classroom — that's exciting. And it's crucial for kids."