Governing Ourselves
Governing Ourselves informs members of legal and regulatory matters affecting the profession. This section provides updates on licensing and qualification requirements, notification of Council resolutions and reports from various Council committees, including reports on accreditation and discipline matters.
Appointments
New Controller
In May, the College welcomed Fred Towers as its new controller. Towers joins the College having served as the director, program support, and more recently the director, business performance management, with the City of Toronto. Throughout his career he has enjoyed working with diverse groups of stakeholders, focusing on financial management practices, program evaluation and client service initiatives. In addition to holding a master's degree in business administration, Towers is also a Certified Management Accountant.
"I look forward to joining the College's team and making a contribution toward fulfilling the organizational mandate," says Towers. "The College has a partnership role to play in the continuous development and improvement of a vibrant and innovative educational system."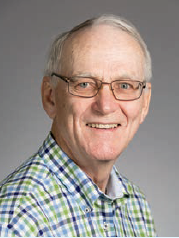 New Council Member
The College Council welcomes new appointed Council member Thomas Potter. Potter holds a BA in English from the University of Waterloo and completed his professional education program at the Hamilton Teachers College in 1972.
Now retired, he began his professional life teaching high school English with the Waterloo Catholic District School Board from 1972 to 1975. From 1975 to 2003, he held several positions in sales, marketing and human resources in the pharmaceutical industry, last serving as director of training and development for Pharmacia Canada Inc. in Asia/Pacific and Japan. He was also a partner and vice-president for Canadian software firm Megamation Systems Inc. from 2003 to 2006.
From 2007 to 2012, Potter served as an independent consultant specializing in organizational behaviour, with a focus on recruitment, performance management and talent development.
Potter is a recognized leader in organizational sales development, and a coach and mentor to pharmaceutical industry executives. He is also a certified facilitator in sales, change management and negotiating and collaboration skills. Potter has been an active volunteer on private and not-for-profit boards, including serving on the executive of Telecare Burlington.
New Council Member
The College welcomes Council member Bill Petrie, who was appointed to Council in May. Petrie is the president of Sagebrush Business Concepts, which markets technology products to American and international markets. Sagebrush also specializes in creating new business opportunities for client firms.
He is the former president of the Ontario chapter of the Information Technology Association of Canada, an association that champions the development of a robust and sustainable digital economy in Canada.
Petrie holds a bachelor of arts from Queen's University and a master of business administration from the Schulich School of Business.
New Director of Standards of Practice and Accreditation
In June the College welcomed Roch Gallien, OCT, as its new director of Standards of Practice and Accreditation. Gallien served as director of education of the Conseil scolaire public du Nord-Est de l'Ontario since 2009 and, prior to that, served six years as a superintendent for the Conseil scolaire public du Grand-Nord de l'Ontario, servicing northwest Ontario.
As a teacher, he taught a variety of subjects in French and English-language schools, including technology, and worked as a vice-principal for the Rainbow District School Board.
As head of the College department that promotes professional standards and manages the processes for accrediting initial teacher education and in-service teacher education courses Gallien says, "I am very fortunate to be working with a dynamic team in the ongoing review and promotion of the well-regarded Standards of Practice for the Teaching Profession. I am also looking forward to working with all our well-respected providers that continue to deliver quality programming to Ontario's teachers."
Gallien holds a bachelor of education degree from Laurentian University and a master's degree in administration from the University of Ottawa. He was a member of the Council of Ontario Directors of Education (CODE) Executive and of the Conseil ontarien des directions de l'éducation de langue française (CODELF), and has been a member of various Ministry of Education committees.