Letters to the Editor
Professionally Speaking welcomes letters and articles on topics of interest to teachers. We reserve the right to edit letters for length and to conform to our publication style. To be considered for publication, letters must provide the writer's daytime phone number and registration number. Address letters to: The Editor, Professionally Speaking at ps@oct.ca or 101 Bloor St. W., Toronto, ON M5S 0A1.
Not-So-Fun Facts
I am writing on behalf of the Ontario Music Educators' Association to express our concern over your most recent rendering of "fun facts" in By the Numbers in the June 2015 edition. While the music teacher findings you report in the section "Pitch Perfect" are unfortunately accurate, we do not consider being the province to have the least number of qualified music teachers a "fun fact" but, rather, a disturbing fact.
We feel the ranking should motivate the College and all parties involved to address the need to revisit and demand fully qualified music educators in all Ontario schools.
—Gena Norbury, OCT, teaches music to K–Grade 8 students at Eldorado Public School in Brampton, and is the president of the Ontario Music Educators' Association.
Editor's note: We have replaced "fun facts" with "stats" in the By the Numbers description. We regret the oversight.
Don't Forget Volunteers
You missed out on a huge group of people in your Pan Am/Parapan Am Games cover story in the June 2015 issue: the volunteers. I'd be curious to find out what percentage of the volunteers are OCTs. Due to the timing of the Games, many of us are able to volunteer at these events. The wide range of skills that teachers have are in demand by the organizers.
—Lynn Shire, OCT, is a vice-principal at Harold M. Braithwaite Secondary School in Brampton.
FSL Inspiration
I was so delighted to see Sylvia Duckworth showcased in the article "French Revolution," written superbly by Trish Snyder in the June 2015 edition of Professionally Speaking. Sylvia has been an amazing role model for me as an FSL (French as a Second Language) teacher. While attending some of her workshops, her enthusiasm and tech-savvy mind encouraged me to go beyond my comfort zone in the second language classroom, which can be challenging at times. I love how she shares her resources and knowledge with other FSL teachers. She truly goes above and beyond, and so it's not surprising she received a Prime Minister's Award for Teaching Excellence.
Thanks for publishing a story about this remarkable teacher.
—Mary Lynn Winkler, OCT, teaches at Jeanne Sauvé French Immersion Public School in St. Catharines.
No Opportunity at Home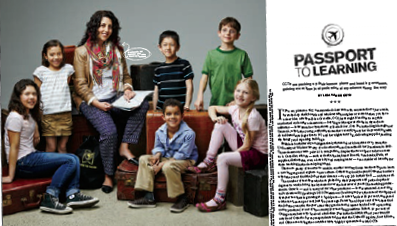 I just read "Passport to Learning" in the June 2014 issue. As an OCT who also turned to international teaching at the beginning of my career, I think it's great you've highlighted this career option. I left Ontario to teach overseas with my husband (also an OCT) with the intention of coming home after we had "weathered the storm" of high unemployment for teachers here. It has now been six years, and since then we have taught in Honduras and now in Saudi Arabia at respected overseas International Baccalaureate schools.
Although the professional experience I have gained internationally has been immeasurable, the current Ontario job situation — combined with seniority-based placement — is too daunting for us to return to. It seems unfair that our experience gained teaching full-time internationally is not recognized within school boards, not to mention starting our careers from scratch should we decide to come back. Ontario's students also suffer with this challenging situation; they are losing access to a group of highly qualified, experienced and open-minded teachers who lack opportunity at home.
—Mavis Wellington, OCT, teachers high school English at American International School in Riyadh, Saudi Arabia.
Feeling Underrepresented
I have noted that the articles, ads and direction of Professionally Speaking focus on matters largely related to elementary teachers. Increasingly there is very little that is relevant to secondary school teachers. I don't feel it reflects or represents me as a high school teacher. While we may all share the same title of "teacher," as well as concerns about kids and education, we are quite different!
—Debbie Palmer, OCT, is a retired teacher who taught senior history and social science at Albert Campbell Collegiate Institute in Toronto.
Address All Types of Bullying
I read "Bully-Proofing" in the March issue and was pleased to see a well-written article focusing on how teachers can begin to deal with the problems of bullying. This is an important issue for teachers, but more information is needed. There were examples of bullying toward lesbians and gays, but no examples of students being bullied who have learning disabilities. All types of bullying must be addressed if we are serious about solving this problem in our education system.
—Alan Wayne McFarlane, OCT, teaches learning and life skills at Cobourg Collegiate Institute in Cobourg.