Governing Ourselves
This section provides updates on licensing and qualification requirements, notification of Council resolutions and reports from various Council committees, including reports on accreditation and discipline matters.
Scholarship Winners
Celebrating Future Teachers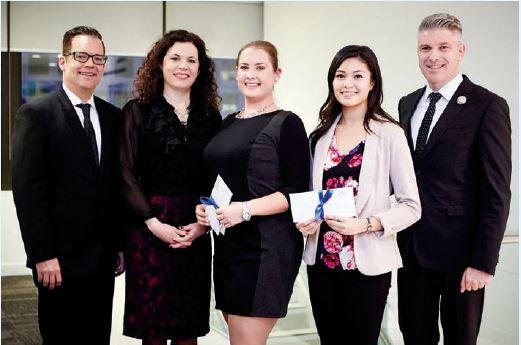 Nadine Wyczolkowski's own education started on a rocky foundation. She remembers vividly the early morning of her second day of Junior Kindergarten, strongly clinging to her mom's arms while the teacher was trying to pull her away. She spent a good part of the morning sitting on a chair, crying in a coatroom. Fortunately, things got better and Wyczolkowski soon met a number of passionate and caring teachers who promoted positive behaviour in the classroom.
"I have been blessed to have several teachers who significantly influenced me by bolstering my self-confidence," she says. "They encouraged me to test my limits and supported me."
Wyczolkowski is among the three new recipients of the Ontario College of Teachers' Scholarship for Excellenc in Teacher Education Program. Read on to find more about our scholarship recipients and how their own teachers inspired them.
Ontario College of Teachers Scholarship — Intermediate/Senior Recipient: Nadine Wyczolkowski, teacher candidate in the concurrent education program at York University
School (and life) has led Wyczolkowski to take on leadership and teaching roles in the arts, athletics and governance.
At university, you can see her walking the grounds to attend various meetings. One morning, she might be discussing a specific point on the Faculty Council of Liberal Arts and Professional Studies, where she is an elected student representative. In the afternoon, she might be expressing herself as a student councillor of the Student Council of Liberal Arts and Professional Studies. The teacher candidate was a part-time teaching assistant at Kumon Math and Reading Centre, where she worked with students with various learning exceptionalities.
Wyczolkowski once spent a summer in Spain. But if you're thinking beaches and sangria, think again. She was busy digging at an archaeological site so she could learn more about Roman military and imperial power in that part of the world.
The York University student remembers fondly her Grade 12 law teacher, Freddy Stefaniuk, OCT, who is currently her mentor teacher for her practicum. His calm demeanour and sense of humour helped to create an open learning environment.
"In his classroom he incorporated his love of sports by dressing the walls with sports team jerseys, flags and movie posters, which made it a fun space to learn in," she says.
Wyczolkowski hopes to teach geography and instil love for this subject. "I hope students can go beyond the stereotypical view of geography as dealing with colouring maps and a compass rose," she concludes.
Ontario College of Teachers Scholarship — Primary/Junior or Junior/Intermediate Recipient: Alexis de la Torre, teacher candidate in the concurrent education program at Brock University
A problem-solver and relationship-builder is how Alexis de la Torre is described by people who work with her. One person mentioned a personality trait she has that many admire: a distinct calmness in approaching students.
This valuable asset is serving her well as a volunteer and part-time employee at The York Centre for Children, Youth and Families, where she works with students between six and 18 years old who have challenges like obsessive compulsive disorder, schizophrenia and autism spectrum disorder.
What's de la Torre's secret to improving student success? Demonstrating a deep understanding of who they are as individuals. When thinking about her own teachers who showed this understanding, one in particular stands out: her dad, Antonio, an OCT. "He allowed each student to be seen as an individual," she says. "By seeing how he focused on his students' strengths, rather than their weaknesses, my dad has helped me to become a patient and understanding educator."
The Brock University student is appreciative of her teachers who gave time, passion and energy to extracurricular activities. She wants to create similar positive learning experiences by using her musical and athletic abilities.
Joseph W. Atkinson Scholarship for Excellence in Teacher Education Recipient: Emily Runstedler, teacher candidate in the concurrent education program at Nipissing University
Emily Runstedler's vast experience in education — working with elementary school students who are struggling with reading, teaching English to newcomers to Canada, and coaching volleyball and basketball — taught her the importance of demonstrating her passion for learning in order to foster that same feeling in students.
Runstedler has also devoted her time to helping young children develop English and French language skills, focusing on phonics, reading and comprehension. Visit her at home and you will find dozens of binders she has created on a variety of teaching techniques including motivational tactics, effective classroom routines and procedures, and goal-setting.
The Nipissing student, who is completing an Honours degree in contemporary studies, has received many awards and distinctions, including being on the Dean's Honour Roll for four consecutive years.
Runstedler recalls going through a period in her life where she really struggling with her French course. She remembers her teacher, Bob Howard, taking time out of his day to help her. "He really gave me the confidence I was lacking," she says. "He understood that there's more to teaching than just the content, and he incorporated important life lessons into his teaching."
Runstedler is currently on an exchange program in France. She hopes to teach French in a way that "all children will be excited to learn it."