Professional Practice
Illustration: Betsy Everitt/i2i Art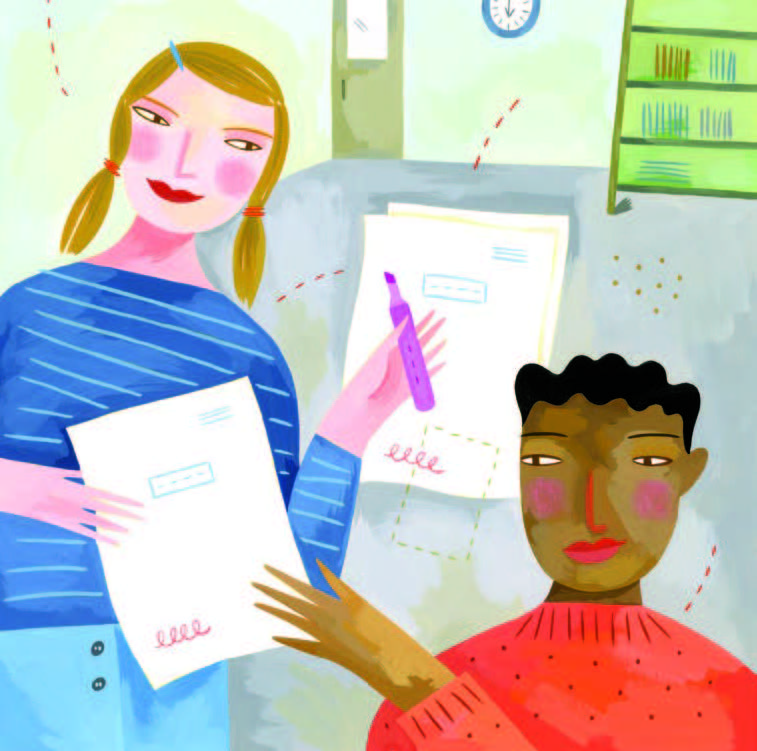 After spending thousands of hours over the last 31 years marking essays — only to have students flip to the rubric, look at their marks and put the paper away — I decided to make a change. Now, when I distribute evaluated essays, it becomes a lesson in itself. I circulate them without the rubric and ask students to highlight all reoccurring errors. With a partner, they then discuss their corrections and how to avoid similar mistakes. Finally, I hand out the scoring guide, so they can self-assess. Amazingly, they usually come within four percentage points of the mark I assigned them.
— Cidalia Dicostanzo, OCT
Toronto Catholic District School Board
Bully Busters
By Stefan Dubowski
Want students to report bullying behaviour and help you stop it? Have a look at a new program with that very idea built into its name. STOPit (stopitcyberbully.com) is software designed to empower children to be "upstanders" (not bystanders) — individuals who speak up when they see others being harassed.
Developed in the United States and available in Canada since April 2015, STOPit includes a mobile phone app — available in French and English for both Android and iOS devices. Students can use the app to send anonymous text messages, screenshots and video to school administrators to report on- and off-line bullying. Customize the mobile software to let students contact a particular crisis centre — as chosen by school officials — for additional support if needed.
For school administrators, STOPit includes a web-based incident-reporting system to track student reports and receive alerts about offenders and targets, for a complete picture of bullying activity. It also offers inspirational posters and boards on which students and teachers can display their own thoughts about kindness, compassion and other aspects of a respectful society. The company runs "cybersafe rallies" as well to help spread the message that bullying isn't OK.
With the many social media networks available to students these days — think Facebook, Instagram, Snapchat, Yik Yak and others — it's easy for bullies to zero in on victims and hound them in cyber-space. According to a survey from digital and media literacy group MediaSmarts, 23 per cent of Grade 4 to 11 students have said or done something mean or cruel to someone online, and 37 per cent have been the target of mean or cruel web behaviour.
STOPit is one way to help students understand that bullying is unacceptable — and that they can do something about it. The program costs $1 to $3 per student per year, payable by the school or board. Once an institution has its STOPit subscription, students can download and use the mobile app free of charge.