Going Social
When used effectively, social media can be a valuable tool to increase student engagement and support classroom and professional learning. Here's what you need to know to guide your professional judgment in the use of this increasingly popular technology.
By Stefan Dubowski
Illustations: Rose Lloyd/Eye Candy
Plenty has changed in the social media sphere since 2011 when the College issued its professional advisory on electronic communication and social media. But that doesn't mean the advisory is out of date. If anything, it's more relevant now than it was five years ago. As teachers and students flock to Twitter, Facebook and other social sites, educators need to be aware of best practices and safe-use policies.
This is far more of a concern for teachers than it is for people in other jobs, notes Nadine Carpenter, manager, intake and hearings unit for the Ontario College of Teachers. "As a teacher, you're a role model. If you do something to harm the community's view of you as a role model, you could be called to task for it."
That warning applies to teachers who use social media. As an OCT, anything you post, view or share on YouTube, Instagram or Storify, for example, could be judged according to the especially high standards that College members are expected to meet.
"When you become a member of a profession, whether it's teaching or nursing, you are getting certain benefits and advantages by joining. But it also carries certain obligations and restrictions," explains Bonni Ellis, a partner with the law firm Lerners LLP in Toronto.
"For example, there are expectations regarding teacher conduct that may apply both inside and outside of the classroom. Teachers must be aware that what they do in their private lives can be subject to scrutiny."
Bear in mind that the College's Investigation Committee considers and investigates complaints about teachers' conduct or actions — including complaints made by members of the public.
Inappropriate use
A glance through Professionally Speaking's disciplinary summaries involving inappropriate use of social media serves as a reminder of the importance of maintaining professional boundaries both online and off.
In one summary, a teacher hired a photographer to do a Valentine's Day photo shoot with her partner. She gave the photographer the password to her personal Facebook account and asked him to post a non-suggestive picture on her page. But the photographer mistakenly posted all the photos. Students saw racy shots. The board was alerted; the teacher, embarrassed.
In another more serious case, a College Discipline Committee panel found a teacher guilty of professional misconduct. He had a Facebook chat with a student, suggesting the student should come by for a drink. The panel ordered the teacher to take a course on appropriate boundaries before starting any job that requires a Certificate of Qualification and Registration.
That's the sort of consequence teachers could face if they act inappropriately on social media. As Carpenter points out, if a teacher's social media use constitutes a serious breach of the College's standards, the teacher could face a complaint, an investigation into concerns raised, and if very serious, disciplinary procedures. Following a finding of misconduct, the College's Discipline Committee may order that a member's certificate be revoked, suspended or subject to terms and conditions, and the teacher might need to complete a course on appropriate boundaries in the school community.
When a teacher's certificate is revoked, he or she can't work in Ontario — or in any position that requires a certificate.
Best practices
The College's professional advisory Use of Electronic Communication and Social Media offers advice to help teachers avoid some of the risks that social media can present. For instance, as the advisory notes, teachers "should never share information with students in any environment that they would not willingly and appropriately share in a school or school-related setting or in the community."
As well, teachers should always aim to model the behaviour they expect to see online from their students. They should also be sure to communicate with students only at appropriate times of day and through established education platforms, such as a school web page, not a personal social media account. (For additional best practices, see "The Dos and Don'ts of Responsible Use" sidebar.)
Managing risk
Despite some of the challenges, many teachers do use social media. They join Facebook groups for professional development, they tweet about class activities and they incorporate social media into their lessons.
Savvy teachers take care on social media. They work to avoid issues that they could face with these interactive websites, such as content ownership, student information, privacy settings and inappropriate material.
➔ Content ownership: Many social websites have terms and conditions indicating that the information users share on their platforms can be used by the company for marketing and other purposes. Teachers need to review the terms and conditions to be sure they're comfortable with them.
➔ Sharing student information: As the Peel District School Board's social media guidelines (oct-oeeo.ca/1WnCF9h) point out, "personal information, including student names, location, etc., should not be posted on social media without informed consent from students' parents/guardians. This includes, but is not limited to, blogs, student work, individual and group photographs, videos featuring the student or other identifying information."
➔ Privacy settings: It's all too easy to forget to adjust the privacy settings on personal social media accounts, which means comments you thought would only reach your friends or colleagues may be broadcast to everyone, including students. The College's professional advisory says to adjust the settings appropriately and check them regularly, since social media sites have been known to change the settings arbitrarily.
➔ Inappropriate material: Social media is full of content unsuitable for students, including violent and sexually explicit material. Teachers who use social sites in class should check to see if the service has a safe-access mode to filter out material inappropriate for children.
Knowing the potential pitfalls, forward-thinking teachers can use social media to great effect, both in class for students and for their own professional development. Here are some of the more popular social networks used by teachers for educational purposes.
It began as a simple service where people could chat, comment and share images. Today, it has more than a billion users who communicate, play games and promote services. It takes no time at all to find other teachers to talk to and educational topics to discuss.
Upload, edit and share images and short videos. Now owned by Facebook, Instagram has more than 400 million users. Teachers use Instagram to show parents what's happening in class in real time.
This is a digital corkboard where you can virtually pin photos, drawings and other images you create or that you find on other users' boards. With thousands of images to browse, it's easy to discover pictures to inspire your next great class project or lesson.
This site lets you pull content from Twitter, Facebook and other social media platforms to create streamlined narratives out of tweets, posts and pictures. Teachers use Storify to make digests about class activities so parents aren't overwhelmed by constant Twitter or Instagram updates.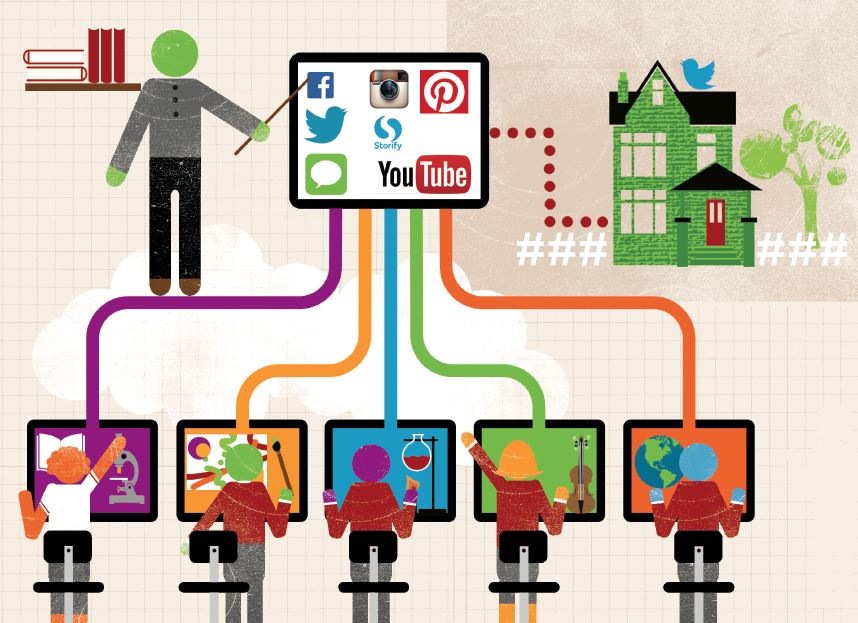 Initially established as a micro-blogging site, it's now a full-fledged communication system where users "tweet" 140-character messages and "follow" other people's accounts to stay abreast of new tweets. Many teachers use Twitter to reach other educators for professional development. And teachers have also been known to tweet about class activities to keep parents informed.
Find and watch videos from people and organizations on a mind-boggling variety of topics. Or upload your own educational videos to become a genuine participant in this wide-ranging audiovisual platform. With more than a billion users, it's easy to find videos on any theme, from algebra and physical education to literacy and music.
Most teachers do use social media effectively and responsibly. Here are a few success stories from OCTs who are reaping the benefits of this tool in the classroom and in their own ongoing learning.
Connecting with peers
Early and often: That's the approach to social media at Holy Trinity School in Richmond Hill. Staff, faculty and students regularly turn to technology to engage the world.
They start young. Kindergartners work together to post on Twitter, summarizing what happened that day and giving parents a glimpse into their class. Grade 5s use Twitter to discuss books. Sometimes the teacher will alert the author about the conversation — and the author will join in. Grade 12s studying Canadian and international law use a number of social networks to promote awareness of important matters such as sweatshop labour in the garment industry.
The idea is to teach children that social media can be a way to connect with peers, generate discussions and broadcast calls to action.
"We're protective of the students, especially the younger ones," says Stephanie Stephens, OCT, executive director of innovation and technology at the school. They tweet as a class, not as individuals, so their identities are hidden. And in Grade 5, students have social media lessons to learn smart web habits such as the importance of keeping private information confidential.
Communicating with parents
When Jonathan So's daughter started school, she regularly came home with not much to say about the day. An OCT and Grade 6 teacher at Ray Lawson Public School in Brampton, So figured the parents of his students received equally uninformative reports.
"If you ask, 'What did you do today?' the answer's going to be, 'Nothing," So explains. He decided to use Twitter to send messages to parents about what's happening in class (@MrSoclassroom)." Parents told him the pictures and messages helped open the door to more engaging conversations with their children. That makes sense to So. "If you can say, 'I noticed you were 3D printing in your classroom today. What was the best part of that? What did you make? What did you find hard?' it gives your child a chance to think about their day," he says.
So tweets 15 to 20 times daily, but he came to realize that many parents had trouble keeping up with the flow. That's when he started using Storify, a service that lets you stitch together social media posts to create digests of tweets, pictures and messages. Now parents of So's charges can go to the Storify account to view weekly tweet summaries, rather than try to stay abreast of his messages in real time.
He's also careful about student confidentiality. "Normally it's back of heads, fingers and their work," he says of the photos he shares of students. He also has parents sign permission forms at the beginning of the year for their consent, allowing him to share pictures of some children's faces.

"Teachers would be wise to follow the college's professional advisory on social media use."
Classroom and professional learning
Allison Fuisz, OCT, a Grade 7 and 8 French immersion teacher at D.A. Moodie Intermediate School in Ottawa, uses Twitter to teach students responsible web behaviour, and for her own professional development.
Her students have their own class Twitter account to publish pictures of their work and to discuss lesson topics. This online activity gives them the chance to practise what Fuisz has taught them about social media use. One such lesson: the concept of the digital tattoo. As Fuisz says, a real tattoo is hard to erase; your digital tattoo — the pictures and comments you post on social media — can be just as difficult to delete. So think about what you write and share.
Parents follow the class's Twitter feed. "They love it," Fuisz says. They like to know what their children are learning.
As for professional development, Fuisz helped start #ONedchat, a Twitter feed for teachers from across Ontario and farther afield to discuss ideas and share best practices. "We have educators from Toronto, London and Ottawa. We even have people from the U.S. We're doing a bunch of different topics, everything from supporting new teachers to mental health and computer coding."
The chats are scheduled for the second Wednesday of each month from September to June, 8:30 p.m.
These OCTs represent just the tip of the social media iceberg. Countless educators use social networking sites to enhance their teaching and connect with peers. For most teachers the technology's rewards outweigh the risks, as long as you pay attention to details such as your social media privacy settings, careful handling of student information and restricted access to inappropriate content. Teachers would be wise to follow closely the College's guidelines found in its professional advisory on social media use to ensure their tweets, posts, likes and shares meet professional standards.
The Dos and Don'ts of Responsible Use
Here is some practical advice derived from social media guidelines for teachers who use social networking.
Do …
Manage your account privacy settings.
Teach students what private information is and why they should keep it confidential.
Remind your students regularly about responsible social media use.
Ask students about the social media platforms they use and explore them.
Use social media to show parents what's happening in class.
Act as if whatever you publish on social media can be read by anyone.
Be aware of your employer's social media policies and your school board's guidelines.
Consult the Ontario College of Teachers' professional advisory Use of Electronic Communication and Social Media (oct-oeeo.ca/1iqmDeO).
Don't …
Assume your students know how to use social media responsibly.
Use social media to complain about your colleagues, your workload, or other problems.
Accept student-initiated "friend" requests.
Use sarcasm or be rude in your posts.