Toward wellness
As in other professions, educators are not immune from stress, anxiety, burnout or a medically diagnosed illness. Mental wellness is as important for teachers as it is for students. Here's where to turn when the going gets tough.
By Jennifer Lewington
Photos: James Heaslip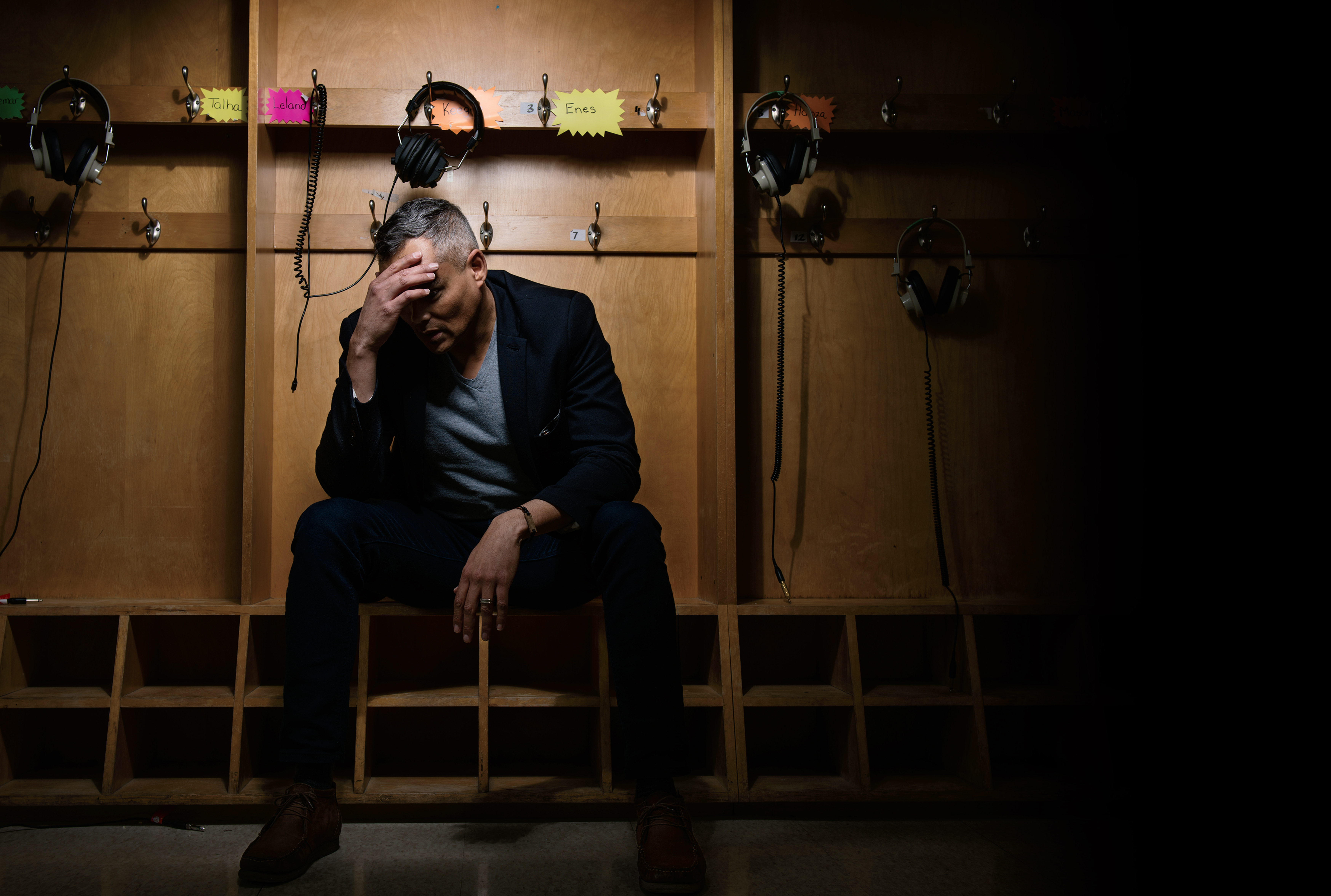 When the Toronto Catholic District School Board held a professional development day in early 2015, teachers and staff were free to choose from an array of workshops. One was on mental well-being.
It attracted so much demand that organizers squeezed in two more sessions and, except for time constraints, would have added more on that day's topic: stress-relieving practices of mindfulness meditation and contemplation.
"This [demand] spoke to the profound interest and need for teachers to find techniques for themselves for wellness," says Toronto Catholic District School Board guidance counsellor Dianne Banasco, OCT, one of the workshop leaders. "[Educators have] a strong interest in wellness tools and other supportive opportunities for themselves."
The appetite for wellness information, she observed, is one example of the desire teachers and school staff have for mental health training specific to them. In response, school boards, faculties of education, teacher federations and others are turning to wellness strategies aimed at supporting individual educators and, equally, promoting healthy school cultures.
It's a welcome development, say experts. "If you were to Google school-based mental health, you would come up with reams of resources and studies that are all about students," says Susan Rodger, a psychologist and an associate professor at Western University's faculty of education and co-author of a 2015 study on teacher mental health. "When we search those terms in Google or in our academic databases, we come up with very little about teacher mental health and wellness."
"People are hungry for this information [for themselves] because they know it is one of the goals of education to support the wellbeing of students," says Suzette Clark, director of educational services for the Ontario Secondary School Teachers' Federation. In 2014, her federation developed a mental health workshop for teachers to examine key facts about mental health and mental illness with a review of available resources for students and educators.
"We never had so many requests for a workshop as we had for this one," says Clark. "[Educators] have relatively little that has been offered to them as training." As in other professions, teachers are not immune from stress, anxiety, burnout or medically diagnosed illness. One in five Canadians will personally experience a mental illness in his or her lifetime, while 500,000 Canadians do not go to work in any given week because of mental health problems, according to the Mental Health Commission of Canada.
"[If teachers are going to] bring up the youth of the future, [they too need to be] well and healthy," says Sapna Mahajan, director of workplace mental health at the commission, which is expanding links with education and other sectors to promote psychologically safe places of employment.
As with teachers, mental wellness is a concern for principals and vice-principals who are expected to promote a healthy school climate for students, staff — and themselves. A 2014 report, conducted by researchers at Western University for the Ontario Principals' Council (OPC), found that student and parent mental health issues "pose the greatest challenge in principals' work."
Last year, OPC and its Catholic and francophone counterparts teamed up with the province's School Mental Health-Assist program to offer professional development to school leaders. Meanwhile, OPC is also developing a resource kit on mental health and wellness tailored to the needs of school leaders.
Like other school officials, principals also have access to board-provided employee assistance programs (EAPs) that offer counselling and other services to those needing mental health support.
Strength in Numbers
The positive impact of educator well-being is not lost on Patrick Carney, past-president of the Association of Chief Psychologists with Ontario School Boards and author of Well Aware: Developing Resilient, Active and Flourishing Students.
He says a robust "well-being toolkit" for teachers includes positive relationships in and outside the classroom, personal capacity for flexibility, empathy and self-worth, strong communication skills, an affinity for finding solutions and, not least, a "caring, inclusive, and respectful professional environment."
"If teachers are not part of a supportive community, they feel isolated and we know that can't work," says Carney, who is currently a senior psychologist at Simcoe Muskoka Catholic District School Board. In recent years, to promote the mental health and wellness of staff, his board established a wellness committee and offered a workshop on wellness tips including a primer on board-funded EAPs administered confidentially by third-party providers.
Know Thyself
For some teachers, establishing a healthy work-life balance begins with professional self-reflection. In 2002, after almost three years as a science teacher with the Upper Canada District School Board, Carol Williams, OCT, says she felt "burned out" from sometimes wearing interactions with students and parents. Then she read about Courage to Teach, an American organization with branches in Canada that offers quarterly retreats in a safe, respectful setting for personal and professional renewal.
On her own and in group settings, Williams used the retreats to examine questions important to her, learning how to slow down, pause and stay in the moment. She says she sharpened her "sense of curiosity about what is going on with the person you are at odds with," learning to stand in another person's shoes. That perspective, notes Williams, shows "you are on their team; and when you are on their team you can come up with solutions."
More than a decade later, Williams still applies the resiliency skills acquired through Courage to Teach to balance her professional and personal life.
"We hear a lot that we need to strengthen [resilience] in kids, but I don't think there is any way we can expect it in kids if teachers are frantic, crumbling or shut down inside," she says. "If there is only one thing we can do as teachers to make a difference, it is to be absolutely strengthening our own mental and emotional health."
Another long-time participant in Courage to Teach retreats says the opportunity for structured self-reflection allowed her to put the multiple demands of school and home in perspective.
"I am a better teacher for knowing myself," says Valerie Weeks, OCT, a teacher with the Simcoe Muskoka Catholic District School Board for the past 12 years. "I don't come home nearly as stressed out as I used to."
Another resilience-building strategy is mindfulness, which uses breathing and other stress-easing techniques to promote a sense of well-being.
At Toronto Catholic District School Board, which offers a wide range of professional development on wellness, the board partners with Mindfulness Without Borders (MWB), an international organization that teaches strategies to promote the social and emotional health of professionals, including teachers.
Banasco, a workshop leader for the board's 2015 professional development day, is one of a growing number of MWB-trained facilitators who support board colleagues in practising and delivering mindfulness meditation and contemplation to the school community.
The goal of the workshop is twofold, she says, "so that you as a teacher can create an atmosphere that supports mental wellness and student learning."
Rita Polsinelli-Mammone, OCT, a vice-principal at Madonna Catholic Secondary School, has applied her training through Mindfulness Without Borders to build rapport with students — and staff.
"Emotional intelligence helps me to understand myself and others," says Polsinelli-Mammone, an advocate of open-door policies that encourage regular communication with staff. "Teachers need to feel heard," she says. "Without a relationship, none of this is going to work."
Sometimes, Polsinelli-Mammone opens a staff meeting with a minute or two of silent reflection for those present to shrug off the day's stress and regroup. "If people see you engaged in what you are trying to promote, then there is authenticity," she says.
Healing Power
At St. Joseph's College School, a Toronto Catholic school for Grade 9 to 12 girls, teacher and chaplaincy team leader Monica Godin, OCT, says her mindfulness training has helped her to react less to disruptions than before.
"This is a different approach," says Godin, of the self-care focus of mindfulness. "Before, I would have been annoyed [by a student's distracting behaviour]. Now I say 'I notice you are really distracted. Is there something going on in your life that makes it difficult for you to pay attention here, and how do we address that?'" she explains. "That is a huge gift for me as a teacher."
She and others at St. Joseph's also create opportunities for students to practise the healing power of meditation.
Last June, close to graduation, Godin's Grade 12 students began their daily religion class as they had from the start of the school year: they turned the lights out, shut their eyes and, under Godin's verbal coaching, slowed their breathing for three minutes of silent thought.
When Godin left the room, students reflected on the impact of her calm demeanour. "She makes me want to come to class and do well," said one.
One in five Canadians will personally experience a mental illness in his or her lifetime, while 500,000 Canadians do not go to work in any given week because of mental health problems.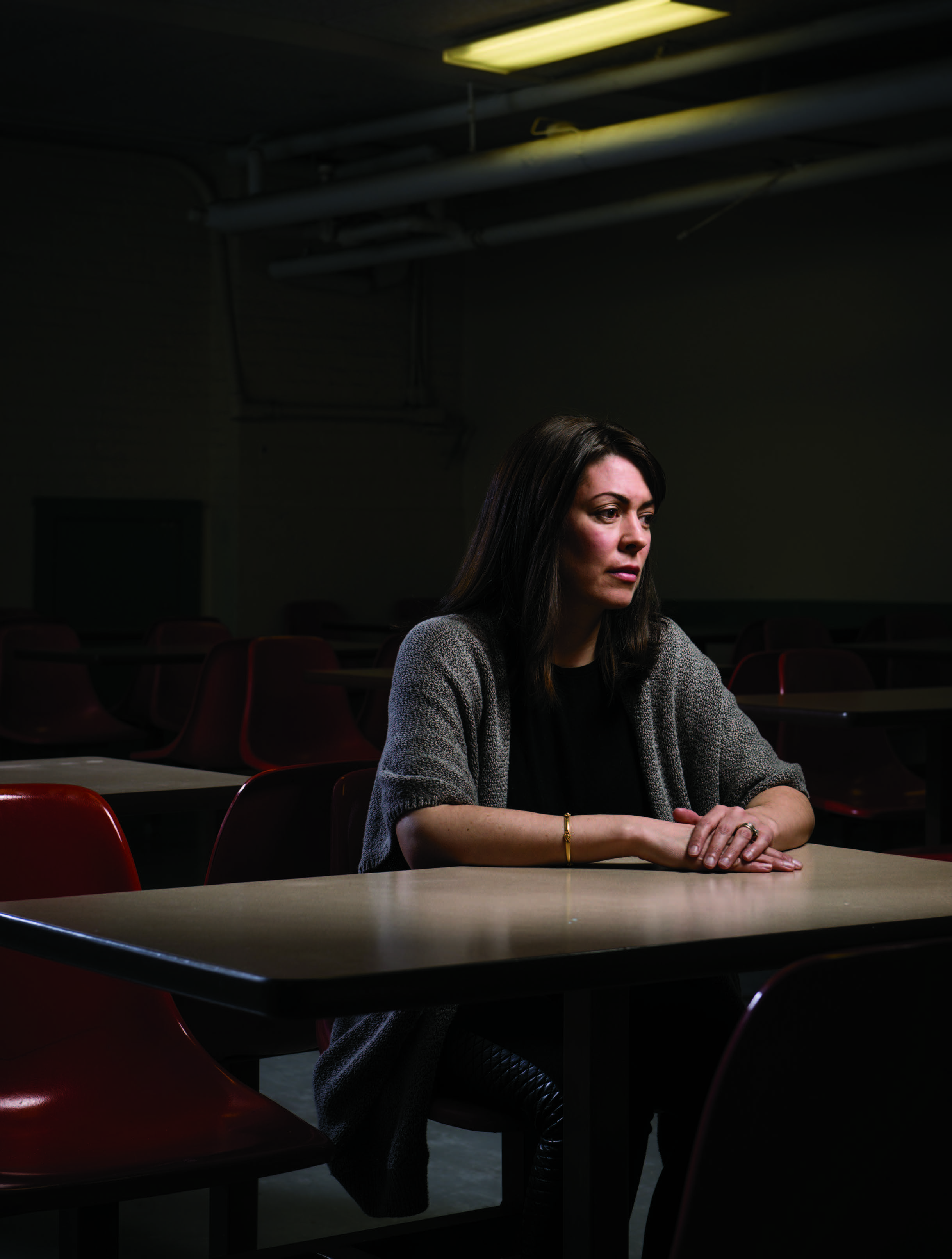 Tools for Recovery
At other schools, nurturing a positive working environment includes staff access to exercise and yoga and in-school training on mental health literacy. A year ago, Sherwood Secondary School in the Hamilton-Wentworth District School Board offered informal "lunch-and-learn" sessions for staff to discuss mental health issues they confront in and outside the classroom.
"Our strategy was 'what can we do for the teacher to help alleviate some of their anxiety, given the [student] anxiety being brought into the classroom?'" says former principal Robert Pratt, OCT.
An open discussion about mental health, he adds, sends a powerful message. "It's no longer the dirty little secret," he says. "It is OK to talk about it."
Elsewhere, that "whole school" focus recommended by Carney reaches deep into the classroom at Westmount Public School in London, Ont.
"Teachers need to feel that you are there [for them], that you are trying to help them and that you are supporting them," says Paul Cook, OCT, who spent three and a half years as principal of Westmount before retiring last year.
Last year, a Grade 3 class of 19 students had two special needs children, one a girl with multiple medical problems including fetal alcohol syndrome. Before she arrived at school in September 2014, Cook brought together classroom teacher Jason David, OCT, two education assistants, an occupational therapist, a learning support teacher, two Special Education learning co-ordinators from the school board and the child's mother for a discussion.
They met monthly to compare notes on the girl's progress, modifying activities in and outside the classroom to support the child, her classmates and the teacher. "There was no mystery," says David. "Everything was on the table and we worked well as a team."
However, one challenge that is unique to the Franco-Ontarian community is access to psychological services in French. "For the francophone community, because we are so small [in population size], privacy is sometimes a concern," says Theresa Hughes, the recently retired mental health leader for Conseil scolaire Viamonde, a French public board. "If the number of professionals who speak French is limited, it becomes more of a challenge to find people who are qualified."
Those educators who use EAPs see them as necessary tools for recovery. In November 2014, with mid-term marks due for students, an experienced Toronto high school teacher walked into her Grade 11 classroom and started crying. She couldn't stop.
Struggling with a marital separation and a chronically sick child, she found the emotional strain at home taking its toll on her at school. "I went to the administration and said 'I cannot do this,'" says the teacher, who spoke on condition of anonymity. She took a three-month break, getting professional help for depression and anxiety through her EAP and taking advantage of other sources of support that included visits to a naturopath, exercise at the gym and participation in a retreat before returning to the classroom.
Taking the break, she says, "was one of the best things I did." Assisted by her school administration, she made a gradual re-entry to the classroom. She also received support from her local teacher union to navigate the approvals required for health benefit coverage.
She advises others facing similar challenges to invest in making a recovery. "Take time to heal," she says.
In attending to her needs, the teacher says she now is more in tune than ever to the social and emotional needs of her students. "That is the personal growth I am working on as a teacher," she says.
The Next Generation
Training a new generation of teachers about mental health and wellness is a growing priority for faculties of education. For example, Western's faculty of education now offers 18 hours of mandatory instruction on mental health literacy as part of the province's enhanced teacher education program.
Similarly, Queen's University faculty of education now offers a six-hour certificate on mental health. "The main emphasis is on self-care," says Peter Chin, associate dean of undergraduate studies. "How could you possibly be helping kids to connect to their dreams if you are not whole?"
Meanwhile, the Conseil scolaire de district catholique de l'Est ontarien is working with the University of Ottawa's faculty of education on new leadership training to hone the emotional intelligence of school principals.
"We put too much emphasis in the past five years on professional and technical competencies," says Alain Martel, OCT, superintendent of education for the Conseil scolaire de district catholique de l'Est ontarien. "But we have realized that personnel resources are what hold everything together."
Advocates liken the acquisition of mental health tools for teachers to the instructions given to adults when travelling on a plane with children.
"You need to put the oxygen mask on yourself first," says Banasco.
Mental Wellness Resources