Where Learning Takes Root
Students get more out of a school garden than dirty hands. They also learn about sustainability, healthy eating, community and the importance of getting outdoors. Here's what you need to know to dig in and maintain a garden for your own school.
By Kira Vermond
Photo: Mark Burstyn
Deidre Millar is known as a ball of energy, a self-described "visual person" and a big believer in eating a healthy diet. But for the students at Kikendaasogamig Elementary School with the Chippewas of Nawash Unceded First Nation Board of Education, she's something else: a magician.
Not only does she know how to turn tiny, brown seeds — no larger than a pinhead — into crunchy orange carrots, but under her care, rock-hard corn kernels transform into emerald green stalks rising two metres above the soil.
As the school and community nutrition project co-ordinator, Millar is at the helm of Kikendaasogamig's brand new school garden project for the 75 to 85 elementary students in the small community school at Chippewas of Nawash Unceded First Nation in Neyaashiinigmiing, Ont., on Georgian Bay, north of Owen Sound. And she's the first to admit the garden has been just as much of an eye opener for her as it has been for the children.
"I was actually shocked. We're under the assumption that all students realize where food comes from, but that isn't always the case. Some think it comes from the store," she says.
"Research suggests that regularly coming into contact with the great outdoors leads to less anxiety and lower blood pressure in children. Gardens may also be linked to healthy weight."
Not anymore. Last year while teachers were watching the children play at recess, a few ran by the four new raised garden beds on the playground laden with vegetable plants and stopped for a moment to pluck a snap pea or bean.
Some of the staff on yard duty wondered if they should stop the miniature munchers. Later, they mentioned this to Millar. "I said, 'Let them do this because this is the reward for the hard work they've put in.' They were tasting the fruits of their labours. Literally."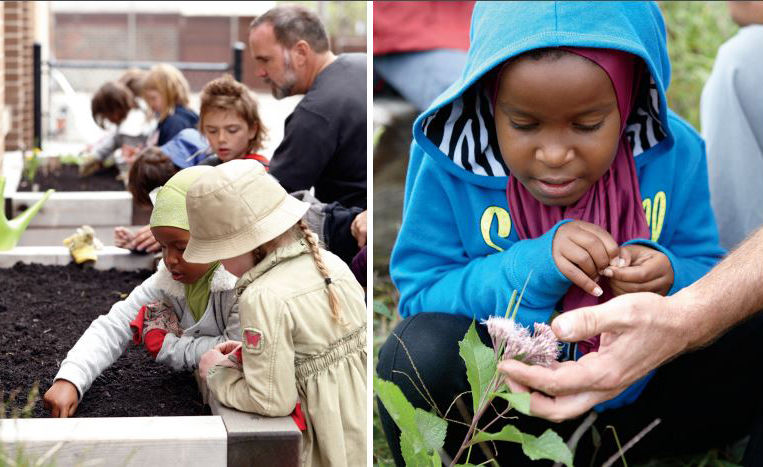 The Kikendaasogamig garden is part of a growing educational trend in Ontario and across North America that merges learning with nature and food science with fun. It comes at a time when parents, educators and researchers are trying to come up with new ways to engage children in experiential and play-based learning outdoors, instead of being hooked on screens for hours each day. School gardens also serve as excellent outdoor classrooms where children learn the links between growing their own food, diet, sustainability and renewable resources. Considering that climate change has been called one of the greatest challenges of the 21st century, it's little wonder that teachers are looking for ways to show students how to raise ecological consciousness, one seedling at a time.
"When the students have someone to guide them, they realize how enjoyable [gardening] is," says Stefan Dixon, OCT, vice-principal of École Élémentaire La Mosaïque, a Toronto-based French school in the Conseil scolaire Viamonde school district where Dixon started a vegetable garden in 2012 to teach students about sustainability. "They realize they don't have to put on gloves. They like to touch the soil. When they see, smell and touch, and listen to the birds, all their senses are awakened."
Dixon is on to something. Research suggests that regularly coming into contact with the great outdoors leads to less anxiety and lower blood pressure in children. Gardens may also be linked to healthy weight.
Gardens sprout benefits
Beyond encouraging wholesome diets, school gardens meet students' different social needs, says Katie German, Field to Table Schools manager for FoodShare, a non-profit agency in Toronto, which runs garden workshops. She has seen shy children forget their anxieties over a patch of leafy lettuce, just as she's witnessed extroverts leading a group of their peers as they pick a basket of greens.
The loose, unstructured time in nature is a godsend for less athletic types too. "If you're out there and gardening, it's OK to just spend time outside when you're not necessarily focused on some sort of sport. That's good for some kids," she explains.
While these intangible benefits are compelling, Sunday Harrison, a veteran school garden supporter and executive director of Green Thumbs Growing Kids in Toronto, maintains there are plenty of academic gains too.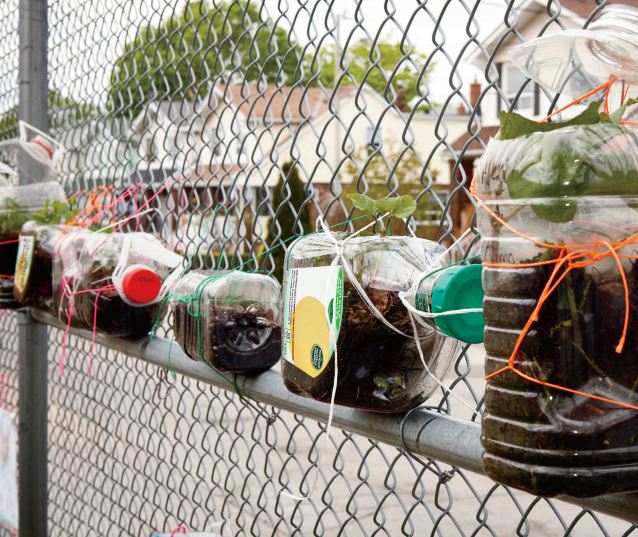 "Study after study shows that garden activities support learning in science, but also in language arts and math, and actually increase performance on standardized tests," she says. "If inquiry-based learning is what you're interested in developing in your classroom, the garden is an amazing way to do that."
In fact, Swedish research showed that students aged 13 to 15 who were taught biology outdoors, exhibited better long-term recall than those taught inside. The students themselves reported feeling more alert, focused and engaged, partly because they were working in a real-life environment. The fresh air didn't hurt either.
How does your garden grow?
But what to do about Canada's summertime harvest season that lands smack-dab in the middle of the summer school break? Unlike American school gardens in warm southern states, Canadian gardeners must be mindful of what they're planting and when.
"You have to think about summer. This is Canada. That's when the crops come in," admits Harrison. Fortunately there are numerous ways to work around this that actually help students learn even more about how their food is grown.
Take the Bayridge Secondary School year-old harvest garden in the Limestone District School Board in Kingston. Julie Cameron, OCT, the culinary arts teacher and avid gardener, teaches her baking and business students, with her colleague Gareth Alexander, OCT, how to plan, plant, maintain and harvest a three-season garden that sits right behind the class kitchen. Even in December they're harvesting winter-hearty kale.
What started as two raised beds has become a large, landscaped and fenced space boasting everything from fruit trees to bush beans. In fact, there's so much food in the fall that it gets incorporated into the popular hot lunch program. Every Friday approximately 60 to 70 students and staff buy a homemade meal for $5. (Money gets pumped back into the culinary arts and baking program, which includes the garden.)
"We strategically planted vegetables — carrots, rutabaga, squash, parsnip, beets — things that will grow in the ground and just need to be maintained, weeded and watered throughout the summer for the fall harvest," says Cameron.
After all, it's important that students who meticulously started heirloom tomato plants by seed back in April have an opportunity to eat — and serve — the food they nurtured.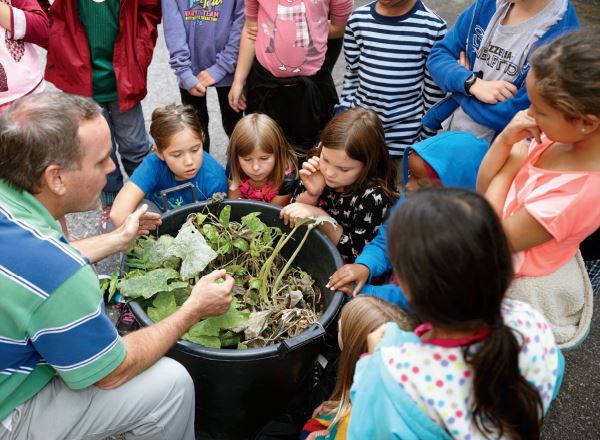 FoodShare's German lists other strategies to keep the garden growing when children and teachers are away for the summer: connect with community groups or gardening clubs and see if they'll weed and water in July and August. High schools might hire a co-op student, or work with a school garden organization like FoodShare's Field to Table Schools program. She says some schools set up a summer schedule. Students' families offer to maintain the garden for one or two weeks.
You can also plant fast-growing plants like lettuce and radishes in the spring and plant them again in the fall.
Have a Plan B
When it comes to support, it's important to have it from all sides before taking on the task of building a garden. Get buy-in from the administration, parents' groups, community groups and the students themselves. Harrison warns that without this backup, many school gardens languish after a couple of years when participating principals, parents or teachers move on.
Getting that support at the beginning will likely not be as simple as digging a hole in the ground and planting a few seeds though, particularly if you've got bigger plans. Cameron says putting in the garden was the easy part. It actually took her two years — with help from a colleague — to deal with the details. Because she planned to change school property, she needed to get the school board's input. "I'm a full-time teacher. I'm not a contractor or a landscaper. I had never gone through a bidding process before," she says. "We had to learn."
All the work paid off even at the community level. Since building the garden, many parents walking their young children past it on their way to the nearby elementary school, have stopped to tell Cameron how the garden has had an impact on their families too. The children stop each morning to see how the garden changes each day.
"We have gotten so many wonderful comments. This garden has brought the community together," Cameron says.
Millar's garden at Kikendaasogamig Elementary School was perhaps a smoother process, since her garden is small and meant primarily for teaching. She is also supported by Canadian Feed the Children, which supports other nutrition programs at the school.
Millar says her students' garden has allowed her to offer lessons in life and culture that would have otherwise been lost. She thinks back to the time she taught "three sisters" planting: corn, beans and squash are planted together because they support each other as they grow. Corn stalks prop up bean vines, while squash leaves help retain moisture. It's companion planting, First Nations style.
"Companion planting is about working together," she says now. "When you work together you can produce something that is beneficial for all."
AQs in Environmental Studies
There are several College-accredited Additional Qualification (AQ) courses in environmental science/studies. These AQs explore a variety of concepts from integrating environmentally sustainable practices, to fostering responsible and active environmental stewardship, to indoor and outdoor education practices and policies that support students' well-being, resiliency, efficacy and mental health.
To find out more or to find an AQ that suits your needs, visit our Find an AQ search engine at oct-oeeo.ca/1NbIIVw.
Resources
Green Thumbs Growing Kids
greenthumbsto.org
A non-profit in Toronto, it runs programs for elementary schools, high schools and adults. The after-school and summer youth program teaches youth how to grow food in small spaces.
FoodShare
foodshare.net
Field to Table Schools is FoodShare's good food education program bringing hands-on, curriculum-linked activities like gardening, nutrition, composting and cooking to students from JK to Grade 12.
School Garden Wizard
schoolgardenwizard.org
A U.S.-based organization that offers numerous lesson plans and activities for planning and growing a garden, as well as tips and worksheets for those who want to start one.
Last Child in the Woods
Richard Louv's 2005 book explores the staggering divide between children and the outdoors. He also looks at the possibility that human beings, especially children, are spending less time outdoors, which is resulting in a wide range of behavioural problems.
The Garden Classroom: Hands-On Activities in Math, Science, Literacy & Art
Packed with garden-based activities that promote science, math, reading, writing, imaginative play, and arts and crafts, The Garden Classroom, published in 2015, offers learning ideas, however big or small, for your garden.
Plan and Propose
Want to start a school garden, but not sure if you'll get buy-in from the administration? Write a proposal. Not only will the task solidify the garden's potential in your own mind, but you'll also be able to articulate how it will support your curriculum. The School Garden Wizard offers this advice on what to include in your written plan.
Provide a pedagogical rationale. State how the green space will support the curriculum you already teach. Don't forget to include how the garden will support others' teachings.
Use examples. Include examples of plant-based activities you'll try, as well as examples of other schools that have already been successful with gardens like yours.
Paint the picture. Describe what your ideal school garden will look like and give reasons for your decisions. Use descriptive, energetic words to build excitement.
Conclude with flair. Reiterate why the school garden will have a positive impact on the students at your school. Not only will it give them a new way to learn, but it will also be fun.
Stick to a work plan. Outline who will build and maintain the garden, including a list of names assigned to each task. These could include teachers, students and parents.
Talk about money. Talk to garden centres or community organizations, and then come up with a realistic budget. Include possible sources of funding too.