From The Chair
#Social Skills
Social media platforms like Twitter offer new ways to engage students and colleagues alike. The College's professional advisory on social media provides guidance on how to use the technology responsibly.
By Angela De Palma, OCT
@angdepalma
Photo: Matthew Plexman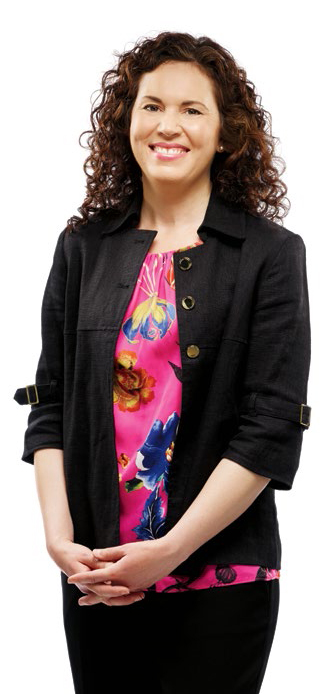 Do you tweet? Had this question been posed to you a decade or so ago, you might have wondered if whistling was involved. That's likely not the case today. My venture into the "Twittersphere" began just over a year ago when a colleague urged me to dip my toes into the world of hashtags and other written text in the 140-character range. I was drawn to her weekly animated anecdotes about the virtual professional learning community available at one's fingertips on Twitter.
Admittedly, I am still green in the Twittersphere, yet I am humbled by and impressed with the amount of professional learning readily available on the social networking service. Interested in engaging students in a debate about homework? Find a range of input from students, parents and educators on Twitter. Considering hosting a codefest? Use Twitter to locate recommendations and guidelines. Wondering about next steps after giving a reading diagnostic assessment? Watch a webinar on Twitter that outlines best practices. You get the idea.
A couple of months ago I was invited to participate in a Google Hangout and Twitter backchannel hosted by a Lakehead University faculty member. Several Ontario educators from across the province connected online to share their perspectives and experiences regarding one's professional digital persona. This was the topic of discussion, which aimed to inform and support teacher candidates by exploring such issues as identity, safety and ethics for their professional practice. Responsibility, transparency and accountability are just as essential in the virtual world as they are in the physical world.
Social media platforms offer the power to engage, instruct and connect students and educators — not only around the province but throughout the world. Pair a digital tool with a creative teacher and voilà! — the result can be pedagogical nirvana. Can a professional learning community in 2016 include "Twitter Learning Communities (TLCs)"? #Absolutely.
As with any instructional strategy, it's best to follow authoritative guidelines when incorporating a digital element. This is where the College's professional advisory Use of Electronic Communication and Social Media (oct-oeeo.ca/1iqmDeO) can help. By framing the responsible use of electronic communication and social media by College members in an educational context, the advisory guides and informs our professional practice.
Most social media applications were not specifically created for use in education. Each platform may feature individual guidelines or rules, but they are targeted to the generic user. The College's professional advisory is written for educators. Unique issues involving risk, off-duty conduct and professional boundaries referenced in the advisory are essential considerations for the profession.
Thanks in part to the colleague who introduced me to social media as a professional tool, I joined the Twitterverse and am realizing its potential. Live tweets during faculty of education presentations and Council and committee meetings help engage teacher candidates, faculty members and fellow Council members. Followers can learn more about College activities, resources and the international guests the College attracts.
So, what are you waiting for?