Space to Learn
How do physical settings influence student engagement? Meet five teachers who have altered their traditional environments to respond to and excite their learners.
By Stuart Foxman
Photos: Robert Nelson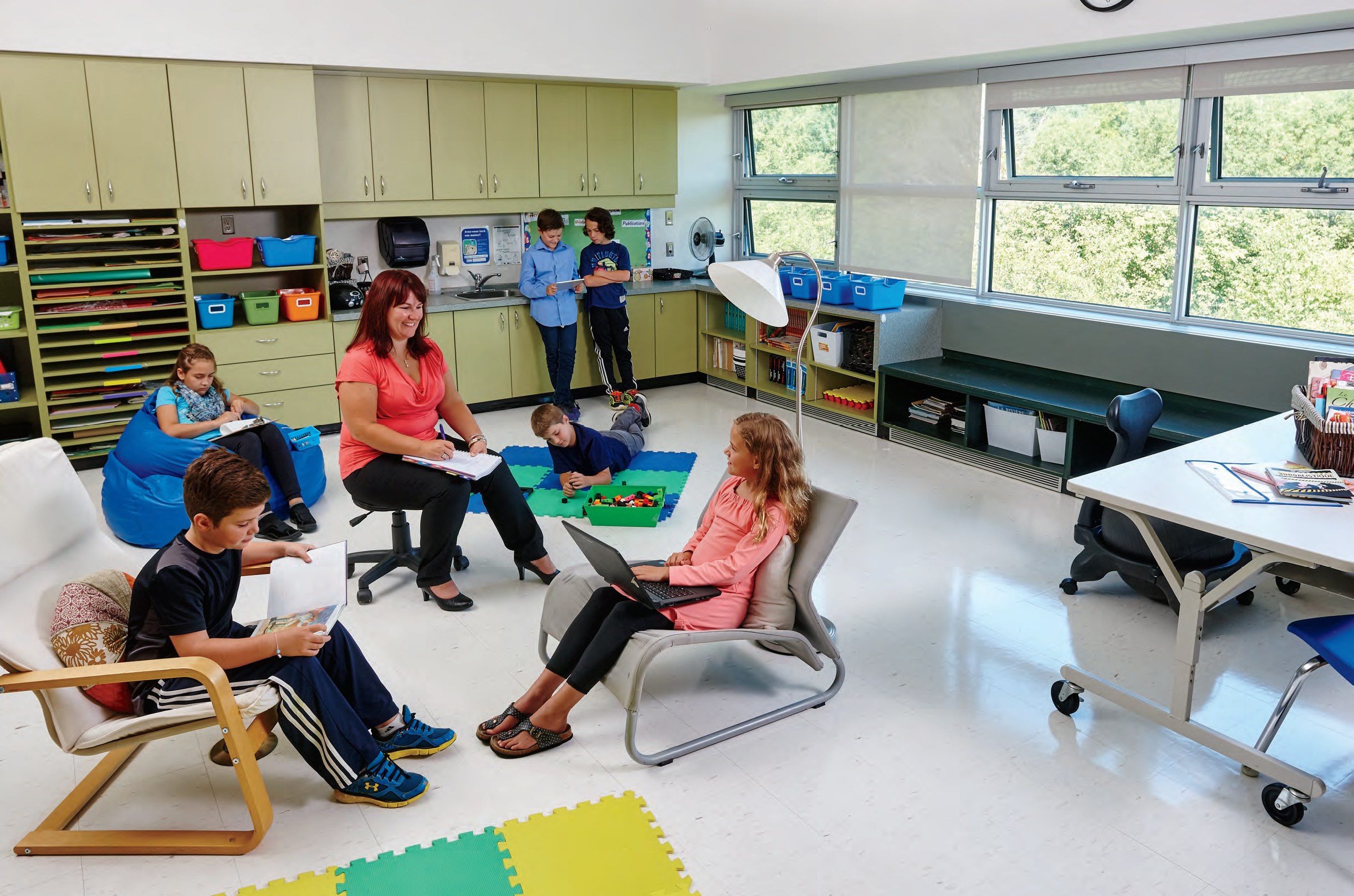 The book The Third Teacher suggests three forces are at play in the classroom: the teacher, the student and the environment. This backdrop can be an essential part of what encourages or discourages learners. That's why teachers across Ontario have adopted imaginative strategies to create the best possible surroundings for student success.
The Living Room
In high school, Mélissa Foisy, OCT, used to do homework mainly in bed or on a couch. Today, when she brings her teaching chores home, those are still the go-to work spaces. "You want to be comfortable when you work," says Foisy.
That's the idea behind the space in her class that everyone calls the "living room." Foisy teaches Grade 4 at École publique Héritage, part of the Conseil scolaire public du Nord-Est de l'Ontario, in North Bay. She decorated part of the classroom with two comfy chairs, three beanbags, cushions on the floor, a lamp, and a wooden bench with pillows and a blanket.
The class has discussions there, and it's also where Foisy reads to them. The children are free to use the living room any time. If they need to write, there are clipboards. Foisy notices that the children are more attentive than when seated at a traditional desk. She credits the cozy and relaxing environment.
"They're more into it. Their eyes don't wander, and they'll finish their work faster," she says.
The rest of the classroom space is unconventional too. Foisy replaced individual desks with six rectangular group tables, and has seen much more collaboration.
"Instead of raising their hand right away to ask a question, they'll help each other," she says. "They learn from their peers when they can find a strategy and a better way to explain it to each other. It's more co-operative."
At first, there were conflicts. The students weren't used to sharing space and respecting a mutual table. "They needed to work on their self-regulation," says Foisy. But over time, she reports, "we grew much closer as a group."
When Foisy came in for a PD day to do report cards, she herself curled up on a beanbag. She completed the work more quickly, and her back and neck didn't hurt at day's end. She felt like she was home instead of at school — and that, she says, is the trick.
Leaders of the Round Table
He may be the teacher in his Grade 7/8 class, but Michael Leonard, OCT, is far from the only leader. That's the role of every student, thanks to his class setup.
Instead of assigned seats, his classroom at Kitchener-based Blessed Sacrament Catholic School, part of the Waterloo Catholic District School Board, has round tables for four, where each day students take turns being the leader. At regular intervals, they switch tables except for the leader. His/her job is to ensure the students at the table stay on task and share ideas "The students learn to be accountable," says Leonard. "I see more talk that relates to the curriculum, better feedback and enriched conversations. The Grade 8s also help the Grade 7s because of the proximity."
That's not the only twist in Leonard's class. He understands that some students need to move and burn off energy to stay focused. In previous years, he walked a particularly rambunctious group around school for 10 minutes before he started the class. Although it took away from class time, the remainder of the class was more productive.
Now, Leonard has a stationary bike in the class for the same purpose. He once told the students that the wheels on the bike shouldn't stop all day, forgetting there was a test. So for 40 minutes it was Leonard who pedalled.
Besides the liberty to change seats, students have the freedom to use various technologies to enhance learning. That includes using Chromebooks and the Google CS First program (computer science), designing and constructing Lego mechanics, and using Google Cardboard to experience places around the world through virtual reality.
When Leonard asks the students what they like about the classroom, they mention the round tables. It's not about the furniture; it's about giving the responsibility to the students and the collaboration that emerges.
Leonard offers this advice to teachers who want to alter the classroom environment: While not everything will work, shake things up. "Learning is messy and learning is about making mistakes. Don't be afraid to try something different. And don't be afraid to let the kids teach you."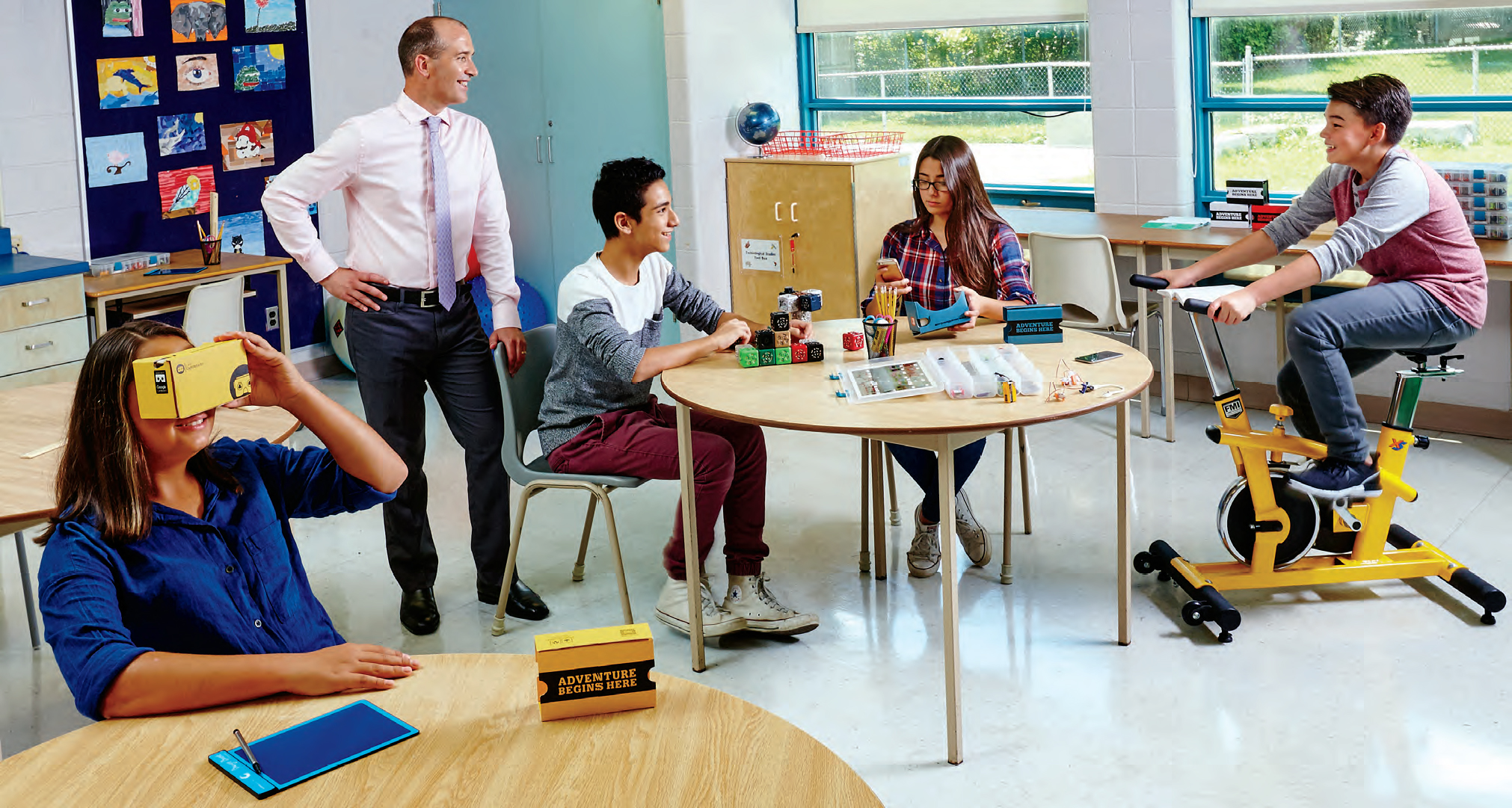 Workplaces and outdoor Spaces
When some of her students were starting a co-op at Value Village, Julie Prankard, OCT, made sure they had simple colour-coded charts to follow the process for shelving items.
"We're looking to make these placements stress-free and put students in the best mindset," she says.
Prankard teaches Level 1 vocational co-op students at Peel District School Board's Judith Nyman Secondary School in Brampton. Her students, aged 19 to 21, have various intellectual, learning and physical disabilities.
Some teachers adapt their classrooms to suit student needs. Prankard prepares students to live and work in the community, so that's the learning environment she modifies. "I meet with the employers to explain the abilities of students and what they can master."
At a daycare where a student with a visual impairment was working, Prankard ensured braille signs were placed around the space. For a Habitat for Humanity ReStore, students have special checklists with simple pictures of daily routines to follow.
Before a Toys "R" Us placement, Prankard attended a staff meeting. She explained that the young man would tend to go in any door, including the women's washroom and the manager's office. So she suggested posting stop signs on those doors to avoid awkward situations. "Everyone was understanding," says Prankard.
Accommodations don't end with workplaces — they extend to outdoor spaces. Learning the transit system is an important part of independence. So Prankard has gone on the bus routes to photograph landmarks along the way. She prints and laminates the photos, puts them on a big ring, and gives them to students. When travelling for their placements, the students can flip the photos to ensure they're on track.
Prankard went further for a student with short-term memory problems who had to walk to a co-op placement. Her family was concerned so Prankard walked the route and tied yellow ribbons to trees along the boulevard, all the way to the workplace. The ribbons stayed there the whole semester, and the student eventually learned the route.
It's just another way that Prankard fine-tunes learning environments to keep students headed in the right direction.
Connecting Concepts
What's one of the biggest challenges with high school science and chemistry? "There's too much focus on content," says Joe Ross, OCT, who teaches both subjects at Ottawa-based Gloucester High School in the Ottawa-Carleton District School Board.
Since knowledge can now be accessed at students' fingertips, his role has changed. "They can get the content; it's my job to deliver concepts and experiences."
For that, Ross has revamped his classroom and how students learn. At home, they watch and make notes on videos (his or from YouTube). But there's no note-taking in class and little direct instruction.
"Often that information would be in and out, and not explored," says Ross. "When you take notes, you're missing a level of engagement and discourse you can have with each other."
To foster co-operation, Ross fiddles with the physical environment. One day, students face each other in two pairs of two. They talk about concepts like mitosis using a Frayer Model (a tool to understand ideas and terms by visually defining their characteristics in four quadrants). Other times, he'll put students in groups of three or four to review and vote on ideas, or to problem-solve together.
"My goal is to observe their learning and identify their misconceptions," says Ross. "A focus in my class is collaboration and peer discussion. If all else fails, I come in with my expertise."
The approach isn't just about a physical environment; it's also about an intellectual one. At the end of most classes, students create a concept map to crystallize the unit's learning goals. They write an essential idea in the centre of a page and link it to bubbles with related strands, demonstrating the connection between ideas.
In place of a final exam for Grade 12 chemistry, students do a concept map for the entire course. "I don't see the value of exams; I see the value of testing knowledge," says Ross. "An exam gives you the ability to fill your head with copious amounts of knowledge for a limited time. It doesn't promote collaboration — it promotes stress."
If we want students who can solve problems, they have to see how things fit, says Ross. In a way, his whole classroom is a living concept map — students who connect with each other to explore their learning and string ideas together.
Freedom = Focus
Think of what it feels like to check into a basic hotel. The room is functional, but isn't really yours. Layouts are identical. To students, the traditional classroom can seem like a hotel room, says Christine Farnand, OCT, a teacher at Sudbury-based Queen Elizabeth II Public School in the Rainbow District School Board. Unlike renting a room, she wants students to own the space.
She calls her Grade 1/2 class an "agile learning space." The furnishings — small couches, tables, beanbags, benches — are on sliders. The students can rearrange the room daily, however they like, to suit work as individuals or in groups.
"[The students are] becoming their own independent problem-solvers because they have control over their environment. I don't carry the weight of pushing them. They're on their own journey. They're more self-motivated and passionate about what they're doing, so they're more invested in their learning."
The blackboards are painted with white-board paint, and one wall has floor-to-ceil-ing whiteboard panels. They become giant canvasses for solving problems and sharing ideas. In math, for example, the students pick up markers and work out ways to find the right answer. They see the different strategies, sparking collective learning.
The students also do a lot of work on iPads, instead of paper-and-pencil tasks. Farnand shares the results (like posters, videos and art projects) for all to see on a 60-inch TV. It creates a sense of pride.
In previous years, Farnand wanted the students at their desks to see they were on task. "I'm realizing that the more freedom I give them, the more focused they are because they're more comfortable. It's completely about choice.
"Farnand says the new classroom environment has been freeing for the students and her too. "I became a teacher not because I love teaching but because I love learning. This is student-led.
"The students are not only more on task in the new space, she reports, but they are also much happier because they have more of a voice.
"In the past, they wanted me to be the problem-solver. They're becomintheir own independent problem-solvers because they have control over their environment. I don't carry the weight of pushing them. They're on their own journey. They're more self-motivated and passionate about what they're doing, so they're more invested in their learning."
Create your own space
Looking for inspiration to transform your classroom environment? Check out these resources.
Books
Make Space: How to Set the Stage for Creative Collaboration
The Third Teacher
Visible Learning and the Science of How We Learn
Essential Questions: Opening Doors to Student Understanding
Calm, Alert and Learning: Classroom Strategies for Self-Regulation
Working in the Reggio Way: A Beginner's Guide for American Teachers
Pedagogical Documentation inEarly Childhood: Sharing Children'sLearning and Teachers' Thinking
The Language of Art: Inquiry-Based Studio Practices in Early Childhood Settings
Websites
Blogs