From The Chair
Educator Ethics
College conference brings together different perspectives on ethical standards.
By Angela De Palma, OCT
@angdepalma
Photo: Andrea Kellaway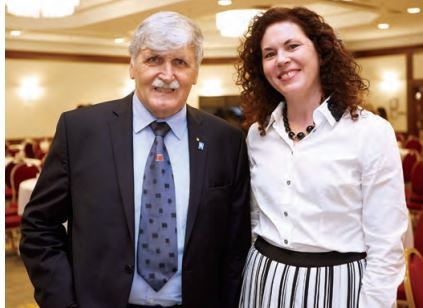 "I wish to speak about inspiring public confidence in times of crisis." These words opened Roméo Dallaire's keynote address at the College's Inspiring Public Confidence Conference this past May. Educators, teacher federations, trustees, school board officials, regulators and members of College Council gathered to hear the retired Lieutenant-General speak with humility and passion about leadership, ethics, politics and the nature of humanity. We listened intently as Dallaire drew from his experience as commander of the United Nations peace-keeping mission during the Rwandan genocide in the early 1990s.
Graced with the opportunity to meet Dallaire after his talk, I had already decided what I might say to him if given the chance. I shared with him how his name had surfaced in at least three different personal contexts in the span of my teaching career: during a religious education Additional Qualification course; in a master's course focused on leadership and cultural context; and in a keynote address at a First Nations, Métis & Inuit Education Association of Ontario conference. Dallaire was humbled and surprised at the variety of contexts in which he had been mentioned.
In addition to keynotes delivered by Dallaire and broadcast journalist Linden MacIntyre, the conference also offered workshops on topics such as educator ethics, fairness, pro-active regulation (preventing harm), person-centred regulation (working positively and respectfully with complainants), ethical professionalism and fostering reconciliation. Presenters used real-life examples, case studies and practical tools to help guide ethical decision-making.
Throughout the event, the College proudly displayed visual representations of the Ethical Standards for the Teaching Profession. Anishinaabe artist Bruce K. Beardy, OCT, a faculty member at Lakehead University, created the artwork to inspire critical awareness, reflection and dialogue about the profession's ethics.
The College has developed an educative resource based on Bruce Beardy's work and designed to encourage exploration into educator ethics.
We are pleased to announce that the College has developed an educative resource based on Beardy's work and designed to encourage exploration into educator ethics. Exploring the Ethical Standards for the Teaching Profession through Anishinaabe Art invites educators to reflect on the ethical standards of care, respect, trust and integrity through the artistic representations in the document.
Did you know that respect is at the heart of Anishinaabe culture? View the video Acting on Our Ethics: Caring for Anishinaabe Children at oct-oeeo.ca/29PFL6t and get inspired by Beardy's thoughts on what our ethical standards mean from an Indigenous perspective.
Visit oct-oeeo.ca/29lyk2X to order posters of these artistic representations, free of charge, for your classroom. These resources complement the many ways in which you inspire public confidence through your own practice in education.