Professional Practice
Illustration: Marta Orzel/ Agencyrush.com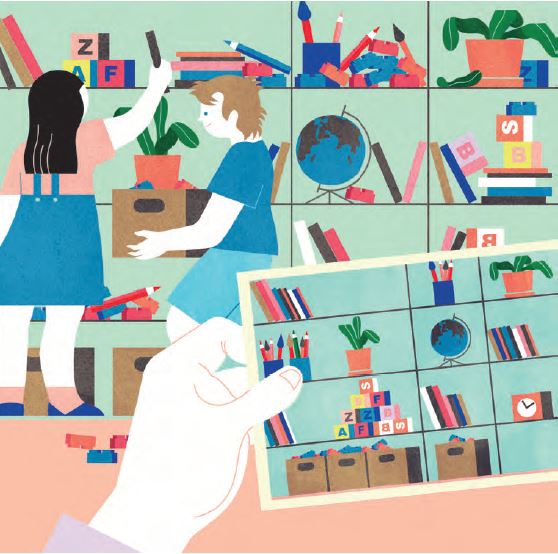 Help students become responsible and respectful citizens at an early age with this fun and effective clean-up routine. Take photos of bins, bookshelves and other storage units used throughout your classroom in their tidied states. When it's time to clean up, students can simply look at the photo and know exactly what you're looking for and where everything goes. Raise the stakes and make it into a game by putting a time limit on the process of making the area spotless.
— Alison Horn, OCT
Peel District School Board
Have a classroom idea to share? Send it to us at ps@oct.ca and your advice could be published in an upcoming issue! Check out our Professional Practice research archive at oct-oeeo.ca/1QAwOIQ.
Boosting Stem Appeal
By Stefan Dubowski
Looking for creative activities that will fire up student enthusiasm in Science, Technology, Engineering and Mathematics? Drop by STEM Village (stemvillage.com) and access links to high-quality videos, games and educational websites with a goal of sharpening their skills.
All of the math and science skills are matched to the Ontario curriculum, which makes it easy to find material for a particular instruction level. You'll discover the latest content from reputable educational sources - such as the Kahn Academy, National Geographic, Codeacademy and NASA — vetted by STEM Village's content team composed of educators. It's like a clearinghouse for fun, yet these skill-enhancing resources cater to the different ways students learn. The site offers tools for Grades 5 to 8, but the platform's operators are always adding to it — with an eye toward covering K to 12.
As a teacher, you can peruse the site for free at any time; students and parents have access from 8:30 a.m. to 3:30 p.m., Monday thru Friday - otherwise, families pay $19.99 per month, which covers extra features. For instance, parents can personalize their children's accounts to link activities with rewards — such as finish a practice session in algebra and then play Minecraft for 15 minutes.
Although most young people under-stand the importance of becoming proficient in STEM subjects — especially in preparation for their adult life - many find the curriculum intimidating or get overwhelmed. If you're concerned that students are glossing over these essential powerhouse subjects, STEM Village is worth a visit.