Governing Ourselves
Governing Ourselves informs members of legal and regulatory matters affecting the profession. This section provides updates on licensing and qualification requirements, notification of Council resolutions and reports from various Council committees, including reports on accreditation and discipline matters.
Scholarship Recipients
Paying Tribute to Future Teachers
The Ontario College of Teachers Scholarship Program recognizes and supports excellence in teacher education. This is done through the awarding of three annual scholarships to assist in the education of future teachers.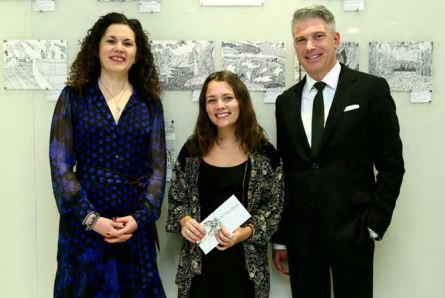 Joseph W. Atkinson Scholarship for Excellence in Teacher Education Recipient: Krista Bradshaw, teacher candidate in the concurrent education program at Queen's University
Krista Bradshaw understands how daunting university can be for a young person. As a "guide" on campus at Trent University in Peterborough, she helped numerous students struggling with their post-secondary transition.
Known to be conscientious and inspirational, with a passion for rock-climbing, Bradshaw is trained in safeTALK suicide alertness and knows how to have conversations about career paths and mental health. One student who was considering dropping out of university said that Bradshaw gave her renewed confidence to continue her studies.
In this leadership role, the teacher candidate supported students in registering for courses, connected them with services and planned orientation events for hundreds of people. She guided students through academic and social adjustments, and assisted them with goal setting, time management and navigating challenges.
Bradshaw enjoyed her placement in a Grade 2 classroom where she incorporated experiential learning into her lessons to cater to the students' individual needs and interests.
Her history professor said that in her last 10 years of teaching over 800 students, Bradshaw stood out as an especially intelligent, engaged and hard-working student who is eager to debate in productive and respectful discussions.
Bradshaw, who completed an Honours degree in history and is now completing a B.Ed. at Queen's, has received many awards and distinctions. She was a member of the Dean's and President's Honour Rolls, a recipient of a Tim Hortons Scholarship for post-secondary education and received awards in storytelling competitions.
Ontario College of Teachers Scholarship — Primary/Junior or Junior/Intermediate Recipient: Maria Sinclair, teacher candidate in the consecutive education program at Western University
Forward-thinking. Dependable. Resourceful. A patient woman with a good heart. This is how Maria Sinclair is described by those who know her. She's also seen as knowing how to use what she learns in the classroom and apply it to real-life situations.
This has served her well during her practicum in a Grade 4/5 classroom where she brought in First Nations artifacts as part of a First Nations inquiry lesson.
Sinclair has been volunteering for several local Indigenous organizations and education venues including the Museum of Ontario Archeology.
Despite growing up mostly in Ontario, Sinclair maintains a strong bond to her First Nation roots in Cross Lake, a remote community in northern Manitoba. It's a community that has grabbed the country's attention because of its high suicide rate.
Sinclair, who completed a bachelor of arts degree with an Honours specialization in childhood and social institutions and a major in First Nations Studies at King's University College in London, Ont., will most likely move to Cross Lake to fulfil her lifelong dream to contribute to the community's future by educating and inspiring its children.
What is this teacher candidate's secret to improving student success? Using inclusive teaching strategies, she says. Diagnosed with a speech impairment and a learning disability when Sinclair was young inspired her to use her own experience to help students find their own ways of learning.
Ontario College of Teachers Scholarship — Intermediate/Senior Recipient: Patrick Vaillancourt, teacher candidate in the consecutive education program at Laurentian University
Patrick Vaillancourt already has a long track record in the Cache Bay community, located near Sturgeon Falls. A committed Franco-Ontarian, he is a member of LINO (Ligue des improvisateurs du nord de l'Ontario), an improvisation group, and trainer for the French Catholic high school improvisation team. In addition, the regional schools often seek out his artistic talents, especially in the area of the performing arts.
Vaillancourt is a member of the Ontario Arts Council and is artist-in-residence at the Conseil scolaire catholique Franco-Nord. He is also a regular contributor to the community radio station, the local food bank and the community arts council, and in high school worked with a variety of charities, including the Terry Fox Run and the Let Them Be Kids Initiative.
In addition to supply teaching, he is responsible for the children's liturgy in his parish where, every Sunday, he sits down with children and teenagers to discuss their faith.
He is known to be a pleasant and respectful person with a positive attitude, and is also said to be so popular with students that they never want to miss a class.
Vaillancourt, who completed a bachelor degree in French Studies at Laurentian University in Sudbury, is hoping to teach French and religion. He is passionate about instilling the Franco-Ontarian culture and values in today's youth.
The teacher candidate has received many awards and distinctions including Clown of the Year, an award issued by LINO, and more than 10 awards issued by Laurentian University and the University of Sudbury.