Responding to Bullying
The College's new professional advisory provides advice to teachers about how to respond to bullying.
By Brian Jamieson
Illustration: Clare Nicholas/New Division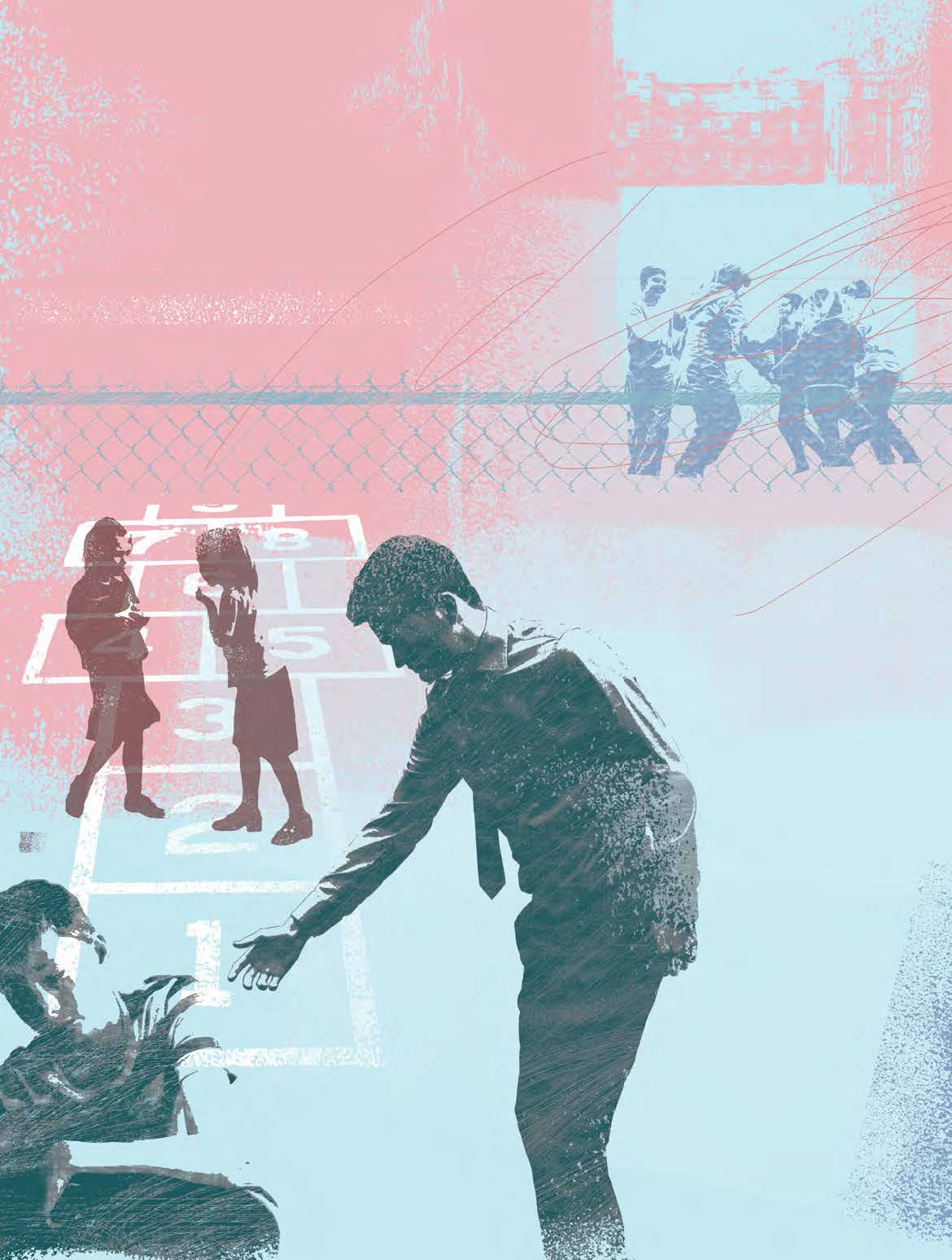 Millions of words have been written about bullying — more, unfortunately, about causes and effects than prevention.
Why?
It's complicated.
Experts agree that bullying is about power. It's about control. Typically, it's repetitive. Ontario's Education Act defines bullying this way:
Bullying means aggressive and typically repeated behaviour by a pupil where,
the behaviour is intended by the pupil to have the effect of, or the pupil ought to know that the behaviour would be likely to have the effect of,

causing harm, fear or distress to another individual, including physical, psychological, social or academic harm, harm to the individual's reputation or harm to the individual's property, or
creating a negative environment at a school for another individual, and

the behaviour occurs in a context where there is a real or perceived power imbalance between the pupil and the individual based on factors such as size, strength, age, intelligence, peer group power, economic status, social status, religion, ethnic origin, sexual orientation, family circumstances, gender, gender identity, gender expression, race, disability or the receipt of special education; ("intimidation").
The presence of bullying in the legislation underscores its pervasiveness as a societal issue and the responsibility that educators have to identify, intervene and, to the degree possible, eradicate it and its new-age offspring, cyberbullying.
However, there is no consensus about how to manage it.
" Bullying is a complex and critical issue in education. It affects students at all ages and in different ways."
Is it social conditioning? Part of growing up? Do we make too much of it? Not enough?
In preparing its advice to Ontario Certified Teachers, the Ontario College of Teachers sought effective practices from experts and stakeholders.
Like any good response to bullying itself, the College adopted a considered, reflective approach.
"Bullying is a complex and critical issue in education," says the College's Deputy Registrar Joe Jamieson. "It affects students at all ages and in different ways. The Ministry advocates a wholeschool approach. We believe it requires a sector-wide response. Professional dialogue and personal reflection are key."
The latest professional advisory, Responding to the Bullying of Students, provides a context for discussion and action that includes a definition, statistics, typical characteristics, and consideration of ethical standards and legal and disciplinary outcomes.
"It provides a self-reflective framework to address bullying," explains Jamieson.
"It encourages members to intervene early, support students, promote disclosure, provide guidance and review protocols."
The advisory includes questions for professional self-reflection such as:
How do I remain current with my responsibilities under my employer's policies, procedures, protocols and expectations regarding bullying?
How do I encourage students to safely disclose bullying behaviour?
How do I address a bullying/cyberbullying situation?
How do I ensure fairness in my treatment of students who bully and those who are bullied?
The advisory is responding to focus group research that identified bullying as a need-to-know topic. It applies to all College members.
In addition to publishing the advisory, the College will meet with members and the public in six Ontario communities this fall to discuss bullying. The discussions will include additional information and guest speakers.
"We learn best from each other," Jamieson said. "By collectively sharing our experience and our knowledge about what works best, we can make learning environments safer places for all students."
To access the College's complete list of professional advisories, please visit oct-oeeo.ca/professionaladvisories