Pop Quiz
with Mike Downie
By Laura Bickle
Photo: Dave Curcio/Studio 141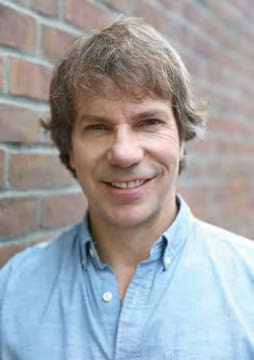 Four years ago, documentary filmmaker Mike Downie heard a CBC radio documentary about the tragic tale of Chanie Wenjack, a 12-year-old determined to make the 600-kilometre journey back to his family after fleeing a residential school in Kenora, Ont. Sadly, Wenjack died of exposure beside the railroad tracks, six days into his trek. Downie went on to research Chanie Wenjack's story and then recounted what he read to his brother Gord, lead singer of The Tragically Hip. They realized that his story deserved acknowledgment on a larger scale. As a result the brothers, along with the Wenjack family, created The Gord Downie & Chanie Wenjack Fund to raise awareness and understanding. As well, a related multimedia project, Secret Path (a music album, graphic novel and animated film with artwork by Jeff Lemire), was released in October 2016. Here, Downie shares how he hopes Wenjack's legacy will resonate with today's students.
Tell us about The Gord Downie & Chanie Wenjack Fund.
Its focus is cross-cultural education, bringing two solitudes together to learn from each other — with the goal to both let Indigenous people know that non-Indigenous people care about what happened, and to inspire action and improve lives. The fund has an Indigenous-led board that makes decisions about which programs to fund.
Why was it important to tell Chanie's story in this format?
It's a universal story — a boy trying to get home; it was like a dagger right to the heart. The key to reconciliation is awareness, education and, ideally, action. I hardly knew anything about residential schools. A piece of art can start a dialogue and provide a deeper understanding.
Did you intend for Secret Path to become a learning resource?
It's a useful tool to better understand and discuss residential schools. It doesn't have all the horror in it. We were confident it would work in the classroom because it can be used in so many ways — in relation to art, music and animation.
How are teachers using the resources in the classroom?
They're malleable. They can span the grades depending on how deep you go. High school classes are looking at the lyric sheets. We're seeing related artwork from younger students. The feedback has been incredibly gratifying. [A searchable platform will be available in the fall where teachers can find lesson plans and get inspiration from other educators who have used the resources.]
How has this multimedia project influenced you?
The knowledge and traditions within Indigenous cultures is fascinating. Drum circles, smudging, the medicine wheel — it's mind-blowing. We have a lot to gain in allowing these teachings into the mainstream, which have been right under our nose the whole time. They are so willing to share with an open heart. And for Gord, it has been a great opportunity to do something he believes in, outside of his own story, and to put his weight behind something that is so important to the country.