Spotlight on New AQ Providers
By Melissa Campeau
Photo: Matthew Liteplo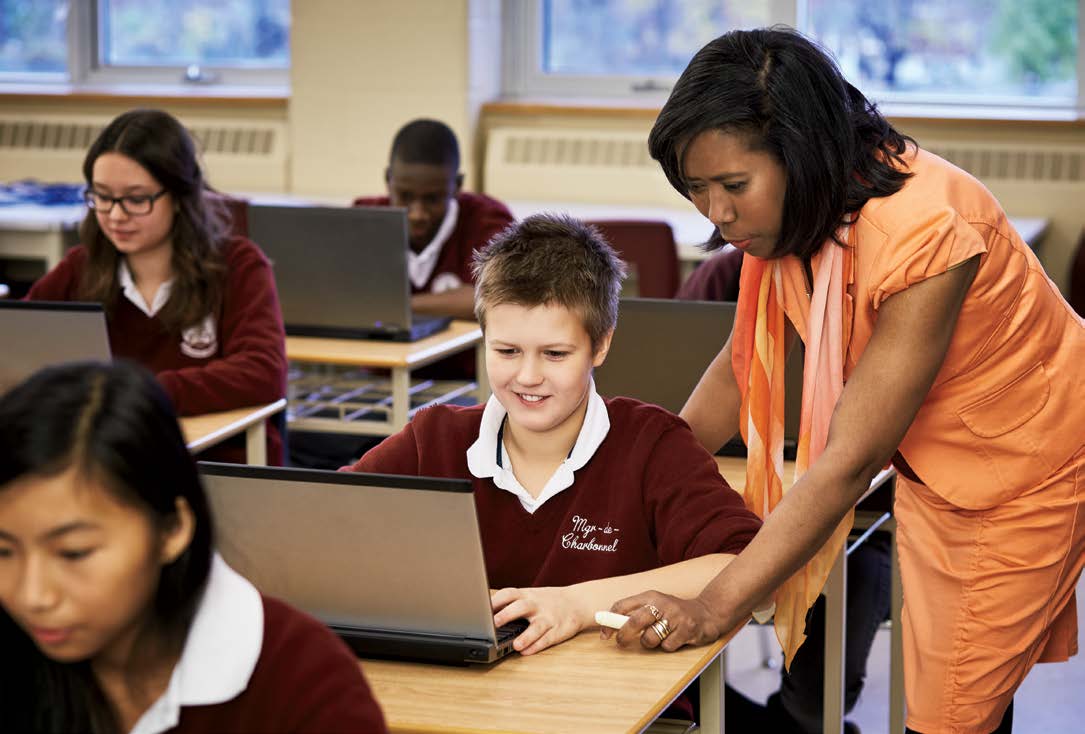 When new institutions apply to become accredited AQ providers — and then offer courses tailored to meet the needs of their communities — it helps make ongoing professional education accessible to a greater number of teachers, benefiting students and the public interest.
W. Ross Macdonald School
Last year, W. Ross Macdonald School, a provincial school for students who are blind or deafblind, became the first Ontario Ministry of Education institution to offer an AQ on its own. (W. Ross Macdonald had teamed with a university to deliver an AQ for the deafblind in the past, but not without a partner.)
With the school's highly specialized educators nearing retirement and no AQ for Teaching Students Who Are Deafblind available in English anywhere in the province, the school's leaders approached the College. Recognizing the urgency of the need, the College adapted its policies to allow the Ministry of Education to become an AQ provider, for the first time. Once accredited, the school followed the College's AQ's guidelines and created a course of its own.
"The thought of offering the AQ at a school level without a partner was pretty daunting to us," says the school's principal, Dan Maggiacomo. "For a university, this would be pretty standard stuff. This is the language they speak, offering courses. For us it was entirely new," say Maggiacomo. "Luckily, we had a great team working on this, and the College made it possible by helping ensure we were on the right path every step of the way."
Halton Catholic District School Board
The Halton Catholic District School Board also joined the growing list of AQ providers this past year (see p.19). The board began offering Religious Education Part 1 in the fall, and it hopes to add Part 2 and Part 3 in the near future.
"Becoming an accredited provider, and then preparing our first course, was a rigorous process — as it should be — but it's not a difficult one," says Terri Durham, OCT, curriculum consultant, Religion, Family Life, Social Sciences and Humanities, Halton Catholic District School Board. "It's all very clearly outlined and the expectations about what's needed are really transparent and easy to follow," says Durham. "But it is very detailed and does take a dedicated team."
To chart a course from idea to implementation, the Halton board assembled a wide spectrum of collaborators including superintendents, school principals, curriculum consultants, as well as staff from records management, human resources, information technology and research and development. "We found the College provided stellar support through the process, too," says Durham. "They had a team who communicated with us and advised us at every step of the process. They sent us all the materials we needed, answered every question we had, and reviewed everything we developed prior to official submission."
The work involved in setting up the first course, says Durham, will help pave the way for smooth implementation of additional courses. The board hopes to add more AQs in the near future. "So far, we've had a great response to Part 1, and we've had many inquiries about when the next session will run, so we anticipate having steady enrolment."
Kenjgewin Teg Educational Institute (KTEI)
Much like W. Ross Macdonald, Kenjgewin Teg Educational Institute (KTEI), on Manitoulin Island, Ont., had experience partnering with another institution to provide an AQ. "We ran the AQ for Teaching Ojibwe through Six Nations Polytechnic because they were already a service provider," says Stephanie Roy, OCT, executive director, Kenjgewin Teg Educational Institute. "Six Nations was already a leader in the area of languages so they were able to facilitate that experience, that mentorship, about course development," says Roy. "That was instrumental for us."
In becoming a service provider and offering Teaching Ojibwe on its own, Roy says KTEI was able to filter the AQ course through the school's own lens. "It allowed us to look at what that meant from an Indigenous perspective — at a local level but also within a global context of looking at Indigenous languages."
Preparing to offer the AQ required laying foundations that will ease the way for additional course offerings in the future. "Part of what we were able to do is really look at what's involved in delivering the AQ courses: working from the language policy guidelines, our course syllabus and learning expectations; the particular components as they related to standards of practice; the theoretical foundations of teaching the language; program planning, implementation and assessment; and the learning environment," says Roy. "Going through the process gave us the confidence to move forward. The goal now is to continue to be responsive to what the needs are in the community, with respect to ongoing professional learning."