What I've learned about success
By Olivia Yu
Illustration: Martin O'Neill/Three in a Box
College scholarship recipients share how a sense of adventure, humour and community, among other things, are crucial to success.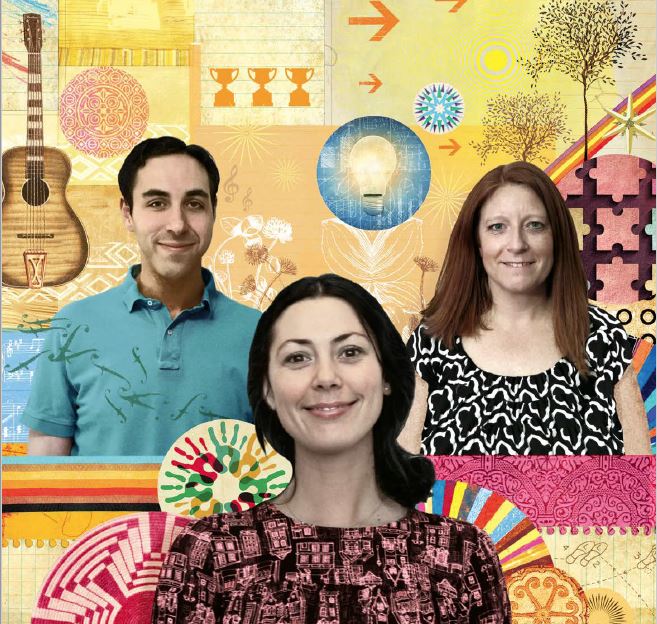 Each year, the Ontario College of Teachers recognizes teaching excellence by awarding scholarships to those studying to become teachers. We caught up with a few past recipients to see what they're doing now, what they've learned as teachers and what keeps them motivated.
Jennifer Cook, OCT
2013 recipient of the Joseph W. Atkinson Scholarship for Excellence in Teacher Education
Jennifer Cook likes to travel off the beaten path. Literally. Since graduating from her teacher education program in 2014, the Ontario Certified Teacher and artist has been living and working in Iqaluit, Nunavut, incorporating arts-based learning strategies in her teaching.
Cook fell in love with the Inuit culture when she worked briefly in Ottawa, which is why she chose to work farther afield. "I love learning about the Inuit people and their connection to the land. We don't have traffic, streetlights or fences. I love the strong sense of community."
Despite the differences between working in big cities like Ottawa and more remote ones such as Iqaluit, Cook says the principle of teaching remains the same: it's about reaching your students. She personalizes her strategy and teaching methods as much as she can to suit individual student needs.
She also says that being open to learning from her students has kept her inspired. "For them, it's the wonder of learning and the possibility of every day. They have an amazing sense of adventure and an openness to learning something new."
Cook continues to keep her love of learning alive. She attended the World Indigenous Peoples Conference on Education last summer in Toronto, initiated a professional development workshop on creativity in the classroom for teachers in Iqaluit, and completed an independent study on arts-based learning strategies. In 2015, she finished the Dance Part One Additional Qualification, and volunteered at a Waldorf school in Toronto.
In the near future, the busy teacher plans to return to the Huntsville area, where she grew up, to teach, and hopes to start a community garden there — a place for everyone to grow and harvest food together.
For Cook, the key to keeping her passion ignited both in and out of her classroom is to be as creative as possible. "Incorporate what you love — painting, singing, dancing — into your teaching."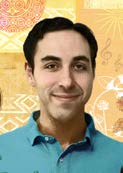 William Snodgrass, OCT
2009 recipient of the Joseph W. Atkinson Scholarship for Excellence in Teacher Education
William Snodgrass is all about variety. Since becoming a certified teacher, Snodgrass has taught at six schools, and he is grateful for that. Each school has given him diverse perspectives, new challenges and different rewards. Snodgrass has taught a number of subjects and now teaches English and music. He admits that music has been the one subject he always returns to.
Snodgrass didn't always view teaching music as a career; instead, he saw it as an enjoyable pastime. But somewhere along the way that changed. His pastime became a career and his passion, something he could pass onto others.
But even before deciding to be a teacher, he was a natural at it. Snodgrass had a lot of experience working with children and music, so it was logical for him to combine the two.
"It's a wonderful thing to do something you're passionate about and make a career out of it," he says.
Teaching actually fits right into Snodgrass's love of variety. "Every day is a new challenge with new ways to explain things. It lets you have fun and be creative."
Sometimes, his creativity needs to be applied to problem-solving — like the time one of his students managed to get a sandwich stuck in a guitar. "Expect the unexpected. And be ready to laugh."
Snodgrass started teaching seven years ago, at a time when there were few full-time positions available. While job prospects for teachers in Ontario have improved (see the latest Transition to Teaching report on page 27), his advice to new graduates seeking a permanent position is to look at the upside: "There are lots of benefits to being moved around — you get to network, gather resources and ideas from everyone you meet. It can make you a better teacher."
When asked what other advice he has for new teachers, he says, "Enjoy every moment. Enjoy everything that happens. Be easy on yourself and let go of your expectations. Approach every teaching experience on its own terms."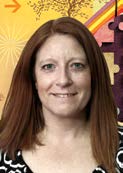 Tracy Beck, OCT
2004 recipient of the Joseph W. Atkinson Scholarship for Excellence in Teacher Education
Now in her 12th year as a teacher, Tracy Beck has dedicated her entire career to supporting students with disabilities. She has a degree in disability studies, has taken AQs in Special Education and, before becoming a teacher, was an education assistant. She has also spent the last 14 summers volunteering as a program director for the Youth Leadership & Diversity Conference, a camp that teaches Canadian and U.S. youth how to be better leaders.
As an Ontario Certified Teacher, she teaches her teenage students how to stay organized, juggle their course load and manage their emotions. And while there's no doubt that Beck can have a profound impact on her students' lives, she isn't always trying to do that.
Instead, she focuses on "living moment to moment" and how she can make a moment better for her students, many of whom are vulnerable. "What can I do right now to make a student feel better? It's not always about focusing on the big picture — the little things matter too."
One of the "little things" she does is provide an open and inclusive space every lunch hour at White Oaks Secondary School in Oakville, Ont., where she teaches. Students are welcome to drop in and play games, eat lunch, socialize or just sit. Beck firmly believes that building a community and making students feel accepted and welcome — on their terms — is the best way to connect with them.
She has her teaching routine down now, but this wasn't always the case. Many new teachers struggle with the transition into teaching and Beck was no exception. "I've learned that I can't do it all, and that's OK. You're teaching because you love it, and this should be evident to your students."
Now Accepting Scholarship Applications
The Ontario College of Teachers Scholarship Program awards scholarships that provide financial support to teacher candidates. The program identifies exemplary role models and pays direct financial assistance to those with a passion for and dedication to the highest ideals of teaching. Financial awards are made possible through donations. Awards are paid directly to individuals according to the College's criteria. For more information, please visit oct-oeeo.ca/scholarships.