Letters to the Editor
Professionally Speaking welcomes letters and articles on topics of interest to teachers. We reserve the right to edit letters for length and to conform to our publication style. To be considered for publication, letters must provide the writer's daytime phone number and registration number. Address letters to: The Editor, Professionally Speaking at ps@oct.ca or 101 Bloor St. W., Toronto, ON M5S 0A1.
Story placement concern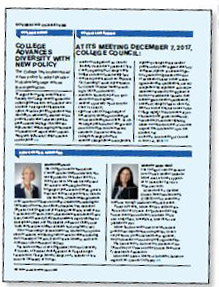 On page 110 of the March issue there is a story entitled "College Advances Diversity With New Policy." I'm not sure what to make of the placement of this piece. On the one hand, this policy about using gender-inclusive language across the organization is extremely important and on the cutting edge of organizations that endeavour to be fully inclusive. It's something to be celebrated!
On the other hand, I wonder if placement of this avant-garde policy is buried on page 110 for a reason. Perhaps the College sees this [initiative] in keeping with all they've been doing in the area of inclusivity, so it no longer needs the spotlight. Or, am I missing something?
—Kevin Welbes, OCT, is an LGBTQ educator/speaker and retired co-ordinator of Catholic Safer School Training in Ontario for Egale Canada and the Ontario English Catholic Teachers' Association.
Editor's response: The Governing Ourselves section of the magazine, which can be found at the back, is where we publish information and news items pertaining to College initiatives and other College-related news.
Better due diligence needed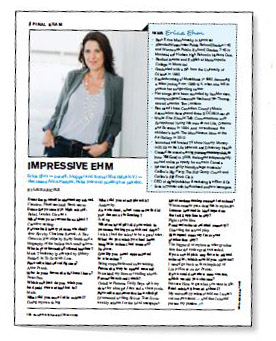 It was with great surprise that I found myself reading a Q&A with Erica Ehm in the March issue. As a child of the music video generation, I grew up watching Ms. Ehm on MuchMusic. I looked forward to seeing her on TV and always admired her.
That changed in 2015 when I came across an article attacking teachers written by Ms. Ehm during the work-to-rule campaign — a particularly difficult period of negotiations between the province and the teachers of Ontario. Ms. Ehm made her views about teachers' actions quite clear. While she is entitled to her opinions, her public and malicious attack on teachers a mere three years ago makes her the last person I want to hear from in a teacher magazine that I help fund through my annual fees. I find it unacceptable to see her comments within the pages of Professionally Speaking. I would appreciate it if the College would kindly be more circumspect in its choice of interviewees in future issues.
—Jennifer Sequeira, OCT,
teaches Grade 8 at St. Thomas More Separate School in the Dufferin-Peel Catholic District School Board.