Reviews
Your guide to recently released books and other teaching resources.
For additional reviews of French-language resources, visit Pour parler profession. With the exception of some classroom sets, items reviewed are available on loan from the Margaret Wilson Library at the College. Contact us at 416-961-8800 (toll-free in Ontario 1-888-534-2222), ext. 679 or email library@oct.ca.
A good book is a pathway to living other lives. Adventure, suspense, fantasy, humour and information are only as faraway as a bookshelf. This issue features reviews of new young adult fiction and non-fiction to engage and enlighten your students about key issues of our time: refugee migration, environmental degradation, war and intercultural communication. Through these books they can travel the globe, flee across borders, encounter the humanity in strangers, and see the world — and their place in it — with new eyes.
– Wendy Harris, Reviews editor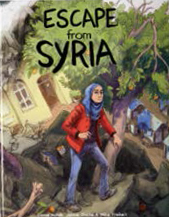 Escape from Syria
By Samya Kullab
Illustrated by Jackie Roche
This is a tale that words alone cannot express — a story also needs pictures to encompass the magnitude of the refugee experience that it describes. It tells the fictional story of Amina, a Syrian girl whose life is changed forever when her family home in Aleppo is destroyed by a bomb.
After fleeing to Lebanon, the family experiences displacement, hunger and poverty. While in the refugee camp, Amina's brother contracts meningitis and she is compelled to leave school to help support the family. Finally the family is offered the opportunity to emigrate to Canada.
And so begins the last part of the book as the family adjusts to the challenging realities of Canadian life.
Kullab based this graphic novel on her personal observations from reporting in Syria. She does not shy away from difficult issues such as child brides, bribery, torture, attacks on Syrian citizens by their own government, desperate acts of escape and the pain of leaving a homeland. Facts about the Syrian situation are interwoven into the story to help readers understand the political and economic circumstances that led to the refugee crisis. Additional notes and photographs at the end of the book sum up the Syrian experience of the last few years. While the book depicts a horrible situation, it also tells a story of survival and hope. For readers 12 and up.
Margaret Grift, is a librarian at John Knox Christian School in Brampton, Ont.
Escape from Syria, Firefly Books, Richmond Hill, Ont., 2017, hardcover, ISBN 978-1-77085-982-1, 96 pages, $19.95, fireflybooks.com
The Water Walker
The Water Walker tells the true story of Nokomis Josephine Mandamin (Nokomis is a grandmother in Ojibwe traditional stories) and her crew of Mother Earth Water Walkers who walked around the five Great Lakes to raise awareness for protecting nibi (water). Written and illustrated by Joanne Robertson, an Indigenous author, illustrator, water protector and campaigner, it is a true-story portrait of a passionate woman who takes action to protect clean water — our most precious natural resource.
Robertson cleverly uses Anishinaabemowin words and phrases throughout the book. While the context of the Indigenous-language terms usually makes the meaning clear, translation and a pronunciation guide is provided at the end of the book. The use of language furthers the authenticity of the author's intent to both educate and entertain readers about water and the Indigenous knowledge related to respecting and preserving nibi for future generations.
The simple text and colourful pictures are the perfect medium to convey the urgency of the Water Walkers' initiative. Teachers and students can use her story to spark and ignite their own activism around water protection.
Joe Restoule General, OCT, is the acting principal of I. L. Thomas Odadrihonyanita Elementary School in Ohsweken, Ont.
The Water Walker, Second Story Press, Toronto, 2017, hardcover, ISBN 978-1-77260-038-4, 36 pages, $16.95, distributed by University of Toronto Press, secondstorypress.ca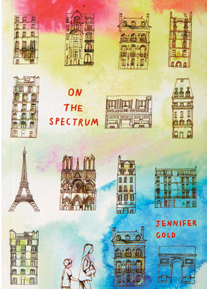 On the Spectrum
By Jennifer Gold
Sixteen-year-old Clara has been raised in New York City by her famous ballerina mother. Her father now lives in Paris with his new wife and Clara's half-brother, six-year-old Alastair. Clara rarely visits her father but when the school's guidance counsellor calls in a social worker to talk to Clara about her orthorexia (an eating disorder, nurtured by her anorexic mother, that manifests as an unhealthy obsession with compulsively healthy eating and intense exercise), it was decided that Clara should spend the summer with her father and stepmother in Paris. Her job will be to help out with Alastair who is on the autism spectrum.
Michel, Alastair's 20-year-old friend, works for his Ethiopian-born father in the family bakery. Through him, readers learn about Alastair's remarkable accomplishments and insights.
For example, Alastair sees a parallel with himself and his half-sister. He points out that, like him, Clara is on the eating disorders spectrum.
Meanwhile, Michel has his own challenges. He is torn between the cultures of his black, Muslim father and his white, French Catholic mother. Michel, neither black nor white, is not accepted by either race. Like Alastair, who is teased by his classmates for his intellectual differences, Michel was also taunted in school. During that summer, the three of them teach one another: through Michel, Clara begins to appreciate, rather than fear, food; through Alastair, she learns about patience, trust and a kind of love that features understanding and wisdom.
Gold has captured the essence of what it means to be diagnosed with autism and what it means to live with someone who is. She also takes on the issues of eating disorders and body image. Her words about the cruelty of children toward anyone who is different in race, colour, appearance or behaviour should provoke readers to think about the impact their words and actions have on others. For students in Grades 7 to 12.
Gail Lennon is a writer and reviewer with more than 35 years of teaching experience at all levels.
On the Spectrum, Second Story Press, Toronto, 2017, softcover, ISBN 978-1-77260-042-1, 336 pages, $13.95, distributed by University of Toronto Press, secondstorypress.ca
To Look a Nazi in the Eye
By Kathy Kacer
With Jordana Lebowitz
Jordana Lebowitz had grown up hearing the stories her grandmother had told of surviving the Holocaust during the Second World War. Consequently, the 19-year-old felt compelled to bear witness to the trial of Oskar Groening, the so-called "Bookkeeper of Auschwitz," in 2015. At the age of 94, Groening was perhaps the last of the Nazi perpetrators to be tried in Germany. To Look a Nazi in the Eye is the story of her experience.
It was on a trip to Poland to participate in the International March of the Living (a three-kilometre silent march from Auschwitz to Birkenau to honour the victims of the Holocaust) that Jordana learned of Groening's trial for aiding and abetting in the murder of over 300,000 Jews. Groening, a low-level officer, had been stationed at Auschwitz shortly after joining the SS. His job there was to collect money and valuables brought to the camp by the Jews who were about to be murdered. The valuables were then sent to Berlin to help fund the war effort. Groening was found guilty of murder, despite his repudiation of his past and his efforts to denounce Holocaust deniers.
The story is primarily Jordana's, interspersed with snippets of her blogs and Groening's testimony. It chronicles her emotional journey — from hearing Groening's and survivor testimony first-hand to the realization that life is not black and white but, rather, many shades of grey.
To Look a Nazi in the Eye addresses topics such as prejudice, tolerance, the Holocaust, social justice, citizenship, as well demonstrating that young people can and do have a voice. It is appropriate for Grades 9 to 12.
Terri Lawrence-Tayler, OCT, is an anatomy and physiology instructor with the nursing program at St. Clair College in Windsor.
To Look a Nazi in the Eye: A teen's account of a war criminal trial, Second Story Press, Toronto, 2017, softcover, ISBN 978-1-77260-040-7, 256 pages, $13.95, distributed by University of Toronto Press, secondstorypress.ca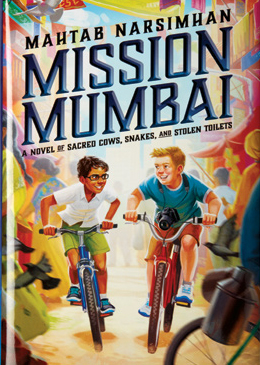 Mission Mumbai
Mission Mumbai is an adventure book that explores new ways of thinking and living. New Yorker Dylan Moore accompanies his best friend, Rohit Lal, to his ancestral home in Mumbai, eager to experience a new culture, hone his photography skills and get away from his fighting parents. Rohit, on the other hand, is miserable in Mumbai, embarrassed by his crowded, smelly hometown, and afraid he will not be allowed to return to New York and the new life that awaits him there. Almost from the beginning of the trip, the boys are at odds with one another, but through their shared love of fantasy books (especially The Lord of the Rings) and their strong friendship they figure out how to maintain their connection and work together to deal with the challenges in Mumbai. In the process, they discover important things about each other and themselves.
Told from Dylan's point of view as an excited visitor to a new place, the sights, sounds and smells of Mumbai are colourfully and raucously detailed throughout the book. It is all so strange to the young New Yorker and he eats it up — literally and figuratively. While this is not a travel book, it is so vivid in its depictions of Mumbai that many readers may well want to travel to India to take in the culture first-hand.
Covering such themes as family life, loyalty, travel, change, poverty and divorce, Mission Mumbai would be an excellent book to read and talk about in literature circles.
It would undoubtedly lead to discussions of differing cultures, adjusting to change and hardships, and the idea of being active, informed citizens of the global community. Links to discussion questions, activities, a quiz and even a few recipes are provided. For Grades 4 to 7.
Terri Lawrence-Tayler, OCT, is an anatomy and physiology instructor with the nursing program at St. Clair College in Windsor.
Mission Mumbai: A Novel of Sacred Cows, Snakes, and Stolen Toilets, Scholastic Canada, Toronto, 2016, hardcover, ISBN 978-0-545-74651-9, 272 pages, $19.99, scholastic.ca
One Thousand Hills
By James Roy and Noël Zihabamwe
A singular voice rises out of this powerful novel about the genocide that killed 800,000 Rwandans in 1994. The voice is that of 10-year-old Pascal, who lives with his family in the northern Rwandan village of Agabande. His life with his parents, brother and sister is simple, with its share of chores, school, sibling squabbles and church on Sunday. But soon all of this normality begins to shift. Pascal is confused by his parents' warnings about what is happening. He is discouraged from visiting his friend, Henri. His father wants him to stay close by. The radio is not to be used. Neighbours are packing up and moving away. What is happening to the once safe and happy town of Agabande?
When the genocidal slaughter of the Tutsis by the ruling Hutus erupts, Pascal endures the horror of the murderous rampages around him. Co-author Noël Zihabamwe lived through these events — as a 10-year-old boy, he witnessed the murder of much of his family and then lived as a refugee for the next decade of his life.
Pascal's story is told through two narratives: the first from his point of view in Rwanda and the second in the form of an interview with a school psychologist in Belgium five years later as Pascal processes the events of his childhood.
Based on that kind of lived history, there are many themes for teachers and students to explore. The book was recognized as a winner of two Australian literary awards for its fine writing and careful depiction of a terrifying event in world history.
Although the book targets the tween reader, it should appeal to teens and adults as well.
Dorothea Bryant, OCT, is retired from the faculty of education, University of Windsor, and tutors primary and secondary students in reading and writing.
One Thousand Hills, Scholastic Canada Ltd., Toronto, 2017, softcover, ISBN 978-1-4431-5760-5, 240 pages, $8.99, scholastic.ca