How to manage your classroom environment
Start the year off right with these strategies for managing behaviour, ensuring inclusivity and allowing room for growth.
By Lisa Van De Geyn
Photos: Thomas Tolstrup/Getty Images; iStock Photo
If there's one thing Angela Corapi, OCT, realized after her first year teaching, it's that students learn best in a comfortable environment. It's not groundbreaking, but as a relatively new educator who recently started her third school year at St. Anthony Catholic Elementary, a French Immersion school in Thornhill, Ont., Corapi says it took time to really understand that she was better able to facilitate their learning when her students felt relaxed.
The truth is, this lesson didn't come easily. Hired as a long-term occasional teacher (LTO) to teach physical education and health days before the first week of school back in 2016 (and having just graduated), Corapi knew that gym was the period of the day many of her students looked forward to, but she couldn't get a good grasp on how she'd go about managing the class. "Imagine classroom management when 28 students are seated at desks with books in front of them. Now take away the books and desks and replace them with an open gymnasium and basketballs," she says. So she made the effort to learn how best to get her students prepared and focused.
"First, I tried to maintain a routine by having a time limit for students in the change room. Laps start as soon as they're in the gym. And after they're finished running, they wait in their squad groups for instructions," the occasional teacher explains. "I also made sure that students knew if I blew my whistle, they were to stop and listen. I learned that maintaining a steady routine established my expectations of the classroom and students enjoyed their time with me."
That's the thing about managing the classroom environment — it's one of those concepts that requires on-the-job experience to figure out what approaches work for the teacher and what techniques mesh with their students. Of course the College's professional standards of practice cover the basics of managing a good classroom environment, especially the commitment teachers have to students and their students' learning, as well as maintaining a leadership role in school. Francesca Martínez Hernando, OCT, who teaches Core French and French Immersion science and drama to Grades 1 to 3 at Our Lady of Mount Carmel Catholic School in Amherstview, Ont., says it's one of most difficult and important skills to develop.
"It's about creating an environment for all students to learn to the best of their abilities. To me, classroom management is making sure that students who are struggling have certain strategies they can use regularly. It's about developing routines and a culture that encourages positivity; it's about consistency and it's the foundation of everything. Without it, there would be constant chaos."
That's a sentiment Shayna Goldman, OCT, agrees with. A supply teacher with the Peel District School Board in Brampton, Ont., she adds that it's key to "create a calm, positive and inclusive learning environment for all learners, and maintain it through reciprocated respect between the students and teacher."
When it comes down to it, most teachers believe managing the classroom environment involves setting clear expectations at the beginning of the year, managing behaviour, ensuring inclusivity and allowing room for growth. And new educators just learning the art and science of this concept also agree that there are plenty of tips to learn from their seasoned colleagues. That's why we asked teachers across the province to share their tricks of the trade and what they've learned about managing classroom environments over the years. Here's how to make this a successful year — for both you and your students.
Advice from the pros
Are you a new teacher entering your first classroom this year? Follow this sage advice from seasoned educators and start your career off right.
Lead by example.
"The students are counting on you. They look up to you and will follow your lead," says Angela Corapi, OCT. "Set an example of respect. It may not seem like it at first, but they'll listen and appreciate what you're doing."
Don't take it personally.
Kids not behaving like little angels? It's OK. "As long as you're putting your best efforts forward, students will respond to it," Corapi adds. "Not every day will be the best day, but the great days will be rewarding."
Help students take pride in their work.
Display students' work throughout the classroom and share the learning that's happening at school with parents via video, apps or an e-newsletter, suggests Francesca Martínez Hernando, OCT.
Help children rise above their challenges.
Students — like teachers — come to school with problems. "Take the time to listen and develop strategies that will help them," Martínez Hernando says. "Check in on them as the day progresses if they are having difficulties."
Be engaging.
Figure out the best way to uncover the curriculum. "How will you differentiate for all learners? Will you provide them with opportunities to inquire, solve problems, ask questions? How will you make the learning relevant to their lives and experiences? When students are actively engaged with their learning, they will be motivated," says principal Wendy Terro, OCT.
Go with the flow.
"When you come into a classroom, whether it is the first time or the 180th time, you need to be prepared to go with the flow of the lesson. Allow the students' energy to take you where you need to go," Donald Kemball, OCT, recommends. "Don't be afraid to throw out the lesson plan if it isn't working. Perhaps most importantly, don't be afraid to let them teach you."
Get to know your students
Get to know your students and engage with them both in the classroom and in the greater school community. Marla Zupan, OCT, who teaches Grade 2 at St. Bonaventure Catholic School in Toronto, remembers one student who had trouble reading and loved collecting Yu-Gi-Oh! cards. So she tapped into this interest and asked him to bring cards to school, then used them to introduce new vocabulary. "His desire to want to write and explore new words was fired up," she says.
Wendy Terro, OCT, the principal of Dixon Grove Junior Middle School in Toronto, says it's important to establish this from the get-go. "From the first day, whether the first day of school or you're starting mid-year, begin establishing a strong classroom community," says Terro. "Give students an opportunity to share multiple parts of their lives, and find their strengths and interests. When students know you care about who they are, they'll be more willing to take risks in their learning and have a sense of belonging within the classroom and school."
Donald Kemball, OCT, a Grade 7 and 8 teacher at Fred Varley Public School in Markham, Ont., agrees and adds that being engaged with kids outside of the classroom is also key. "Spend time coaching them, running a special-interest club, playing games with them at recess. While being mindful of professional standards, it's possible and important for students to see you as a human being."
Tailor your teaching
Kemball had a student two years ago who missed a lot of school. The student was consistently anxious and reacted to his stress by being disruptive in class. So Kemball went on a fact-finding mission and discovered his student was interested in a specific video game. "I used that as a springboard to get him on track," he says. "When we research, he studies the game and those who play it. When we learn 3D geometry, he builds worlds and levels and breaks them down using transformational geometry." As a result of Kemball tailoring his lessons to tweak his student's interest, the disruptive behaviours lessened and the two experienced better communication because they had the game to talk about.
Know how you want to be perceived
Occasional teachers (OTs) can feel as if they've been thrown into the deep end when they enter a class full of kids they don't know. Amber Lockwood, OCT, avoids that sink-or-swim sentiment by having a clear idea of how she wants to be perceived by students. "Having this idea in your head, while allowing for spur-of-the-moment flexibility will give you something to fall back on as a basic principle if and when things go south," says the OT in the Limestone District School Board.
Ask for help
You tell your students to do it so why shouldn't teachers? When Lockwood goes to a school, she studies its routines and procedures (Code Reds, fire drills, medical emergencies) and reads any notes provided by staff about students who will be in her care. And if she's uncertain about anything, she doesn't hesitate to ask her colleagues for a hand. "Never be afraid to ask for help. If you find yourself in a classroom that's out of control, don't be afraid to speak to another teacher in a nearby room," she says. "Ask for tips and tricks from others who may know the students better than you. It shows you are always willing to learn and grow as an educator." Terro stresses the value of reaching out if you find something isn't working. "The school is full of people with knowledge and experiences who would be happy to support you."
Get creative
Transitions can be difficult times for some students. Harry Nowell, OCT, who teaches primary and junior grades at Vincent Massey Public School in Ottawa, found an approach that works for his students. "I bring a drum to class. The drum tweaks students' curiosity. It signals a transition and can attract slower-moving students after recess," he explains. "I offer a rhythm and wait for a few seconds for students to respond with an echo by clapping hands to the beat. I'll repeat, using hand gestures and positive reinforcement to communicate my wishes. They catch on quickly and like being part of the action." Nowell says the drum creates a connection with new students and signals a routine for children who are savvy to his technique. "I also increase engagement and honour good behaviour by allowing students to drum their own transition rhythms when a change is coming. Knowing that I am looking for positive behaviours, students appreciate being chosen to drum."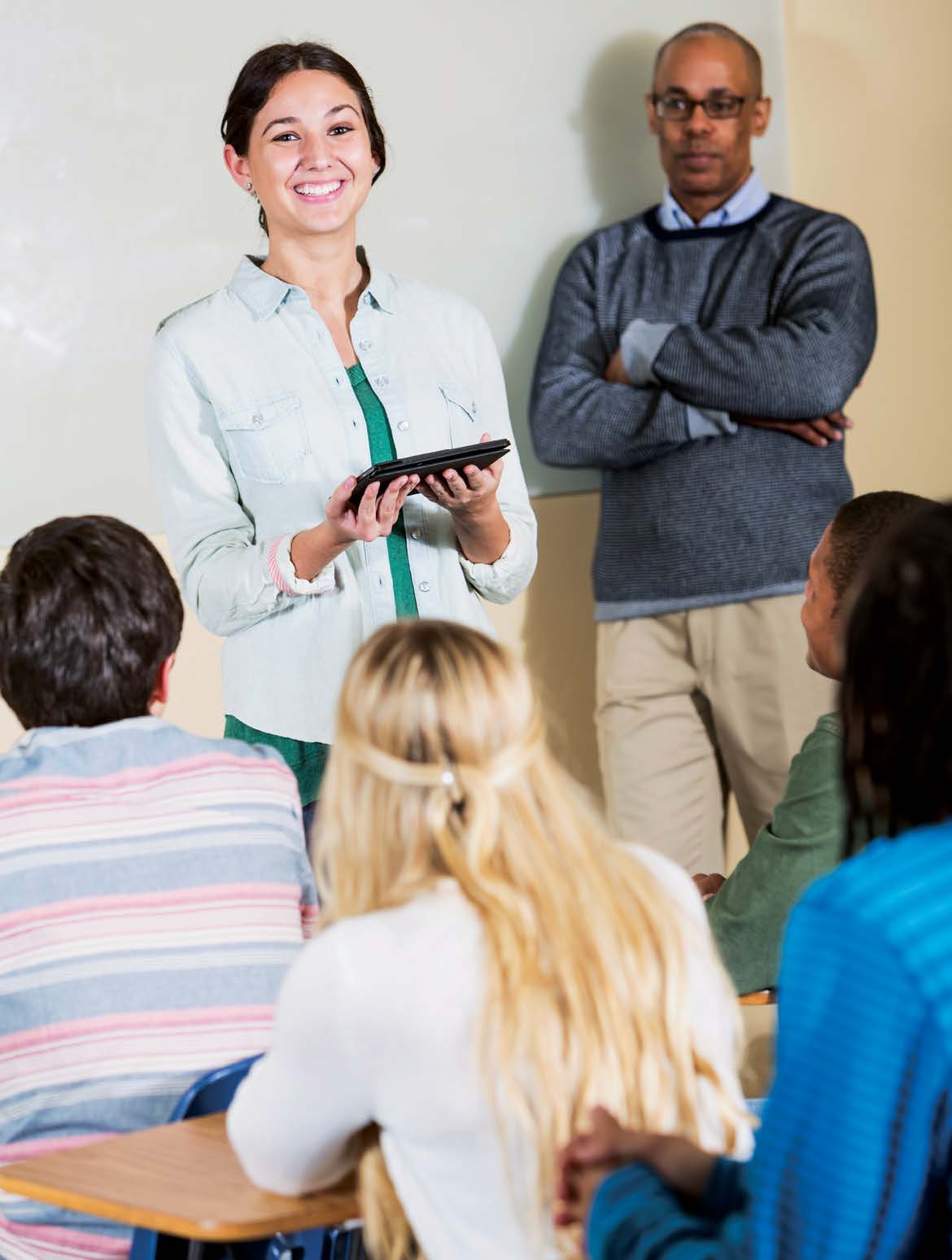 Keep it consistent
We all know children need routine. Martínez Hernando introduced "5 au quotidien" in her classroom. Here's how it works: Students are divided into groups of four or five, and there are five different stations (reading, guided reading, reading to self, listening and writing) set up in the class. They rotate throughout to hit each centre once a week. Her students are used to this routine and things run more smoothly when everyone knows where they're supposed to be and what they're supposed to be doing.
Embrace flexibility
You know what they say — you have to roll with the punches. And no matter how much you prepare, things won't always go exactly as planned. "Being flexible means there will be days when you say, 'Put everything away; we're going outside,' because that's what's best for everyone," says Mélissa Pépin, OCT, an elementary school teacher at École publique Héritage in North Bay, Ont. "You always have a choice: Do I keep teaching students who aren't engaged at the moment or do I allow them a brain break they obviously need? Too often what we perceive as a loss of time is actually a gain in the long run."
Be yourself
When David Parmer, OCT, reconnected with a former student at a wedding a few years ago, she told him that she and her classmates respected him too much to misbehave. "They appreciated me being my authentic self and knew that I truly cared about their well-being and growth," says Parmer, who teaches various grades at Dr. Norman Bethune Collegiate Institute in Toronto. "Smile often, keep your sense of humour and enjoy the laughter in the room when it's there — it's a signal you're doing something right," he says. "Strive to build a classroom culture where you and your students can be your authentic selves. I tell my students to be themselves — everyone else is taken."
Extra reading
Find more strategies for managing your classroom environment in these resources:
Creating Positive Behaviour — 1 Tip at a Time by Bruce Hoey
*Hold On to Your Kids: Why ParentsNeed to Matter More Than Peers by Gordon Neufeld and Gabor Maté
*Principles of Classroom Management, Third Canada Edition by James Levin, James F. Nolan, James W. Kerr, Anne E. Elliott, Mira Bajovic
*How to Differentiate Instruction inAcademically Diverse Classrooms by Carol Ann Tomlinson
*Creating Life-Long Learners: UsingProject-Based Management to Teach21st Century Skills by Todd Stanley
AQ courses (oct-oeeo.ca/findanAQ)
*Available to borrow from the College's MargaretWilson Library. Visit oct-oeeo.ca/Library.