Final Exam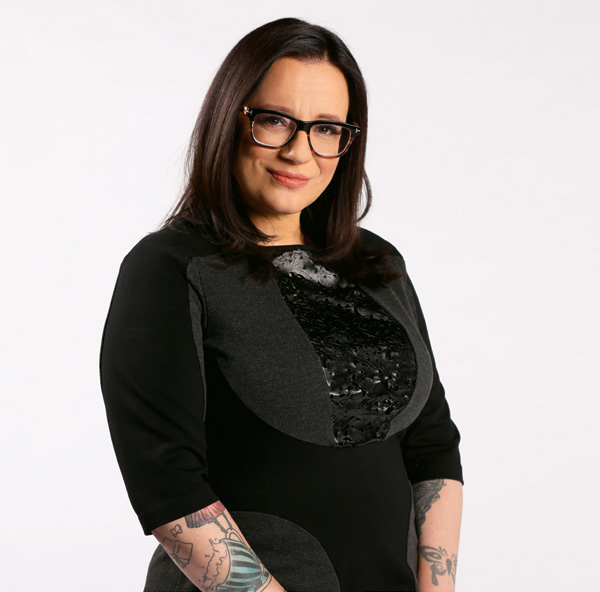 Character Sketch
Award-winning Métis writer Cherie Dimaline on her love of books and unravelling labyrinthine sentences.
By Laura Bickle
Photo: CBC
Name: Cherie Dimaline
Born in Orillia, Ont., in July 1975
Dad was a chef and mom was a self-taught engineer
Moved a lot; schools included: St. Hubert Elementary School, Sault Ste. Marie, Ont.; Brookhouse Elementary, Dartmouth, N.S.; St. Jean de Brebeuf Elementary School, Brampton, Ont.; Mother St. Bride Catholic Elementary School, North Bay, Ont.; Mother Teresa Catholic Secondary School, Toronto
Dropped out of school in Grade 11
Won Fiction Book of the Year in 2007 from the Anskohk Aboriginal Book Awards for her first book, Red Rooms
Shortlisted for the 2014 Burt Award for First Nations, Inuit and Métis Young Adult Literature for The Girl Who Grew a Galaxy
Named the 2014 Emerging Artist of the Year — Ontario Premier's Award
Was the first Toronto Public Library Writer in Residence for Aboriginal Literature
Published A Gentle Habit (2015), a collection of short stories
Won the Governor General's Award for Young People's Literature and the U.S. Kirkus Prize for Young Readers for The Marrow Thieves (2017); it was also selected for CBC's Canada Reads
Edited numerous Indigenous journals
Co-ordinates the Indigenous Writers' Gathering
Mentor for Humber School for Writers in Toronto
Describe yourself in elementary school.
Shy. Determined. Fighty.
Describe yourself in high school.
Bored. Confused. Frustrated.
What was your favourite subject?
English, because I got to read, write and unravel labyrinthine sentences. I did very well in school but once I fell in love with books, everything else was pushed to the side.
Your most challenging subject?
Math, but even more so, history. Being Indigenous, I had a different understanding of Canada and how it came to be. Being in that class felt hostile and humiliating.
Favourite literary pieces studied?
"The Love Song of J. Alfred Prufrock" by T.S. Eliot was by far my favourite. In fact, I've promised myself that the day I can finally recite it in its entirety I will get "PRUFROCK" tattooed across my knuckles. And, I loved/hated The Diviners by Margaret Laurence. Finally, there were Métis people in a book, but I didn't really care for them.
As a student, what career path did you dream of following?
Being a writer. Always. Though I never thought it would be possible given all the negatives I'd heard about attempting to get published. And, also, all of the poverty …
Fondest school-related memory?
Winning a debate in Catholic school against the priest about the nature and art of nudity and sex in art, film and literature.
What natural gift did you wish you had?
Public speaking and communications. I am an extremely anxious person and it takes me a week to gear up for a speech, and then days to get settled again.
Life lesson learned at school?
Research. The importance of responsibly and thoroughly researching, and the basics of how to go about it.
Any school-related regrets?
I would have stayed and graduated. University seems like the most fun place on Earth and I would have loved to have had the opportunity to go.
If you could pick any year to attend school in, which would you choose?
Maybe in the future, when Indigenous traditional knowledge is used as the core philosophy in Canada and the U.S. Really, it's the only thing that makes sense. Why wouldn't you use the science, philosophy, art and story of the land you're on to teach?
If you could create a new course, which would you choose?
Traditional Land Use and Traditional Knowledge. We really need to start doing a better job environmentally and socially. Responsibility, reciprocity and impact are all held within these subjects naturally.
What school experience prepared you most for life?
I learned about friendship and loyalty — both the fragility of them and the enduring nature of true relationships. I also learned that a good book can pull you out of the day and change everything.