Governing Ourselves
Governing Ourselves informs members of legal and regulatory matters affecting the profession. This section provides updates on licensing and qualification requirements, notification of Council resolutions and reports from various Council committees, including reports on accreditation and discipline matters.
College News
Annual Meeting Of Members
"Working on behalf of the public is a privilege we take seriously," said Michael Salvatori, OCT, CEO and Registrar at the College's 2018 Annual Meeting of Members on June 6, 2018. "That's why care and judgment — two cornerstones in the foundation of teachers' daily practice — guide our work."
Care, judgment, commitment and respect were front and centre of the College's work in 2017.
The professional advisory Responding to the Bullying of Students, a self-reflective framework, was released to help teachers address bullying in schools. The College also published an updated advisory on Maintaining Professionalism — Use of Electronic Communication and Social Media, with an expanded definition of social media and current examples. Both help members exercise care and judgment.
The Registrar discussed the development, review and revision of Additional Qualification courses (AQs) that teachers can take to increase their knowledge and enhance their skills through their teaching careers. Guidelines for AQs were also approved to direct and implement courses ranging from classroom management to teaching LGBTQ students to First Nations, Métis and Inuit Studies.
Salvatori reported on the College's review of initial teacher education programs to ensure they met the profession's high standards.
He also spoke to the College's commitment to student safety and welfare through the implementation of the Protecting Students Act.
Past College Chair Angela De Palma, OCT, also addressed attendees, focusing on the leadership provided by Council members that guides the College's work. She said, "Your Council is knowledgeable, experienced and dedicated to governing the profession."
De Palma explained how Council members also sit on different committees that support various parts of the College's mandate. Reports from some of those committees were also given.
The meeting also included a panel discussion, "What Does the Public Expect of Regulators?" that explored the role and responsibilities of regulators and their alignment with public perception and expectations.
Moderated by Salvatori and De Palma, panellists included: Kathy English, Public Editor, Toronto Star; Jan Robinson, CEO and Registrar, College of Veterinarians of Ontario; and Richard Steinecke, Counsel, Steinecke Maciura LeBlanc.
The panel explored why the public should care enough to have expectations, the need to raise awareness about regulated professions and why the role of regulator is crucial to the public interest.
Couldn't attend in person? A video of the 2018 Annual Meeting of Members is available on the College website at oct-oeeo.ca/2018AMM.
Legislative Changes Strengthen Student Protection
Ontario Certified Teachers who are found guilty of sexually touching students will have their teaching certificate revoked.
Bill 31, which included amendments to the Ontario College of Teachers Act, received third reading and royal assent last May. These legislative changes better protect Ontario students from sexual abuse by teachers.
Previously, the College would revoke teaching certificates when the Discipline Committee found members guilty of certain types of sexual abuse, including sexual intercourse, masturbation, genital-to-genital, genital-to-anal, oral-to-genital, or oral-to-anal contact. The committee also automatically revokes certificates of teachers engaging in acts involving child pornography.
The amendments now add "touching of a sexual nature by teachers of a student's genitals, anus, breasts or buttocks" to the list.
The bill strengthens and expands the definition of sexual abuse in the Ontario College of Teachers Act that would result in mandatory revocation or suspension. It also provides for a fund for counselling and therapy for student victims of abuse.
New amendments also:
require that any other findings of sexual abuse by the College's Discipline Committee that do not result in mandatory revocation result in a mandatory suspension of the member's certificate;
enable the College's Discipline Committee to immediately suspend a member pending an order of mandatory revocation; and
apply retroactively to any historical matters that may have occurred prior to, or during, the College's existence.
All of these amendments went into effect on May 8, 2018. Two additional amendments will go into effect upon the proclamation of those specific sections of the bill at a later date.
One amendment will give authority to the Investigation Committee to order medical assessments. The second amendment is related to the funding of therapy and counselling for students abused by teachers.
The new definition enhances the Protecting Students Act and aligns with recent changes to the Regulated Health Professions Act
The College provided advice to the province to enhance our ability to govern our profession in the public interest.
Changes in legislation followed a series of articles by the Toronto Star on abusive teachers.
Annual Report Highlights
The 2017 Annual Report offers a snapshot of College activities over the course of the past year.
In her message, past Chair of Council, Angela De Palma, OCT, reflects on several of the year's highlights, including focus group sessions with members of the public and the profession held in the summer of 2017.
The College co-ordinated the focus groups to gather insights into what members and the public know about the College, and how they have learned about the organization. With this insight, the College will be able to identify future professional advisory topics, better understand which subjects College members and parents find important, and have an understanding of why they resonate. The focus groups also help gather opinions about the College's current communications tools and services, and will help to determine how they can be refined to better serve the public interest.
This year's message from Michael Salvatori, OCT, the College's CEO and Registrar, touches on the new and updated advice the College provided to members on two important and timely topics: student bullying and the appropriate use of social media and electronic communication.
The College advisory Responding to the Bullying of Students, published last September, provided a context for discussion and action including a definition, statistics, typical characteristics, and consideration of ethical standards and legal and disciplinary outcomes
The Registrar noted that the professional advisory Maintaining Professionalism — Use of Electronic Communication and Social Media struck a chord with educators and parents when it was first introduced in 2011. In 2017, the College updated the definition of electronic communication, and provided current examples of the types of incidents recently seen in professional misconduct decisions as well as additional advice to minimize risks.
Finance Committee
A message from the Finance Committee notes that membership numbers have a significant impact on revenue and reports that at the end of 2017, it had processed 236,635 member payments. The actual number of processed payments decreased by 2,541 when compared to the 2016 actual, reflecting a lower number of pre-enhanced teacher education applicants.
Brightening employment outcomes for new teachers
The 2017 Transition to Teaching survey, which looks at the early careers of new Ontario teachers, notes a sharp drop in new Ontario teaching licences issued in 2016. This followed a multi-year decline in new entrants to the Ontario teaching market and resulted in a strong improvement in early-career teacher employment outcomes in the 2016–17 school year. First-year full employment increased to 62 per cent, from 47 per cent in 2016.
For new English-language teachers with qualifications in intermediate-senior math, science or computer studies, the unemployment figure is 11 per cent; for those without these qualifications, the figure is 23 per cent.
French as a Second Language and French-language program teachers continue to be in high demand with first-year unemployment at 4 per cent and nearly 0 per cent, respectively.
The survey projects that the annual supply of new teachers will remain at historic lows for the next several years as teacher retirements rise gradually. The years ahead will bring a near balance of new teachers and retirements, a supply and demand circumstance that should extend the recent improving job market throughout the province.
Visit oct-oeeo.ca/2017annualreport to read the full report, including financial details, statistics and highlights from 2017
Inspiring public confidence conference 2018 recap
It was 9 a.m. on an unusually hot and humid spring morning as over 200 conference attendees sipped coffee and settled into their seats for the first address of the morning.
This was the College's Inspiring Public Confidence conference 2018, held in Toronto over two days this past spring. A large group of regulators, school board administrators, school leaders and trustees, government officials, teacher educators and teacher employers were gathered to hear thought leaders share insights about trends in professional regulation and protecting the public interest.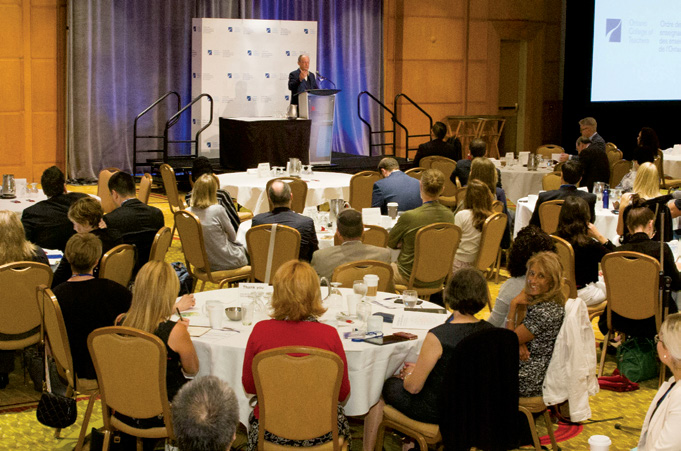 "Everyone here has a common interest: How we, both as a group and as individuals, can best serve the public interest," said Michael Salvatori, OCT, College CEO and Registrar, addressing the audience and setting the stage for the speakers to follow. Over the next day and half, he added, conference attendees would "explore notions of risk, trust, public confidence — all elements inherent in our civil society — and we'll look at the work of a contemporary regulator and the impact it has on that society."
Breakout sessions
Twenty workshops over the two days covered a wide range of issues related to regulation and relevant to Ontario teachers.
One of those sessions was "Reconciliation: Beyond Canada 150." Participants delved into Canada's history — acknowledging that it was built on the promise of a partnership between equals — and considered its future, discussing the need to respect the original relationship to accomplish its moral, political and fiscal potential.
The workshop "Hackathons Aren't Just for Coders" challenged the misconception that hackathons are just for software developers. Participants engaged in a "sprint," working on self-identified or facilitatorgenerated problems, brainstorming ideas and building prototyped solutions.
In another workshop, "Violence Prevention for Schools: Effective Strategies that Promote and Create Positive Behaviours to Prevent Bullying," participants explored the many forms of school violence, including violence through social media, and discussed effective prevention strategies that can be implemented in schools with minimal cost.
Rex Murphy
Author, reporter, Rhodes Scholar and proud Newfoundlander, Rex Murphy was the first keynote speaker of the conference. Murphy began by quoting poet John Milton (and encouraged the audience to ignore the Christian element for the sake of the universal message): "A good education sets as its aim to repair the ruin of our first parents."
Milton, said Murphy, saw education as the essential tool for moving humanity back to a place of wisdom and understanding, and away from dimness, darkness and barriers to intellect. "That's the grand, ferociously abstract understanding of how noble education really is."
He spoke, too, about journalism's original mission, and how it has evolved and become derailed by those who want to influence and be part of events, rather than report on them. The state of journalism, he argued, places even greater importance on education as the bedrock of a civilization. "Schools are the original set of conditions by which younger human beings will have a proper grasp of what it is to live in a country, a province, a society," said Murphy. "The public interest in education is very simple: it is to maintain the democracy that we already have, to maintain those elements that we all share and value beyond any other, and to develop the capacity beyond all other things to think — to think and judge in a rational manner."
Harry Cayton
In the afternoon of day one, Harry Cayton, chief executive of the Professional Standards Authority in the United Kingdom, spoke to the conference participants about the value of professionalism to inspire public confidence.
"At the core of our work at the Professional Standards Authority in improving regulation is the notion of professionalism," said Cayton. "It's important that we put professionalism at the heart of good practice, rather than regulation as the solution to bad practice."
Cayton discussed the changing nature of what it means to be a professional in contemporary practice, proposing three changes in perspective. First, he said, we should move from the idea of mastery toward expertise. "Mastery assumes you can know everything, but you can't anymore," said Cayton. "Medical students, for example, learn five million facts while they're training, and by the time they're done training, 2 million of them are already out of date." The expertise, said Cayton, is now about how to get knowledge and use the knowledge you can find.
Second, he proposed moving from the idea of autonomy toward mutuality. "We're not isolated professional figures on a pedestal, we're part of a team of people delivering a service to the community," said Cayton.
"Third, let's think of altruism instead of empathy," he said. "We share, we understand each other. I feel for you but I don't patronize you when I feel for you."
Marc-André Blanchard
At the end of day one, Marc-André Blanchard, Canada's ambassador and permanent representative to the United Nations, gave his keynote address. He touched on the UN's Agenda 2030 and said, "The key to meeting the objectives of that plan successfully is education. Many of you in the room are regulators and teachers — you're on the front line of what we're trying to achieve, globally.
"Since I've been at the UN, I've realized Canada is the envy of the world and looked upon as the gold standard for so many things," said Blanchard. He mentioned a UN leader in Africa who shared his perspective on why Canada is uniquely trusted, among all the nations of the world. "It's because of our leadership, our values, our friends, our institutions and who we can bring to the table." He added, "The one thing at the core of all this is our education system."
Margaret Trudeau
The conference closed with a keynote address by Margaret Trudeau, a dedicated mental health advocate and best-selling author. She shared personal and candid stories about living with bi-polar disorder while in the public eye. After many decades, she said, medication and therapy helped her find balance and take next steps toward better health.
Trudeau also underscored the importance of helping protect students' mental health within our schools, singling out an initiative called Headstrong, by the Mental Health Commission of Canada, with programs available in Canadian schools to help reduce the stigma around mental health.
"If kids are diagnosed with mental illness, this is really going to help them with one of the most difficult things they'll have to face," said Trudeau. "Students need to know that there is recovery from mental illness and that they can get their lives back."
International awards for Professionally Speaking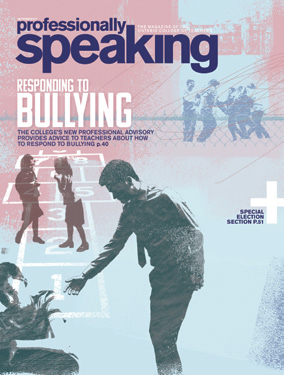 This year has proven to be another award-winning year for the College's magazine. Professionally Speaking received international recognition for writing and design at the 2018 Tabbie Awards.
The magazine was one of only six publications to receive four or more awards, winning five honours: one Top 25 for Best Single Issue (September 2017); one Top 25 for Best Feature Article ("The Benefits of Occasional Teaching," December 2017); one Honourable Mention for Best Department (Great Teaching); one Honourable Mention for Best Profile (Great Teaching, June 2017); and one Bronze for Best Design of an Opening Spread (Remarkable Teacher, June 2017).
The 2018 Tabbie Awards, presented by TABPI (Trade Association Business Publications International), recognize editorial and visual excellence in English-language trade, association and business magazines worldwide. This year's contest featured nearly 400 entries, with nominations from the United States, Canada, the United Kingdom, Australia, New Zealand, the United Arab Emirates, and South Africa.