Letters to the Editor
Professionally Speaking welcomes letters to the editor. We reserve the right to edit letters for length and to conform to our publication style. To be considered for publication, letters should be in response to an article published in the magazine and include the writer's daytime phone number and registration number. Address letters to: The Editor, Professionally Speaking at ps@oct.ca or 101 Bloor St. W., Toronto, ON M5S 0A1.
No room for competition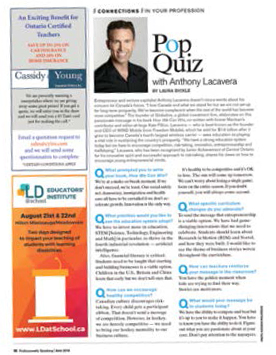 I read Pop Quiz with Anthony Lacavera in the June issue. Lacavera's ideal future of Canada is terrifying. A tribute to competition runs completely counter to the best in pedagogy, which is based on collaboration, inquiry and the mutual pursuit of truth. There is simply no room for the violence of competition in today's classrooms. Personal success is not as rewarding as the success of all — of communities that are built on humane and social principles. And it is stories of successes such as these that should be shared within and outside of school walls. We need less artificial intelligence and more ethical intelligence — the intelligence that questions, that critically dissents, that endeavours to swim upstream while thinking of those affected downstream. What's more important than "How We Can Win" is this: how we can live and, better, love.
—Joshua Christopher Weresch, OCT, is an occasional teacher with the Hamilton-Wentworth District School Board in Hamilton.
We want to hear from you! Please send letters to the editor to ps@oct.ca or 101 Bloor St. W., Toronto, ON M5S 0A1.