Pop Quiz
with Hilary Inwood
By Laura Bickle
Photo : Karen Somers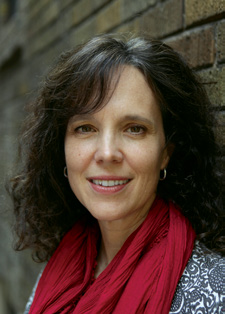 In 2009, the Ontario Ministry of Education turned the traditional approach to environmental learning on its head with the release of Acting Today, Shaping Tomorrow: A Policy Framework for Environmental Education in Ontario Schools. The innovative approach shows teachers how to integrate environmental studies across the curriculum through a number of entry points, not just science. Hilary Inwood (hilaryinwood.ca), an artist-lecturer at OISE/UT with an eco-art education focus, believes that giving teachers the tools to increase their comfort levels around this subject is key. "Environmental literacy is crucial," says Inwood, who holds postgraduate degrees in education, art history and art education. "We need to find more sustainable ways of living. Eco art encourages students to look more closely at the world, identify environmental challenges and become positive change agents." Inwood shares insights from her research and suggests how to explore this exciting and essential subject in the classroom.
What is eco-art education?
It integrates environmental learning with visual arts education, which allows teachers and students to investigate aspects of their surroundings through the lens of artmaking. Eco-art education can take many forms — murals of local wildlife, story maps of a nearby creek, illustrated guides of native plants and sculptures — that help to protect school gardens.
What are the benefits?
Students learn to identify environmental issues and analyze them from varied perspectives, including those of all living beings. They hone their skills as engaged citizens, devising creative ways to make their communities better places to live.
Discuss your work with OISE.
I am the lead of the Environmental and Sustainability Education Initiative and teach in the Master of Teaching Program. Our teacher candidates have shown a deep dedication to environmental learning, working extra hours to prepare themselves to be leaders in EcoSchools in Ontario. This involves activities such as delivering environmental lessons in their practice, creating eco-art installations, helping to organize EcoFairs and Environmental Education conferences, and caring for our Community Learning Garden.
Tell us about your research?
My work takes different forms — one of them is qualitative research that explores how to prepare teacher candidates and teachers for integrating environmental education into their practices. My artistic research focuses on place-based education [connecting learning to students' natural and built surroundings] and focuses on creative mapping and sculptural bookmaking (making books that combine text and images that unfold in unusual 3D forms).
Any resources to recommend?
Many think they shouldn't introduce eco art until they are "experts," but I disagree. Start exploring alongside your students. Check out artists like Andy Goldsworthy and Brian Jungen to see how to use natural or found materials to raise awareness about environmental issues. The Stream of Dreams program (streamofdreams.org) or Beehive Design Collective (beehivecollective.org) are good starting points.