Reviews
Your guide to recently released books and other teaching resources.
For additional reviews of French-language resources, visit Pour parler profession. With the exception of some classroom sets, items reviewed are available on loan from the Margaret Wilson Library at the College. Contact us at 416-961-8800 (toll-free in Ontario 1-888-534-2222), ext. 679 or email library@oct.ca.
Keep Growing
What kind of magic makes students want to take responsibility for their own learning and growth? How can teachers help them eliminate any preconceived notions of what they are or aren't capable of doing? How can we prevent students from undermining themselves, both socially and academically?
In Keep Growing, Mandel explores changing the way we teach students to approach problems. Research shows that by teaching children to embrace their mistakes, we teach them to push through the tough stuff, even when it becomes really challenging. Without making mistakes, children cannot learn.
This book offers teachers detailed lessons and questions to pose to students, encouraging them to reflect on how problems can be approached and solved. By clearly demonstrating key learning skills that can be integrated across all subject areas, students can learn how to cultivate responsibility, independence, self-regulation, perspective, initiative and resilience.
An added feature of Keep Growing is a section on the home-school connection, which encourages teachers to write regular newsletters to parents and caregivers, showing them how to promote a positive approach to learning. With support both at home and school, students can learn what to do when they encounter setbacks and make changes accordingly. This is an important lesson for all of us and a timely resource for the elementary panel
Sarah Frost Hunter, OCT, is the Section 123 teacher at Kindree Public School with the Peel District School Board.
Keep Growing: How to encourage students to persevere, overcome setbacks and develop a growth mindset, Pembroke Publishers, Markham, Ont., 2017, softcover, ISBN 978-1-55138-320-0, 128 pages, $24.95, pembrokepublishers.com
Pushing the Limits
By Kelly Gallagher-Mackay and Nancy Steinhauer
The world never stands still. And the world of technology even less so. Given that reality, how can we prepare our students for a future that is unknown? By teaching our students to develop a growth mindset that includes asking probing questions, leveraging digital tools for their purposes and solving problems, it will help them adapt to a changing world.
Pushing the Limits is a book about extraordinary Canadian schools that are already pushing the limits by nurturing innovators and helping create adept problem-solvers who will be the citizens of tomorrow. By showing educators a glimpse of what schools might look like in a rapidly changing world, it documents learning environments where students are encouraged to take risks, make mistakes and learn to accommodate transformation. Each chapter chronicles specific changes made by individual Canadian schools that have pushed their own limits. More importantly, each chapter also suggests actionable plans for principals and teachers to follow in their own schools.
From helping students develop their global competencies, to making changes in math class, to modifying how parents and teachers interact, the authors have painted a clear picture of what can be done. The book is sure to inspire and motivate anyone who is interested in engaging, challenging and preparing future-ready students.
Kerry Zinkiewich, OCT, is vice-principal at Clarington Central with the Kawartha Pine Ridge District School Board.
Pushing the Limits: How Schools Can Prepare Our Children Today for the Challenges of Tomorrow, Doubleday Canada, a division of Penguin Random House Canada Limited, 2017, hardcover, ISBN 978-0-385-68538-2, 272 pages, $32.95, penguinrandomhouse.ca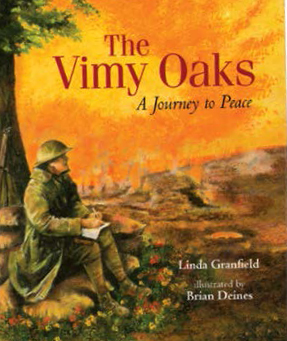 The Vimy Oaks
By Linda Granfield, Illustrated By Brian Deines
Two stories are inextricably woven together in this vivid picture book of war and peace. Each of these stories takes the reader on a journey from one side of the ocean to the other, and from a time of devastation to a time of hope. The main story is about the life of Leslie Miller, a soldier from Canada during the First World War who picked up a handful of acorns while serving at Vimy Ridge and mailed them home. Now, more than 100 years later, these acorns have grown into mature oak trees that Miller planted after returning from the war in rows near Toronto at his family farm.
As a youth, Monty McDonald worked on Leslie Miller's farm. In 2004, he travelled to France, and so begins the second part of the story. The Vimy Oaks Repatriation Project has overseen the planting of hundreds of Vimy oaks across Canada in places of remembrance. All the trees are descendants of Miller's original acorns. This project includes the return of some of these acorns to France, where on the 100th anniversary of the end of the Great War, saplings (again, from the acorns) were planted on pathways near the Vimy Memorial, looking like soldiers standing at attention.
A perfect, shared reading resource for primary and junior classes, this cross-curricular gem is packed with archival photos and brilliant oil paintings by award-winning artist Brian Deines.
Leslie Miller (himself a teacher in Saskatchewan prior to the war) could not have expected the legacy that would arise from his simple act of pocketing the original acorns so long ago. Blending history and science, The Vimy Oaks is a fascinating story of hope, remembrance and renewal during this 100th anniversary year of the Great War.
Anne Marie Landon, OCT, is principal of George Vanier Catholic School in Combermere, Ont. with the Renfrew County Catholic District School Board.
The Vimy Oaks: A Journey to Peace, North Winds Press, Toronto, 2017, hardcover, ISBN 978-1-4431-4850-4, 36 pages, $19.99, an imprint of Scholastic Canada Ltd., scholastic.ca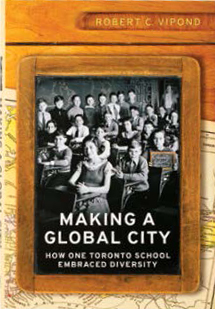 Making a Global City
Making a Global City spans 70 years in the life of a single school in the heart of downtown Toronto. Clinton Street Public School, near Bathurst and College streets, was once dominated by Anglo-Protestants. It gave way to deep waves of working-class immigration between 1920 and 1990. The challenges faced by the school as it navigated the increasingly multicultural citizenship of its students were fierce and dynamic. In this fascinating study, political science professor Robert Vipond examines the complex daily negotiations that led to the school's successes, failures and conflicts — all of which continue to resonate as schools respond to the cultural diversity of the communities they serve.
In a lively telling of the stories of three Clinton eras — Jewish (1920–52), European (1950–75) and Global (1975–90) — Vipond explores the themes of diversity and community and their implications on our evolving understanding of citizenship. Public schools have always been considered crucibles of good citizenship, he says, and when the population includes large numbers of immigrant children, this function takes on a heightened significance.
From acculturation to adaptation, assimilation to multiculturalism, the school's story uncovers a messy process. There is no straight path where one ideal progressively replaced the other. The layers are overlapped and intersected, sometimes harmoniously and at other times charged with friction and controversy. While some people still perceive diversity as a threat, Clinton's bottom-up approach to inclusion is instructive to us all as we continue to tussle with shared citizenship.
This meticulously researched book would be particularly useful for high school teachers in their teaching of the complex issues of Canadian citizenship posed in the civics curriculum. It informs much of the Canadian history curriculum too, particularly the Grade 11 unit Origins and Citizenship: The History of a Canadian Ethnic Group.
Nadira Baksh, OCT, supports Students Success, Credit Recovery and PLAR (Prior Learning Assessment & Recognition) at the Adult Education Centre with the Peel District School Board.
Making a Global City: How One Toronto School Embraced Diversity, University of Toronto Press, Toronto, 2017, hardcover, ISBN 978-1-4426-3195-3, 280 pages, $34.95, utpress.utoronto.ca