Letters to the Editor
Tell us what you think!
Professionally Speaking welcomes letters to the editor. We reserve the right to edit letters for length and to conform to our publication style. To be considered for publication, letters should be in response to an article published in the magazine and include the writer's daytime phone number and registration number. Address letters to: The Editor, Professionally Speaking at ps@oct.ca or 101 Bloor St. W., Toronto, ON M5S 0A1.
Using Inclusive Language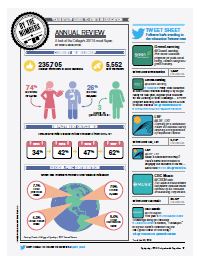 Thanks for the September issue of Professionally Speaking, which I always find interesting and useful. The "Annual Review" article in By the Numbers reports that of College members, "74 per cent are female," "26 per cent are male" and three "identify as gender neutral (X)." I was wondering if any genderqueer or non-binary teachers were consulted on the wording for either the survey or the annual report (there may be other terms that people would like your magazine to use, but "genderqueer" and "non-binary" are what I have heard most often). I recently had an enlightening conversation with a genderqueer person who said their pet peeve is when people use the term "identify as." They do not "identify as" genderqueer, they are genderqueer. I'm sure your article was not intended to be rude or condescending, but when it is said of all other members that they "are" female or male, while others "identify as" another category, it seems that might be insulting, as if the people in question are being humoured rather than believed and respected. Certainly it is possible that your publication consulted with teachers who are gender neutral or use other terms, but if not, that seems an important next step. That would be beneficial for all teachers, for students, and the larger community. I believe the College is committed to inclusivity, and I appreciated the mention in At the College of the College's presence at Pride Toronto.
Kristen Mathies, OCT, is a teacher at Rockway Mennonite Collegiate, a private school in Kitchener, Ont.
Editor's response: Thank you for raising this important issue. As part of our fact-checking and due diligence process, we consulted several authorities on the appropriate wording, including Egale Canada, an advocacy organization that advances equality for Canadian lesbian, gay, bisexual and transgender people and their families across Canada.
Classroom Management Article Timely
As we embark on a brand new school year, thank you for the timely article "How to Manage Your Classroom Environment" in the latest issue. I found it a very practical and easy-to-read article that provides authentic tips and strategies for creating a safe, inclusive and nurturing classroom environment. The educators from across the province shared their perspectives and success stories about creating an environment where all voices are heard and students feel a sense of belonging. The importance of building positive relationships and tapping into students' interest is emphasized. Tips combined with real-life scenarios are very helpful to both the new and veteran teachers. Additional resources are provided for the readers if they wish to explore the topic further. You walk away with many new tricks of the trade. I would highly recommend all educators read this article to add to their ideas and strategies to build a positive classroom and school environment for all students to thrive and be successful.
Gurmeet Gill, OCT, is principal at Fernforest Public School in Brampton, Ont.
Use of Stock Photo on Cover Disappointing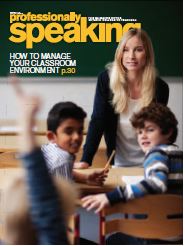 I was disappointed to discover that the September cover photo of an engaged female elementary school teacher listening attentively to a student's response is not an actual teacher or an OCT member, but, in fact, a stock image. Perhaps in the future the College may consider employing and compensating real Ontario teachers in their actual classroom environments.
Paul Ziemanis, OCT, teaches Grade 8 at St. Thomas Aquinas Elementary School in Toronto.
Editor's response: Thank you for your feedback. Every effort is made to use original photography. For this issue, however, some unforeseen changes required us to revert to stock photography at the last minute. We regret the disappointment caused by this late change.
Tech Teacher Shortage a Concern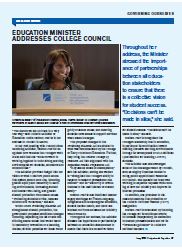 In the Governing Ourselves section of the June edition I was happy that you reported on [former Minister of Education] Indira Naidoo-Harris raising a concern over a Technological Studies teacher shortage. Tech teachers come from industry, and to enrol in school to become certified many need to leave their jobs, experiencing a loss of income. With the two-year teacher education program, there will be far less potential tech teachers willing to make this sacrifice. I fear for the future of qualified tech teachers and I hope that the Ministry makes accommodations to help keep the qualified tech teacher pool strong for our students.
Nathan Shrubsole, OCT, is a Grade 9-12 Technological Studies occasional teacher with the York public and Catholic district school boards.
Like our new look?
Welcome to the new online version of Professionally Speaking. This version of the publication is more accessible and usable than ever, and enhances the online reading experience for our members and the public. It functions equally well across all devices, from mobile phones to tablets to desktop computers. Let us know what you think of the new format at ps@oct.ca. We look forward to hearing from you!