Professional Practice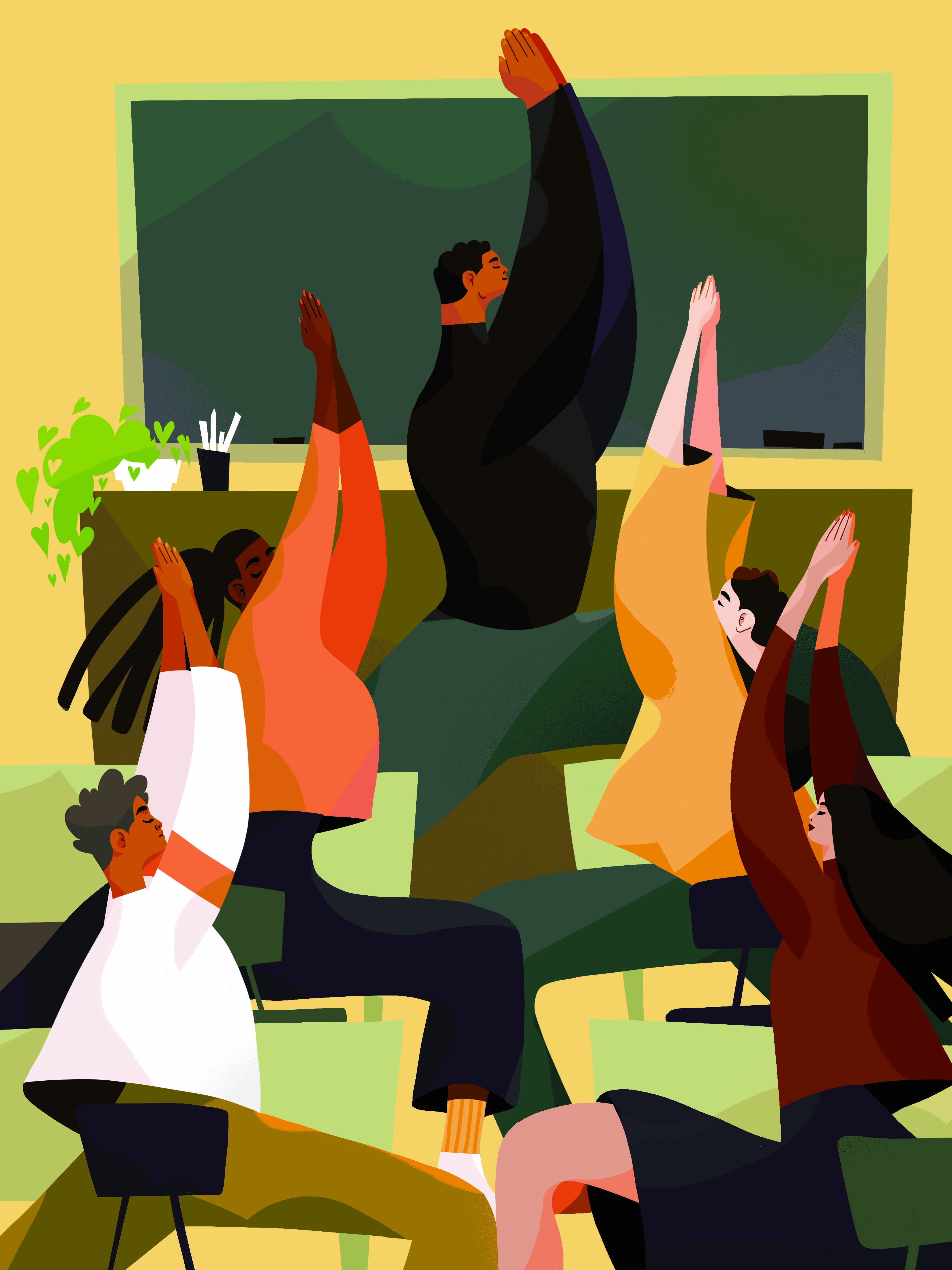 Maintaining student attention levels in the classroom is often difficult for teachers; it affects both the seasoned and the new. After experiencing this challenge first-hand and trying various approaches throughout my career, I eventually landed on a technique that works well for me; it starts with getting to know your students' character!
Once you've accomplished that, I suggest you try doing a physical warm-up at the beginning of each class, as well as incorporating mindfulness meditation and deep breathing exercises — this is what I've found has helped me handle my more rambunctious classes. (For instance, one combination is jumping jacks or lunges followed by yoga poses.)
Every group and teacher is different, but if you begin with this approach, you can then fine-tune it to what will work best for you and your students within your learning environment.
David Parmer, OCT
Toronto District School Board
Have a classroom idea to share?
Send it to us at ps@oct.ca and your advice could be published in an upcoming issue! Check out our Professional Practice Research archive.
---
Amp Up Your Eco-Education
By Stefan Dubowski
You know the three Rs of environmentalism: Reduce, Reuse and Recycle, but how about Rethink? Resources for Rethinking (r4r.ca), a website with English and French lesson plans, books, videos and more, invites students to think comprehensively about biodiversity, climate change and other matters of sustainability — either as a stand-alone subject or linking it to topics such as math, social studies and art.
The non-profit Learning for a Sustainable Future (LSF) created the site and has teachers review featured resources (which are matched to the Ontario curriculum), making it easy to find material for all grades and subject matter. Simply use the handy home-page, pull-down menu to search by level, topic and jurisdiction.
For instance, are you teaching Grade 10 business and commerce? If so, the site recommends Chew on This, a book on the fast food industry that outlines the environmental impact of large-scale meat production facilities.
How about Grade 5 math? Try Playing with Decimals, a lesson in which students explore cost-of-living differences between developed and developing countries. Grade 8 arts? Try Antifreeze; Anti Fish, a play that illustrates the relationship between storm drains and water ecosystems.
If you're not sure where to start, visit the Hot Topics tab for a calendar of environmental events like World Food Day, Waste Reduction Week and the COP 24: UN Climate Change Conference, all of which you can use as jumping-off points for classroom activities.
The Ministry of Education's elementary-level resource guide Environmental Education: Scope and Sequence of Expectations, explains that students require the knowledge and skills to understand the complex issues that affect the environment, both now and in the future. With Resources for Rethinking, you will find a range of tools that will help students reach this increasingly important goal.