Reviews
Your guide to recently released books and other teaching resources.
For additional reviews of French-language resources, visit Pour parler profession. With the exception of some classroom sets, items reviewed are available on loan from the Margaret Wilson Library at the College. Contact us at 416-961-8800 (toll-free in Ontario 1-888-534-2222), ext. 679 or email library@oct.ca.
Bold School
By Tina Jagdeo and Lara Jensen
Research shows that when students have a choice and voice in their learning, they are more motivated to make it matter. With this in mind, it is important to teach your class how to assess information, so that they can fine-tune their problem-solving and really learn something. This is known as an inquiry approach because it places students' questions, ideas and observations at the centre of their learning experience. Various models exist, and it can be confusing and challenging to know how to structure an inquiry-based classroom.
So where to begin? In Bold School, Tina Jagdeo and Lara Jensen share their research and guide teachers on how to become knowledge facilitators and assist students in transforming their sense of wonder for the world into knowledge. The book provides a wealth of ideas and resources on this particular approach, including how to use provocations, ask questions, refine research methods and use technology.
The authors' insights into planning, assessing and supporting students are clear, detailed and easy to adapt to your own teaching. Anyone looking to create a bolder school would benefit from reading this book, which offers approaches on how to build more inquiry into learning environments.
Kerry Zinkiewich, OCT, is a vice-principal at Clarington Central Intermediate School with the Kawartha Pine Ridge District School Board.
Bold School: An Inquiry Model to Transform Teaching, Portage & Main Press, Winnipeg, 2016, softcover, ISBN 978-1-55379-672-5, 127 pages, $25, portageandmainpress.com
---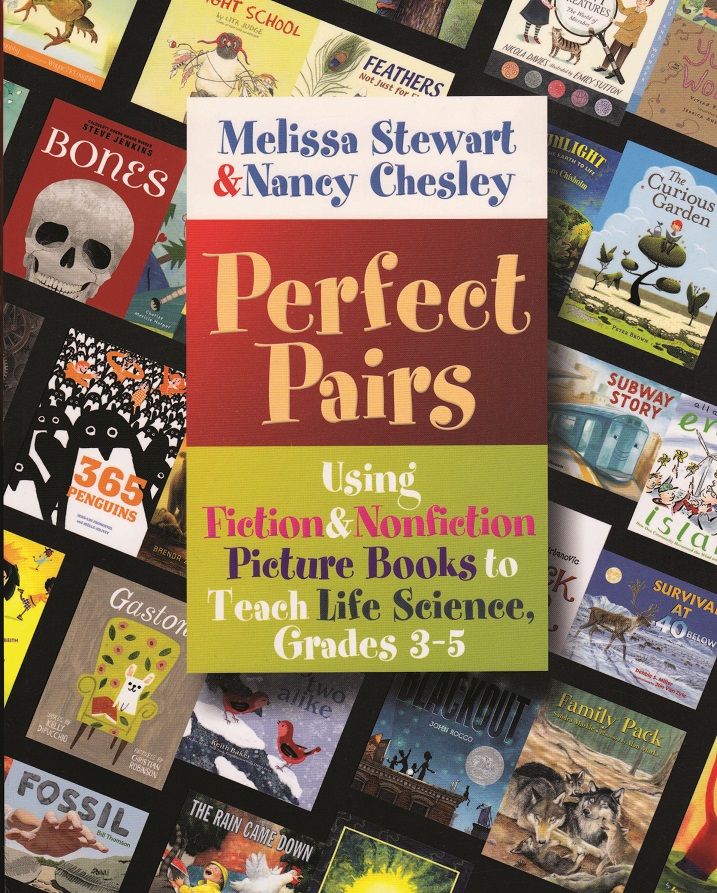 Perfect Pairs
By Melissa Stewart and Nancy Chesley
Imagine building language, reading, writing and oral communication skills while teaching science. Now imagine receiving the lesson plans required for such a sophisticated approach, all handed to you in a clear and concise format that you can adapt for students' particular needs. Perfect Pairs, a unique guide to seamlessly blending the two curriculum areas, promises to deliver on all of the above. The book is a compilation of a number of detailed three-part lesson plans, each beginning with a wonder statement designed to cultivate curiosity and questions in your Grades 3–5 students. Melissa Stewart and Nancy Chesley also provide learning goals, preparation steps, teaching tips and scaffolded questions.
One of the more delightful aspects of Perfect Pairs is that each of its lesson looks at both a fiction and non-fiction educational book with a focus on life sciences. Topics include how feathers help birds survive, why some animals look different from their family members, and how newly introduced species can affect an ecosystem. You will also find annotated samples of student work with assessment notes and ready-to-use templates at the back of the book.
Anne Marie Landon, OCT, is the principal at George Vanier Catholic School with the Renfrew County Catholic District School Board.
Perfect Pairs: Using Fiction and Nonfiction Picture Books to Teach Life Science, Grades 3–5, Stenhouse Publishers, Portland, Maine, 2016, softcover, ISBN 978-1-57110-959-0, 360 pages, $38.95, pembrokepublishers.com
---
Accessible Algebra
By Anne M. Collins and Steven R. Benson
Developing solid algebraic skills is integral to understanding and mastering higher-level mathematics in high school and beyond.
Once you have the basics, you can tackle most anything. However, the transition from problem-solving in arithmetic to problem-solving in algebra is not always easy — this is especially true for your middle and secondary school students, when many at that age have no idea why they are learning it.
Anne M. Collins and Steven R. Benson's appreciation for algebra is evident in this book, and it is the springboard for the creation of 30 well-crafted modules that address everything from fundamental skills to the development of algebraic thinking — order of operations to area expressions, polynomials and functions.
You'll find real-life applications of algebra throughout this helpful and practical resource — such as how to calculate your taxes and interest, how to solve problems in uniform motion and how to make sense of changing patterns.
The modules begin with common misconceptions and roadblocks that students encounter, as well as advice for how to prevent them going forward.
In keeping with the province's focus on an investigative approach to learning mathematics, students first explore a topic, idea or skill before the authors highlight the abstract mathematics that are involved in each.
Accessible Algebra also includes a variety of examples that feature actual student responses to problems, as well as the authors' practical suggestions of how to meet the needs of both your struggling learners and those who are, perhaps, ready for greater mathematical challenges; suggested for Grade 7–10 teachers.
Michael Bellrose, OCT, is the principal at A.B. Ellis Public School with the Rainbow District School Board in Espanola, Ont.
Accessible Algebra: 30 Modules to Promote Algebraic Reasoning, Grades 7–10, Stenhouse Publishers, Portland, Maine, 2017, softcover, ISBN 978-1-62531-066-8, 240 pages, $38.95, pembrokepublishers.com
---
When Writers Drive the Workshop
Magic happens when you offer students the opportunity to steer their own writing. This workshop gives aspiring writers the wheel, encouraging them to make autonomous decisions about what their story will focus on and how it unfolds. Through this process, students learn to appreciate their unique voices, their shared dreams, their power and their potential.
Brian Kissel — a professor of literacy and elementary education at the University of North Carolina — shares the triumphs he has seen when teachers have facilitated student-led workshops.
He offers practical suggestions that transform an all-too-familiar workshop structure into a responsive, student-focused journey. Kissel reminds teachers of what it was like before standardized testing, which has irrevocably altered how we teach language arts. To be clear though, this book remains very much grounded in the 21st century.
Writing with an abundance of humour and compassion, the author clearly understands the unique challenges that you face within your learning environment, as well as the demands you may feel from administrators and boards.
Kissel provides a compelling argument for thinking beyond the constraints of grade/content requirements and encourages teachers to customize content based on their students' needs.
While balancing classroom evidence with recognized academic theory, Kissel urges teachers to foster meaningful connections with their students, so that they will feel inspired and learn how to write about what is most important in their young lives.
Although When Writers Drive the Workshop is for the K–5 teacher, middle and secondary school teachers will nevertheless find it a worthwhile read.
Nadira Baksh, OCT, teaches at the Adult Education Centre with the Peel District School Board.
When Writers Drive the Workshop: Honoring Young Voices and Bold Choices, Stenhouse Publishers, Portland, Maine, 2017, softcover, ISBN 978-1-62531-073-6, 192 pages, $29.95, pembrokepublishers.com
---