Reviews
Your guide to recently released books and other teaching resources.
Borrow a copy of any of the books reviewed in Professionally Speaking by connecting with the Margaret Wilson Library. Email library@oct.ca, access your College account via oct.ca, use the OCT Membership App, or call 416-961-8800 (toll-free in Ontario 1-888-534-2222), ext. 679. For reviews of French-language resources, visit pourparlerprofession.oeeo.ca.
The Eagle Mother (Mothers of Xsan, Volume 3)
by Hetxw'ms Gyetxw (Brett D. Huson), Illustrated by Natasha Donovan
This non-fiction picture book written by an Indigenous author from northwest British Columbia is the third in the Mothers of Xsan series that includes The Sockeye Mother and The Grizzly Mother. It outlines the life cycle of a bald eagle family and highlights the ecosystems of the area. The use of the word "Mother" in each of the series titles reflects the maternal emphasis of the Gitxsan culture.
The eagle family's story begins in early spring with the eagle mother protecting two eggs in a black cottonwood tree nest. By the end, it is late fall and the eaglets are learning how to hunt sockeye as they prepare for independence. Terms such as flurry, incubating, fledge and branching are defined in text boxes. Words in the Gitxsan language are used throughout the book, as well, with their English translations provided.
Illustrations incorporate elements of Indigenous art and provide snapshots of the environment. The book also includes a brief description of Gitxsan culture and a fascinating list of 13 words used for "moon" that reflect the seasons. Given all these elements, this book will complement many aspects of the curriculum including First Nations, eagles, life cycles and ecosystems.
While the vocabulary may challenge some, the book is still suitable for late primary to intermediate students.
Margaret Grift is the school librarian at John Knox Christian School, Brampton, Ont.
The Eagle Mother, HighWater Press, an imprint of Portage & Main Press, Winnipeg, 2020, ISBN 978-1-55379-859-0, hardcover, 32 pages, $23, highwaterpress.com
---
Larkin on the Shore
Ripped from the only home she has ever known in Toronto, 16-year-old Larkin Day is sent to spend the summer with her grandmother, Anne, in quiet Tuttle Harbour, N.S. She's had a tough school year and her father is convinced that getting her away from her friends is a good move.
But, with her Granne preoccupied opening a coffee shop, Larkin's arrival is unexpected. What's more, Larkin soon discovers that warped relationships, innuendos, vicious gossip, stereotyping, and rumours are not limited to the big city. Larkin on the Shore is a story of cultural discoveries, family bonds and social-emotional growth. It is a coming-of-age novel and a mystery full of teenage angst and generation-gap misunderstanding.
This novel can be used effectively in a classroom thematic study of grandparents thrust into a parenting role, and would make an excellent discussion starter for the problems of fitting in as an adolescent. What's more, its use as a young adult mystery could spark comparisons with other "junior sleuths."
Early teen readers who offered their input loved the title character. The story prompted discussions about how the protagonist's problems compared with their own issues.
This novel would be an excellent addition to young adult collections for any school, classroom or personal library collection.
Gail Lennon has decades of teaching experience at various levels and is currently writing and doing literacy work in Ontario and Florida.
Larkin on the Shore, Red Deer Press, Markham, Ont., 2019, ISBN 978-088995-577-6, softcover, 312 pages, $14.95, reddeerpress.com
---
A Likkle Miss Lou
by Nadia L. Hohn, Illustrated by Eugenie Fernandes
A Likkle Miss Lou tells the story of Louise Bennett Coverley, known as Miss Lou, a renowned Jamaican writer who inspired and connected people around the world. She used radio, theatre and television to share her humour, storytelling skills, songs and beloved dialect to narrate her rich cultural heritage.
The reader is introduced to young Louise in 1928 as a schoolgirl in Jamaica who is drawn to the rhythms of the language she hears around her. She expresses her love of words through writing in her notebook.
Through cheerful illustrations, the author invites readers to travel to the Jamaican landscape, where Louise shares her curiosity and fascination with the patois dialect she hears in the city, in her grandmother's stories, and in local songs.
However, Louise is uncertain about expressing these impressions in writing. After her teacher scolds her for not writing in a way "fit for a top school," Louise's mother tells her she will begin attending a new school named Excelsior, where students are encouraged to memorize poems and recite them on Friday afternoons. This book's descriptive style and illustrations welcome readers to join fearful Louise, about to speak in front of her new friends and teachers at her new school.
Recalling an earlier experience hearing the confidence and bold laughter of women chatting on a city bus, Louise recites a rhyme in the patois dialect, wondering how her new classmates and teacher would react. The excitement and applause from her classmates and teacher conclude the story with joyful optimism: "Louise had finally found a safe place to share her beloved words. And one day she would take them to the world."
A Likkle Miss Lou emphasizes how schools create supportive environments for students to explore their interests and contribute to their communities. The author includes many helpful notes, a glossary of local terms and references to published poems and traditional Jamaican folk songs.
A Likkle Miss Lou is indeed an engaging, relatable read-aloud book that affirms cultural identity through everyday childhood experiences. Louise Bennett Coverley's writing and productions could be interesting literary text selections to investigate text forms, style and voice.
Marlene Augerman, OCT, is a kindergarten teacher with the Greater Essex County District School Board.
A Likkle Miss Lou: How Jamaican Poet Louise Bennett Coverley Found Her Voice, Owlkids Books, 2019, ISBN 978-1-77147-350-7, hardcover, 32 pages, $18.95, owlkidsbooks.com
---
Mentoring Each Other
By Lana Parker and Diane Vetter
Teachers who listen, learn and share through mentorships can create more successful classrooms. This is the foundation of Mentoring Each Other. Co-authors Lana Parker and Diane Vetter address the challenges and opportunities in developing relationships through formal and informal mentoring processes. The book identifies strategies to foster progress and growth in these relationships.
The authors examine the leadership opportunities for a mentor along with the knowledge and skills development opportunities for a mentee.
Parker is an assistant professor at the University of Windsor's faculty of education, and Vetter is course director for York University's faculty of education. Mining that experience, the book includes stories from the field that provide evidence of reciprocal learning. Clear and concise charts, including one about clarifying expectations to reduce dissatisfaction, could serve a variety of development or team-building activities beyond the mentoring experience.
The authors delve into those conversations you'd rather not have and how to negotiate differences. Other tools support collaborative relationships by defining intention, planning and leadership. Teachers could use this book at any stage of their career to reflect on where they are and where they want to be. It is a superb addition to an annual learning plan and a helpful tool to use during performance appraisals.
Anne Marie Landon, OCT, is a principal with the Renfrew County Catholic District School Board.
Mentoring Each Other: Teachers listening, learning, and sharing to create more successful classrooms, Pembroke Publishers, Markham, Ont., 2020, ISBN 978-1-55138-346-0, softcover, 160 pages, $24.95, pembrokepublishers.com
---
Teaching Tough Topics
Teaching Tough Topics is a wonderful starter for new primary/junior teachers of literature (as well as vice-principal and principal mentors) who are developing lists of picture and junior books that evoke language arts discussions with young students.
Swartz recommends books such as Badger's Parting Gifts to make sense of death, Monster Mama to address bullying, Bill's New Frock to challenge gender stereotyping, and Escape from Syria to understand the immigrant and refugee experience. It is a foundational resource for literacy and social studies teachers.
Swartz defines "great books" as those that are timely; those that challenge norms; and those that empower the student to make peace with who they are, generating empathy for others. The books listed under challenging topics provide ways for students and teachers to engage. Having these critical conversations is fundamental to our role. We are not all trained in how to meet the complexities of the world in respectful conversation, but good books help.
Our canon of fiction and non-fiction readings can help students find role models that are like them. If you are looking for that one transformational book, begin with this one.
Kara Smith, OCT, is a member of the General Teaching Council of Scotland and a former Lambton Kent District School Board English teacher. She is the associate dean of Graduate Studies and Educational Research at the faculty of education, University of Windsor.
Teaching Tough Topics: How do I use children's literature to build a deeper understanding of social justice, equity, and diversity?, Pembroke Publishers, Markham, Ont., 2020, ISBN: 9781551383415, softcover, 149 pages, $24.95, pembrokepublishers.com
---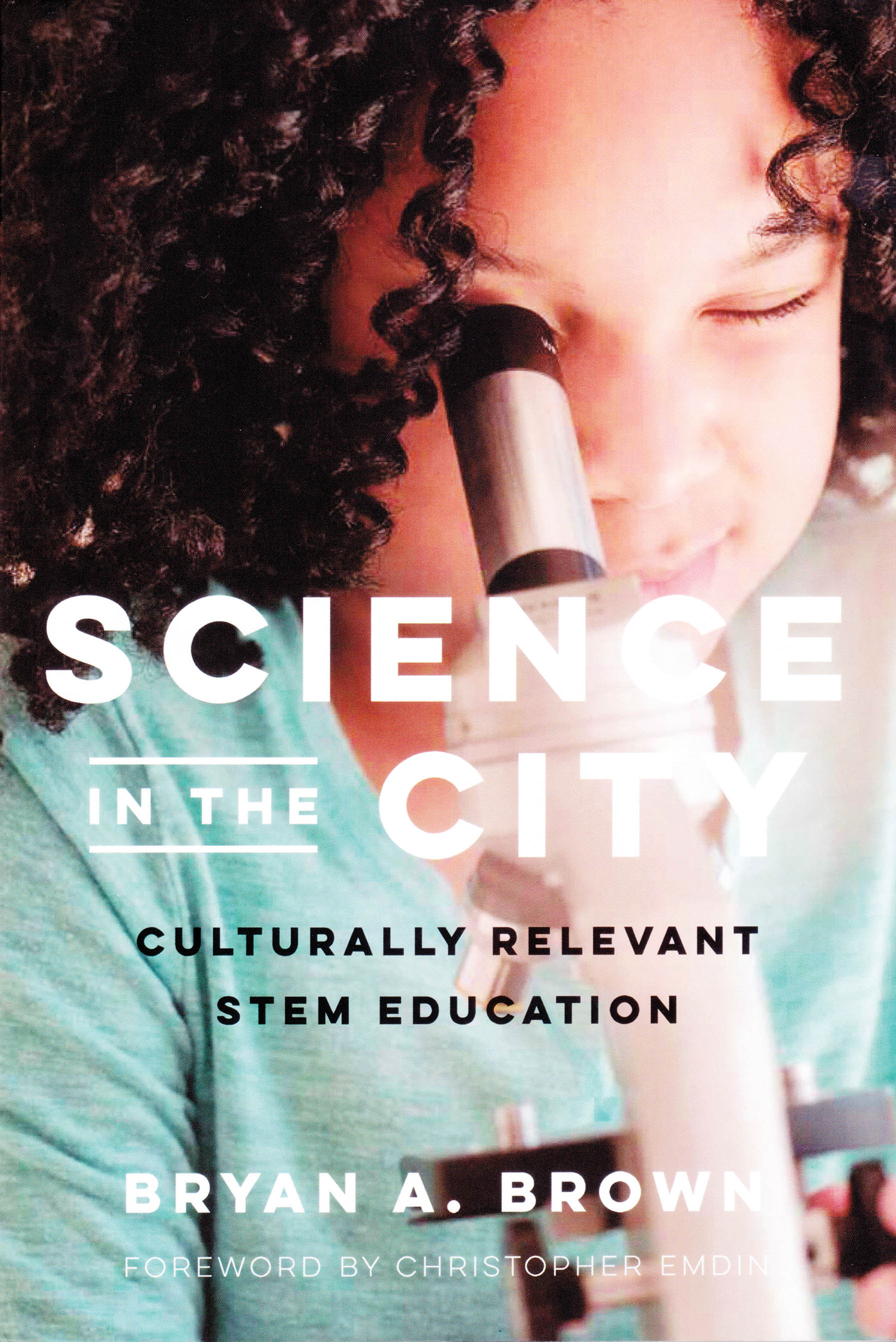 Science in the City
This book's author is a Stanford University professor of teacher education who presents a timely and powerful analysis of how race shapes the realities of learning in America. He explores how science teaching and learning are tied to race, culture and language, and how science has historically been grounded in stereotypes that promote bias against students of colour.
Brown challenges both science educators and policy-makers to recalibrate current instructional models and rethink how we use technology. He does this by weaving together theory and practice to frame an approach in which well-researched teaching practices help students retain science content and make it more relevant to their own culture and identity.
Science in the City begins with a discussion of the "Black tax," a double standard imposed on Black students in the form of expectations about acceptable language. Then, Brown shifts from explaining the problem of systemized bias to sharing research-based solutions. He posits that knowledge is deeply connected to meaningful contexts, and that science education can flourish if connected to students' identities, language and culture.
This book offers practical teaching ideas based on sound pedagogy. Brown's ideas will be a boon to any K–12 science educator wanting to make the teaching of science culturally relevant.
Anjana Thom, OCT, is an online Grade 1 teacher at Alloa Public School in the Peel District School Board.
Science in the City: Culturally Relevant STEM Education, Harvard Education Press, Cambridge, Mass., 2019, ISBN 978-1-68253-374-1, softcover, 200 pages, US$31, harvardeducationpress.org
---
Using What Works
This book considers how approaches that have been successful in language arts instruction can be effectively reimagined to support student learning in mathematics.
The book has three sections that take students from lesson rudiments to techniques that will enhance their understanding of a problem. Costello includes anchor charts, templates, suggestions for classroom implementation and other resources — all of which are meant to supplement math lessons.
The first section focuses on instructional practices and suggestions for the math topic. Leading questions encourage students to look at a variety of strategies to solve these problems. For example: Is the solution a reasonable outcome? Could estimation give a clue?
In the second section, the author discusses how teachers can watch and listen to the approaches students are using to solve problems. The final section presents possible ways to physically structure the classroom, as well as resources to promote students' learning and encourage independence.
Essentially, Using What Works is a resource for any grade level because all sections can be adapted to any lesson. It has the potential to help teachers look at problem-solving in new ways.
Dorothea Bryant, OCT, is a retired Windsor and Durham area educator who tutors elementary and secondary students in language arts, English and mathematics.
Using What Works: Strategies for Developing a Literary-Rich Environment in Math. Rubicon Publishing, Oakville, Ont., 2020, softcover, ISBN 978-0-921156-71-0, 98 pages, $40.95, rubiconpublishing.com
---
Professional Boundaries Resources
The College has published a new advisory about establishing and managing professional boundaries. (See the article.) Navigating those boundaries is an important part of every profession. For background reading on professional boundaries as they apply to other specializations, consider these articles, papers, e-learning modules and publications.
Boundaries E-Learning Module
by the College of Physiotherapists of Ontario
The College of Physiotherapists of Ontario notes: "Ongoing attention to understanding and maintaining professional boundaries is essential to protecting patients." With that in mind, the organization developed this online learning tool to help members understand boundaries, help prevent boundary-related issues, and provide tips and tools on how to manage these challenging situations.
Boundaries E-Learning Module, published by the College of Physiotherapists of Ontario, 2020. Visit oct-oeeo.ca/CollegeofPhysiotherapists.
Preventing and Addressing: Sexual Abuse and Boundary Violations
by the College of Psychologists of Ontario
The College of Psychologists of Ontario notes that while most of its members would not knowingly compromise a professional relationship, inappropriate situations and even sexual abuse can occur, on rare occasions. To prevent and address such conduct, they developed this information site with scenario-based questions and legislation details.
Preventing and Addressing: Sexual Abuse and Boundary Violations, published by the College of Psychologists of Ontario, 2020. Visit oct-oeeo.ca/CollegeofPsychologists
Recognizing Boundary Issues
by the Canadian Medical Protective Association
As the Canadian Medical Protective Association indicates, "Practitioners' professional behaviour must be beyond reproach and appropriate boundaries must be maintained with patients. Boundary transgressions include a wide range of behaviours, from the more subtle to the obvious." The association's website includes case examples to help physicians understand and recognize boundary issues.
Recognizing Boundary Issues, by the Canadian Medical Protective Association, 2014. Visit oct-oeeo.ca/MedicalProtectiveAssociation
Professional Boundaries in Social Work and Social Care
Crafted for social workers, this publication is a guide to understanding professional boundaries: what they are, why they exist and how to manage them. It covers legal boundaries, policies on behaviour, expectations about confidentiality, and includes a self-assessment test for further reflection.
Professional Boundaries in Social Work and Social Care: A Practical Guide to Understanding, Maintaining and Managing Your Professional Boundaries, Jessica Kingsley Publishers, 2012, ISBN 978-1-84905-215-3, softcover, 176 pages, $36.95, jkp.com/can
Boundary Guidelines for Professional Therapeutic RD-Client Relationships
by the College of Dietitians of Ontario
This publication encourages dietitians to consider the context of relationships, including the environment, their own motivation and the client's state of mind. As the publication points out, these factors influence behaviour and decision-making, impacting the boundary setting that protects the dietitian-client relationship.
Boundary Guidelines for Professional Therapeutic RD-Client Relationships, by the College of Dietitians of Ontario, 2017. Visit oct-oeeo.ca/CollegeofDietitians
Where's the Line? Professional Boundaries in a Therapeutic Relationship
by the College of Physical Therapists of British Columbia
This online guide asks members to consider the differences between personal and professional boundaries. It notes the components of a therapeutic relationship — power, trust, respect and closeness — and underscores the importance of considering each one when managing the client relationship.
Where's the Line? Professional Boundaries in a Therapeutic Relationship, by the College of Physical Therapists of British Columbia, 2009. Visit oct-oeeo.ca/CollegeofPhysicalTherapists