Governing Ourselves
Governing Ourselves informs members of legal and regulatory matters affecting the profession. This section provides updates on licensing and qualification requirements, notification of Council resolutions and reports from various Council committees, including reports on accreditation and discipline matters.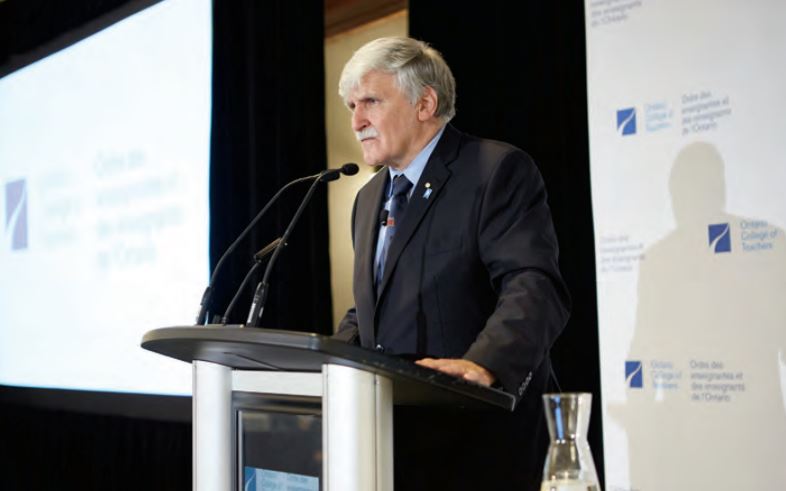 College Conference Highlights
Regulators Gather to Enhance Mutual Practices
Effective regulatory bodies help to inspire public confidence in the professions they regulate. That was one of the messages conveyed at this year's College conference, held last May in Toronto.
Aptly called "Inspiring Public Confidence," the conference was well attended by representatives of organizations responsible for the licensing of professionals, accrediting their ongoing learning, receiving and investigating complaints, and establishing professional standards. Participating organizations shared common goals: to better protect the public interest and to enhance their mutual practices.
School board administrators and trustees joined regulators for teachers, doctors, nurses, lawyers, engineers and more, from Canada and around the world.
Roméo Dallaire addresses delegates
The College was pleased to welcome opening keynote speaker Roméo Dallaire, retired Canadian Army Lieutenant-General, devoted humanitarian and outspoken advocate and champion of human rights. Through a lifetime of work with the Senate and military, Dallaire offered firsthand insights about effective self-regulation.
"General Dallaire has, through life example, inspired public confidence in the work of the institutions he represents," said Joe Jamieson, OCT, the College's Deputy Registrar and conference chair. "He also embodies the ethical standards of teaching — care, trust, respect and integrity — in all of his professional dealings. His professional life story is about living those four things."
During his keynote, Dallaire encouraged regulators to be continually open with their communications, especially during turbulent times. Drawing on his experience with the Canadian military during the 1990s, Dallaire said the organization was guilty of sharing news only when things were going well.
"We had that atmosphere in the army. We used to have open house days where the population was invited to come in and talk to troops and look at the equipment," he told a crowd of more than 230 delegates. "Then we'd have a scandal or an event not conducive to our reputation and we'd lock the door and put up barbed wire and say, 'No comment.'"
In an interview with Professionally Speaking, Dallaire added, "In the '90s, the military lost favour with the Canadian people because we had disconnected from what people expected in that era. The institution started to lose credibility. Once credibility is lost, the ability for communication with the community becomes difficult, if not suspect."
While continuous communication is an important element of public confidence, there's a line to be walked between a public's right to know and an individual's right to privacy.
"I'm always torn between the operational effectiveness of the organization and just letting everything hang out," Dallaire said.
Each organization must find and maintain its appropriate balance, and the public will help to determine what that is. "People will show an interest and want to know more if you need to provide more, or they'll show less interest because they feel everything they need to have is there," he concluded.
Workshops for Improving Practices
Over the course of a day and a half, industry peers and experts led 24 workshops. "Thought leaders, gathered together by the College, talked about the mandate areas of regulatory bodies such as certification, receiving and investigating complaints, and establishing standards of practice and ethical standards," said the College's Jamieson.
On Day 1, for example, Troy Hutchings, a well-known subject matter expert in the area of educator ethics led the session "Educator Ethics: Giving our Profession Permission Retired Canadian Army Lieutenant-General Roméo Dallaire discusses self-regulation.n to Have the Difficult Conversations." The workshop covered the importance of asking the right questions and the need for a common framework for making decisions. He also discussed the need to establish appropriate boundaries for the use of electronic communication and steps for becoming aware of blind spots when applying ethical guidelines.
A Day 2 highlight was "Person-Centred Regulation?" led by Scotland's Public Services Ombudsman and former union leader Jim Martin. Martin posed the questions: "Do we believe in citizen-centred regulation?" and "If we do, what are we doing about it?" This year, all of Scotland's public services will shift to a simplified, standardized complaints process, designed and overseen by the Ombudsman. Understanding the needs of the citizen, whether they are a patient, tenant, student, prisoner, consumer or family member, is at the heart of the process. During the workshop, Martin explored how regulators can use this innovative process to work smarter and plan interventions, and how regulators, service providers and professional bodies/trades unions can work positively with complainants and "whistleblowers."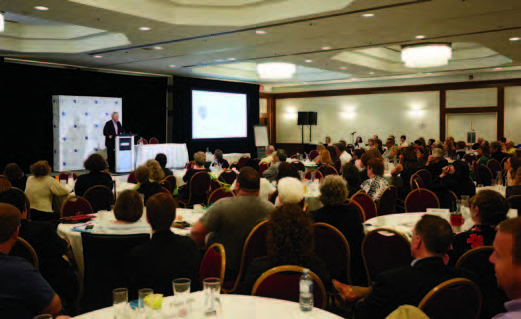 Other popular workshop topics included "Mobilizing Regulatory Organizations to Better Inform the Public," "Implementing the Truth and Reconciliation's Committee's Calls to Action," "The Fairness Lens in a Changing Landscape," and "Mobile Devices, Social Media and Ethical Lapses."
Wrapping up the event on Day 2 was closing keynote speaker Linden MacIntyre, a Gemini Award-winning journalist and former co-host of CBC Television's investigative program, the fifth estate.
MacIntrye, along with General Dallaire and each of the workshop presenters, shared unique perspectives and ideas about finding ever more effective ways to inspire trust and protect the public interest.
For more information about the event, and to access workshop presentation materials, visit oct-oeeo.ca/23gzO3r.