Letters to the Editor
Professionally Speaking welcomes letters and articles on topics of interest to teachers. We reserve the right to edit letters for length and to conform to our publication style. To be considered for publication, letters must provide the writer's daytime phone number and registration number. Address letters to: The Editor, Professionally Speaking at ps@oct.ca or 101 Bloor St. W., Toronto, ON M5S 0A1.
Expanding Your Repertoire
In Remarkable Teacher, famous people talk about their most influential teacher. I have enjoyed some of these articles, but was hoping you could expand the repertoire of profiles to include some student success stories in medicine, scientific research, technology, engineering, and the innovative and influential thinkers in philosophy, languages and social sciences. Teachers are passionate about such a wide variety of subjects, and it would be enjoyable to see what our students have accomplished in different academic fields.
—Diana Mostoway, OCT, is a teacher at Adam Scott Collegiate Vocational Institute & Intermediate School in Peterborough.
Teacher-Hiring Process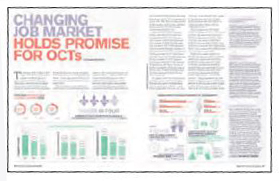 In reference to the teacher-hiring process discussed in "Changing Job Market Holds Promise for OCTs" (March 2016), one consequence of that process is that OCTs who have gained experience outside publicly funded schools in Ontario — regardless of number of years, experience or location (Canada or elsewhere) — will most likely have to start with daily supply teaching positions if they want to teach in public school boards in this province.
Furthermore, some boards now only consider applications for occasional education assistant positions. And if the candidates are accepted for those positions and are College members, then they could eventually be hired as daily supply teachers. This has made the teacher-hiring process even longer.
—Miguel Prohaska, OCT, is a retired Catholic elementary school teacher who resides in Toronto.
Historical Thinking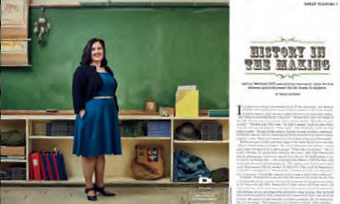 I read with great pleasure about the rich work in historical thinking that Kathyrn Whitfield has been undertaking with her students at Northview Heights Secondary School in "History in the Making" (June 2016). We know that children taught in a way that promotes historical thinking and inquiry are more engaged, learn more content and skills, and are more apt to love history as a discipline.
The article referred to the historical thinking concepts incorporated in the 2013 Ontario social studies curriculum. I wanted to clarify that the historical thinking concepts, adopted in the Ontario curriculum and seven other jurisdictions in Canada, were actually developed by professor Peter Seixas at the University of British Columbia's faculty of education and widely promoted and disseminated across the country from 2009–14 by The Historical Thinking Project.
—Jill Colyer, OCT, is the head of Richland Academy in Richmond Hill.
Correction: In "Going Social" (June 2016), one of the examples cited of inappropriate social media use pertained to a teacher whose personal photos, intended for her partner for Valentine's Day, were mistakenly posted on her Facebook page by the photographer. This example was taken from an Investigation Committee case study that appeared in a past issue of Professionally Speaking, and not from a disciplinary hearing summary as was reported. The Investigation Committee decided that a referral to a disciplinary hearing was not the appropriate outcome; instead, the committee issued a caution to the teacher. We regret the error.