Governing Ourselves
This section provides updates on licensing and qualification requirements, notification of Council resolutions and reports from various Council committees, including reports on accreditation and discipline matters.
College News
Annual Meeting of Members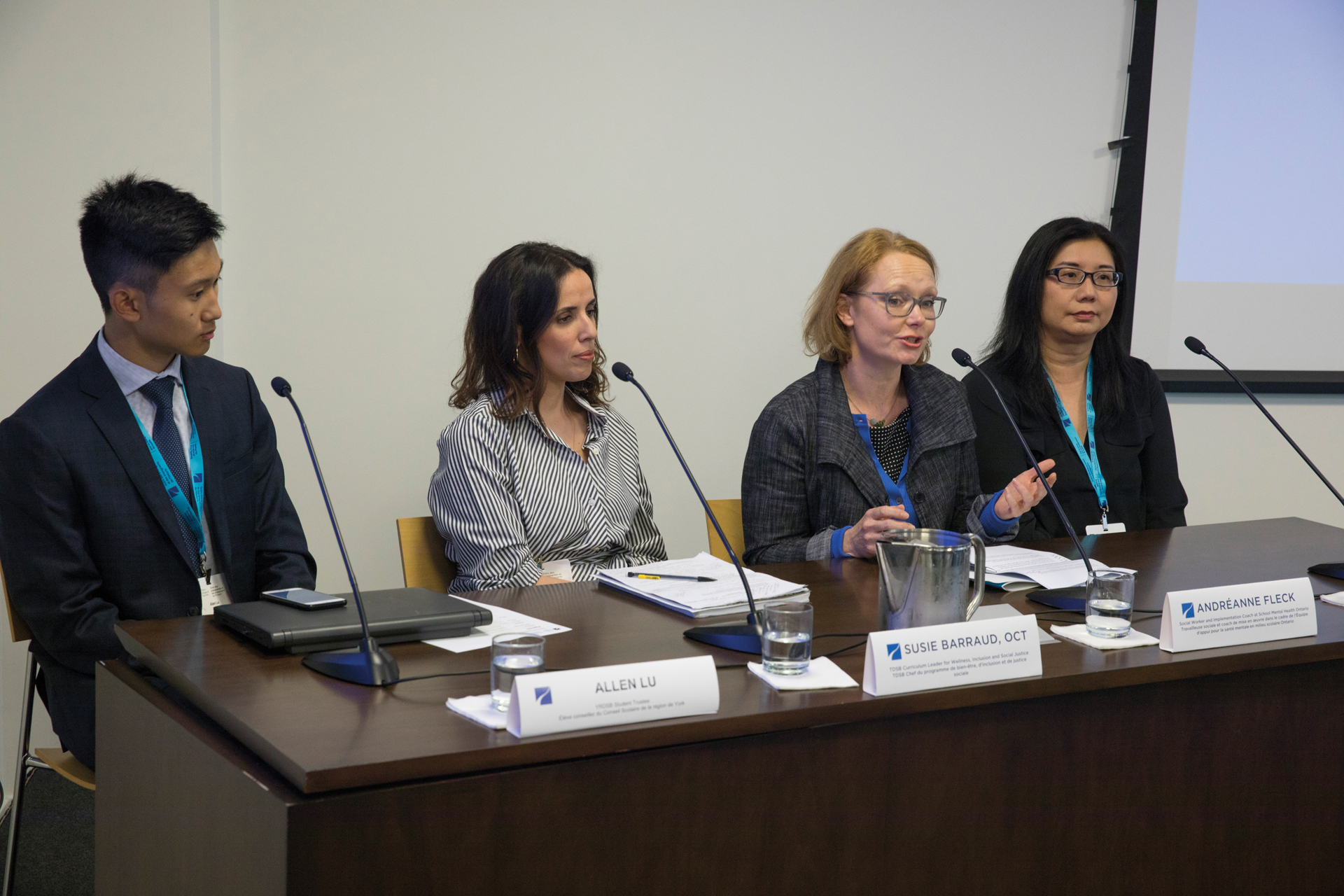 "Our 'why,' the reason for our actions and initiatives, is predicated on protecting and serving the public interest," said Joe Jamieson, OCT, Deputy Registrar at the College's 2019 Annual Meeting of Members. "At the very heart of that is student well-being and safety."
The "how" — the ways in which the College supports students — can be found in both its daily work and the bigger initiatives it takes on every year, many of which were highlighted at this year's meeting.
One of these initiatives from 2018 is the professional advisory Supporting Students' Mental Health, a self-reflective framework to help members recognize the signs of mental distress and how to intervene appropriately.
Jamieson also discussed how the College advocated for legislative amendments to further protect students, specifically by broadening the definition of sexual abuse, which would result in the mandatory removal of teaching licences from those who abuse students. The College also sought support to fund a therapy and counselling program for students who have been abused.
At a national level, the College intervened at the Supreme Court to protect student privacy by legally establishing what constitutes acceptable and professional conduct between teachers and students.
The College also continued to support teachers' initial and continuing education by developing policy for Additional Qualifications (AQ) and accreditation. Guidelines for AQs were also developed with stakeholders, such as Inuit Elders and people from the Deaf and hard of hearing community.
The Deputy Registrar shared the College's sharpened focus on risk identification and mitigation through self-reflection and examination, in particular, the Governance Committee's commission of an independent review of the College's governance structure. The report made 37 recommendations, including creating a smaller governance board with external committees and rosters to carry out statutory committee work.
College Council Nicole van Woudenberg, OCT, also addressed attendees. She touched on the election for the eighth council and stressed the importance of being part of the process. "Self-regulation is enhanced by the willingness of OCTs to serve their profession in the public interest."
Van Woudenberg reported on Council's work over the past year, including a refocusing of the College's mission, vision and strategic priorities. "They serve as a road map," said the Chair. "Our mission and vision continue to be clearly tied to the mandate."
Reports from several of the committees were also given. The meeting concluded with a panel discussion on the College's latest advisory, Supporting Students' Mental Health. Moderated by Jamieson and van Woudenberg, panellists included: Dr. Amy Cheung, an associate scientist, evaluative clinical sciences, in the Hurvitz Brain Sciences Research Program at Sunnybrook Research Institute and an associate professor in the department of psychiatry at the University of Toronto; Andréanne Fleck, a social worker and implementation coach at School Mental Health ASSIST; Susie Barraud, OCT, a Grade 7 teacher and curriculum leader for wellness, inclusion and social justice at Valley Park Middle School in Toronto; and, Allen Lu, a Grade 12 student, student trustee, long-serving student council member and passionate advocate for student empowerment and well-being.
The panel examined the barriers and sensitivities surrounding mental wellness and how teachers can work with students, their families and professionals to get the support they need.
---
Annual Report Highlights
Statistics, changes and achievements: The 2018 Annual Report delivers a snapshot of the College's past year.
One significant event in 2018 was a review, by members of Council and senior College staff, of the College's mission, vision and strategic priorities. In her annual report message, Chair Nicole van Woudenberg, OCT, notes that the College's mission and vision continue to be clearly tied to our mandate, and our revised strategic priorities continue to foster public confidence and trust.
The annual report message from College CEO and Registrar Michael Salvatori, OCT, focuses on the driving force behind everything the College does — protecting students. For example, the Registrar notes, the College asked the provincial government to amend the Ontario College of Teachers Act, in an effort to reduce harm to students. The College also intervened at the Supreme Court of Canada to protect student privacy. And the College's Governance Committee initiated an independent, external review of the governance structure itself, as part of a measure to help reduce risk and increase efficiency.
The Registrar's message also includes a mention of this year's advisory, Supporting Students' Mental Health, intended to help Ontario Certified Teachers support students with mental health concerns. The advisory defines mental health and teachers' professional responsibilities while providing resources to help both students and teachers.
Transition to Teaching
In the statistics section of the report, the Transition to Teaching figures show French as a Second Language and French-language teachers continue to be in high demand, confirming widely recognized shortages of members holding these qualifications across the province. Early-career English-language graduates also report better job outcomes as the pool of unemployed teachers from a recent surplus quickly recedes. The report also notes that Ontario will need more teachers in the years ahead to fill anticipated classroom vacancies across the province — the current forecast suggests the new supply is not enough to meet this demand.
Membership Demographics
Also in the statistics section, Membership in the College reports on a range of data including the geographic distribution of members (8,083 in Northwest Ontario, 6,401 in Northeast Ontario, 29,028 in Southeast Ontario, 81,938 in Southcentral Ontario, 30,100 in Southwest Ontario and 69,901 in Central Ontario).
Finance Committee
A message from the Finance Committee notes that the number of College memberships processed in 2018 was 234,729, slightly less than planned by 92 members. At the same time, there was an increase in the number of registrations, retirements and evaluations during the year, with a net positive impact on revenue exceeding plan by $616,622.
---
Maintaining Professional Boundaries
In recent years, a significant legal and cultural shift has helped bring sexual abuse and sexual misconduct into sharp focus. And the disciplinary consequences have become much more dire.
For those in positions of trust and moral authority, as teachers are, it remains vitally important to use reasoned, professional judgment at all times to maintain appropriate boundaries with students.
To support teachers and to enhance student safety, the College published a professional advisory in 2002: Professional Misconduct Related to Sexual Abuse and Sexual Misconduct.
Members of the College maintain professional relationships with students and recognize the trust that the public places in them. They also need to be aware of the negative impact of boundary violations on students. Teachers — not students — are responsible for making sure the teacher-student relationship is professional and appropriate.
Because the cultural and legislative backdrop has evolved considerably in the past 17 years, the College is reviewing and updating the advisory, and will publish a revised version in late 2019.
Look for the updated advisory in your December issue.
---
Québec Looks to Create SRO for Teachers
Québec's Minister of Education, Jean-François Roberge, met with senior leaders at the College recently to find out more about how we regulate teachers in Ontario. Roberge, a former elementary school teacher, recommends a number of reforms, including kindergarten classes as early as age four and the creation of a self-regulating organization (SRO) for teachers in Québec.
Professionally Speaking spoke with the Minister while he was visiting the College.
Why is a regulator for the teaching profession important?
Because without it no one is there 100 per cent for the children and the adolescents. No one really speaks entirely on the students' behalf. The government has political and financial imperatives. Of course, the government thinks of the students, but it also has other day-to-day concerns.
Unions are also concerned for the well-being of the students, but their mission first and foremost is to work for their members, which is normal. We can't blame them for looking after their members.
Nevertheless, one player is missing in most of the Canadian provinces, including Québec: the regulator. To a large extent, the regulator provides added value; it is an entity that uncompromisingly defends the interests of the students.
There are close to 50 regulators in Québec that oversee the practice of professionals such as lawyers, dental hygienists and nurses. Why is there not one for teachers?
Many teachers tell us that the profession is already very well regulated. There is possibly also this fear of challenging the balance of powers. At this time, there are unions and bosses. If a third player were to be added to the mix, some may perhaps be worried about its effect on the balance of powers.
But when we ask ourselves these questions, we are very far from the interest of students.
How do you communicate the importance of instituting a regulator to people who are fearful?
You need to recognize that it is normal to be afraid. You have teachers who are professionals; they have taken their training programs and successfully completed their courses. These teachers invest in their profession every day and are asked if they're interested in using their own money to finance a professional body that could potentially evaluate them negatively.
When put in those terms, it's not so tempting. It has often been presented like this — as something that could be costly, that could potentially jeopardize job security. Scare tactics are sometimes used.
For years, the professional body was put forth as being a threat rather than an opportunity. Not enough was said about the possibility that the regulator ensures a superior initial education program, assists and supports teachers in their professional development, and provides them with a professionalizing context.
I understand that certain concerns are legitimate, even though they have sometimes been fuelled by fear. You have to listen to people. In my opinion, we can't impose a regulator, at least not without having a major discussion and an honest debate first.
You can't have someone on one side making it look like everything will be rosy and, on the other side, depicting everything as doom and gloom. I feel that this would only further polarize the situation.
[A discussion] would allow us to look more clearly at what a professional body could concretely bring to the profession, and to Québec as a whole. If teachers were given concrete explanations, most would see opportunities, rather than threats. In that respect, the example of our Ontario neighbours is precisely that.
---
Reviewing Incompetence Matters
The Investigation and Discipline committees have approved the use of a new guide to assist in their review of incompetence matters arising from unsatisfactory teacher performance appraisals (TPAs).
The guide provides a clear recognition of the connection between the TPA and the College's standards of practice. The College receives and investigates complaints against its members related to professional misconduct, incompetence or incapacity.
Incompetence is a lack of knowledge, skill or judgment in a member's professional responsibilities; or a disregard for a student's welfare to the point of being unfit for the classroom or requiring terms, conditions or limitations on their certificate.
The College strives to ensure fair and impartial treatment for its members while protecting the public interest.
---
Appointments
Dr. Richard Filion
The Council welcomes new Council member Dr. Richard Filion, who was appointed to Council on June 20, 2019, for a three-year term to June 19, 2022.
From 1980-98, Filion was a member of Council of the Royal College of Dental Surgeons of Ontario, the regulatory body for dentists. During his tenure, he served as the Chair of the Complaints Committee and as the College's President (equivalent to the College's Council Chair position).
He also served as a municipal councillor from 1999-2004, holding roles as deputy mayor, Chair of Planning Board, Sturgeon Falls Hydro Board member, Environment Committee member, and Municipal Representative to the Nipissing Health Unit.
Additionally, he has been a member of the Convocation Council of the Law Society of Upper Canada (2003-06) and a member of the Office of the Commissioner of Review Tribunal (2008-11), which heard appeals concerning eligibility for disability for the Canada Pension Plan and Old Age Security.
The Sturgeon Falls resident owned and operated a private dental practice, having received his doctorate in dental surgery from the University of Toronto in 1966 and completing a fellowship at the Academy of General Dentistry in 1974.
Joe Jamieson, OCT
Council has appointed Joe Jamieson, OCT, as interim College CEO and Registrar for a year, beginning January 2020, to temporarily replace Michael Salvatori, OCT, who is taking a leave.
Jamieson was appointed in September 2009 as Deputy Registrar of the Ontario College of Teachers. Certified to teach in Québec in 1992, Jamieson began his career in education with the Halton Catholic District School Board. He has served as a teacher, writer and curriculum consultant. Since 2001, he has held various positions at the College, including Director of the Standards of Practice and Accreditation department and Investigations and Hearings department. He holds a M.Ed. from the University of Toronto, a BA from the University of Waterloo and a diploma in secondary education from McGill University.
Jamieson has responsibilities in managing the College's financial systems, including its $43 million annual operating budget, working closely with the 37 elected and appointed members of the College's governing Council. He leads several major College initiatives and speaks frequently to community partners.
He belongs to the Council on Licensure Enforcement & Regulation's International Relations committee. From June 2013 - June 2019, Jamieson was a publicly appointed member on the Council of the College of Nurses of Ontario. He is the past Chair of the Professional Practices Committee of the National Association of State Directors of Teacher Education and Certification (NASDTEC) and the recipient of its 2015 Doug Bates Award.
Jamieson is a compelling and sought after presenter within the education sector. He speaks frequently at public and education conferences on topics such as professional conduct, use of social media, leadership requirements, education law, and LGBTQ issues in education.
Nancy Saunders, OCT
The Council welcomes new Council member Nancy Saunders, OCT, who was appointed to Council in May 2019 to fill a vacancy in the Northeast Region Part-Time/Full-Time category.
Saunders is a junior-level school teacher with the Nipissing-Parry Sound Catholic District School Board (CDSB). She received her teaching certificate from the College in 1997 and, since then, has been teaching with the Nipissing-Parry Sound CDSB, mostly at the primary level. She has served as an associate teacher in association with Nipissing University since 2002, teacher designate at St. Alexander School, a member of the Ontario English Catholic Teachers Association's Professional Development Committee, a member of her school's leadership team and the school team responding to the First Nation, Métis and Inuit Collaborative Inquiry. She has also been a speaker on AQ policy development in association with the Ontario College of Teachers.
Her experience in policy and program development includes work with the College as an external contract accreditation reviewer, a focus group participant on course guidelines for Special Education, and as a member of the provincial writing team for the AQ in Assistive Technology. She has also been involved in the Teacher Learning and Leadership Program on a Mental Health, Self-Regulation and Coping Skills Action Research Project.
Saunders gives back to the community as a volunteer with Toronto General Hospital's breast reconstruction department, WE Day in Ottawa, and with the North Bay Symphony Orchestra.
She has a BA (Honours) and B.Ed. from Nipissing University and an MA in history from Laurentian University.