Letters to the Editor
Tell us what you think!
Professionally Speaking welcomes letters to the editor. We reserve the right to edit letters for length and to conform to our publication style. To be considered for publication, letters should be in response to an article or ad published in the magazine and include the writer's daytime phone number and registration number. Address letters to: The Editor, Professionally Speaking at ps@oct.ca or 101 Bloor St. W., Toronto, ON M5S 0A1.
When classroom activities are in conflict with beliefs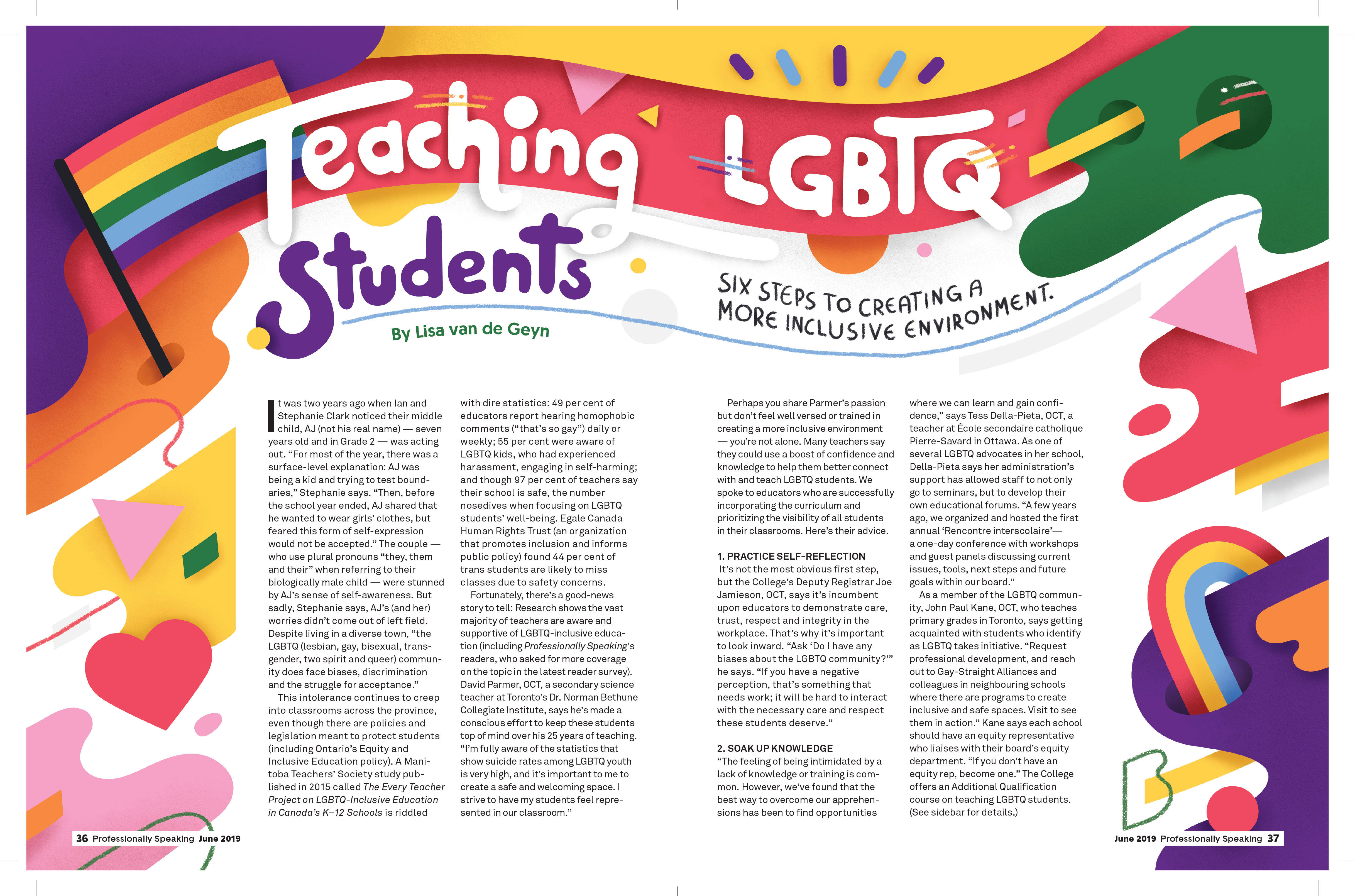 This is in response to the article about showing inclusiveness to the LGBTQ community in the June issue of Professionally Speaking. We know that our boards place much importance on inclusion. But we need to dig deeper and realize that this might not always be in line with teachers' and students' religious convictions. How do we show inclusion and freedom to these teachers and students? Are they given enough freedom for their beliefs?
Being an occasional teacher, I have stepped into classrooms and been required to follow up on projects already in progress where students were engaged in assignments like making posters in support of LGBTQ students and families. I often think to myself, do these assignments take into consideration the kids and teachers whose religious beliefs do not support these lessons? Do the parents and guardians of these students grant permission for them to do such assignments? And are all the teachers given freedom of choice when it comes to administering such assignments?
How can teachers go against their conscience and assign work that's not in tune with their core belief? I do agree with this line in the article: "It's incumbent upon educators to demonstrate care, trust, respect and integrity in the workplace." But how can we demonstrate integrity when we do something which is against what we believe?
Nancy George, OCT, is an occasional teacher who teaches junior/intermediate math in the York Region District School Board.
Yoga's place in the classroom: an ongoing debate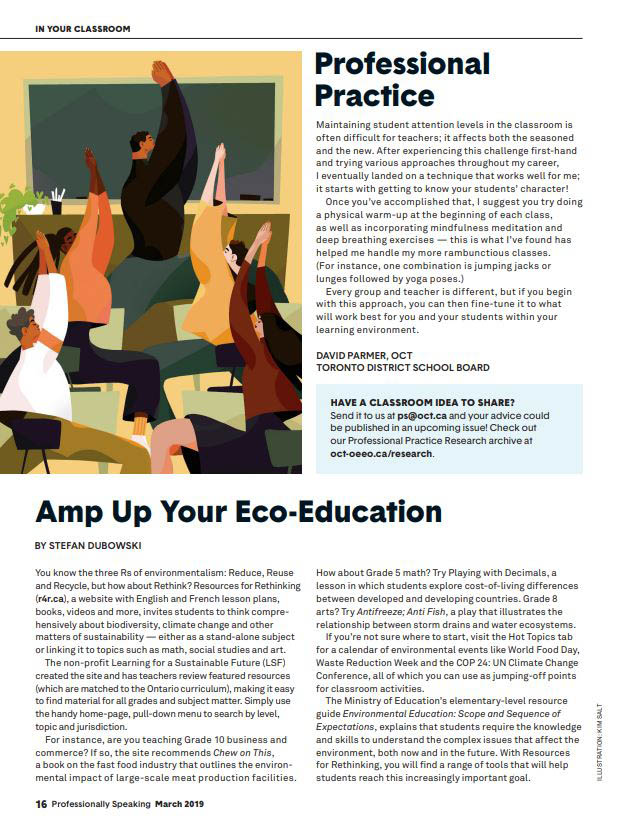 I am writing in response to the letter about yoga and faith-based practices in the classroom published in the June edition of Professionally Speaking, as well as the two subsequent letters in the September issue.
I would like to offer a different point of view as a teacher in a Catholic school board. As a Catholic teacher, I believe that my job is not only teaching the curriculum, but also teaching the Catholic faith and integrating it into various subjects. Since yoga has roots in Hinduism, I would not feel comfortable practising it or teaching it to my students. One of the letters in the previous issue of this magazine suggested that such a view could be xenophobic, but I see this as a way to protect the rights and beliefs of teachers and students. There needs to be a way in which teachers or students who are not comfortable with certain practices are not made to feel like they are obligated to participate in them.
In addition, I believe that it is appropriate for Catholic schools to integrate their faith into the entire school curriculum (within Catholic schools) and that at least from this angle, yoga — a faith-based practice — would not be appropriate.
Anastasia Chvedova, OCT, is a kindergarten to Grade 6 occasional teacher with the Ottawa Catholic District School Board.