Reviews
Your guide to recently released books and other teaching resources.
For additional reviews of French-language resources, visit Pour parler profession. With the exception of some classroom sets, items reviewed are available on loan from the Margaret Wilson Library at the College. Call 416-961-8800 (toll-free in Ontario 1-888-534-2222), ext. 679 or email library@oct.ca.
Ten Cents a Pound
By Nhung N. Trans-Davies, illustrated by Josée Bisaillon
A little girl follows her mama through the coffee fields where she works, noticing the toll that work has left on her mother's body: scratched hands, calloused feet, strained eyes, a hunched back — just to name a few. Moved by these physical scars, and devoted to her mother, the little girl vows that she will always stay with her in the fields.
Her mother, however, insists her daughter venture beyond the fields and take advantage of the opportunities that await her — opportunities her mother will never have. This beautifully written text shows readers of all ages that a parent's love for a child has no boundaries. Together the words and illustrations hint at the natural course of life, where every generation wants more for the next one. The lucky ones get that wish.
Through gentle and delicate details, the illustrator alternates between revealing the harsh realities of life in this small village and the endless possibilities that lie before the young girl, while still leaving much to the imagination.
The rhythm and light repetition of the text will appeal to younger readers. Older readers will notice the social justice issues and their complexities, prompting meaningful discussions in classrooms. Although its text is short and simple, Ten Cents a Pound raises awareness of important, multi-layered issues that will encourage students to think like global citizens.
Caroline Cremer, OCT, teaches a Grade 2/3 class at Leslieville Junior Public School in Toronto.
Ten Cents a Pound, Second Story Press, Toronto, 2018, hardcover, ISBN 978-1-77260-056-8, 24 pages, $18.95, distributed by University of Toronto Press, utorontopress.com
Marvelous Minilessons for Teaching Intermediate Writing Grades 3–8
More and more, our communications are dominated by written text — in emails, tweets, blog posts, Instagram and any number of online platforms. As the author says, our students today are part of the "writingest" generation in history. Students' ability to write has become an essential skill and quite possibly a predictor of future success. This book addresses the need to meet students where they are so they can learn to take full advantage of the written word as they use technology to share ideas. It also highlights how different formats and audiences require different writing conventions.
Rog has divided the book into three sections: organizing the workshop, unit planning, and content, craft and conventions. Minilessons with catchy names like "Chunk and Chew, Stop and Jot," "Slo-Mo Writing" and "What Does Red Sound Like?" are designed to help make student writing pop. Rog uses the memorable acronym TAG: Tell something you like in the piece of writing, Ask questions, and Give advice.
The book offers everything teachers in Grades 3–8 need to plan for a year of writing instruction — unit plans, rubrics, assessment tools, mentor texts and blackline masters. If you are searching for new ideas for writing lessons, this is a great book to add to your collection.
Kerry Zinkiewich, OCT, is the vice-principal at Clarington Central Intermediate and Secondary School in Bowmanville, Ont.
Marvelous Minilessons for Teaching Intermediate Writing Grades 3–8, Pembroke Publishers, Markham, Ont., 2018, softcover, ISBN 978-1-55138-329-3, 144 pages, $24.95, pembrokepublishers.com
Krista Kim-Bap
Krista Kim-Bap introduces the Korean dish of kimchi as a very foul-smelling food. "The smell can sock you in the nose," she writes. Krista's mother always hides the odour by tying a plastic bag over the container. But Grandma doesn't, and Krista thinks that even the milk in Grandma's fridge tastes like kimchi.
Krista is the only Korean-Canadian in her Vancouver classroom. She has a few big problems as she enters Grade 5. First, she feels like she's being pulled away from her best friend, Jason, by her new friends at school. And she feels conflicted about being the Korean ambassador for her school's Heritage Month. She foresees the class asking her embarrassing questions about Korea and being made fun of when she offers her answers. When she is invited to cool-kid Madison's birthday party, Krista discovers that hanging out with the in-crowd at school leads to a whole lot more confusion and self-doubt.
As Krista shares her thoughts, the reader becomes aware of how much turmoil hyphenated Canadians face as they try to adhere to family traditions while also trying to fit into a new life and country. Questions of identity are at the core of Krista's bewilderment.
The novel could be a launching pad for discussion in a junior or intermediate classroom novel study. It encourages students to empathize and relate to classmates from different cultures and consider the difficulties they face in being accepted.
Dorothea Bryant, OCT, tutors primary, junior and ESL students in reading and writing.
Krista Kim-Bap, Second Story Press, Toronto, 2018, softcover, ISBN 978-1-77260-063-6, 176 pages, $11.95, distributed by University of Toronto Press, utorontopress.com
The Love & Lies of Rukhsana Ali
This story's heroine is Rukhsana Ali, a gay American teenager with a Bengali-Muslim heritage, living in Seattle. The first chapter opens with the three cardinal rules that Rukhsana must follow: her life cannot include parties, boys or shorts. "But what they didn't know couldn't hurt them, right?" Rukhsana muses to herself.
On one occasion, Rukhsana wants to head out to a party, but her mother wants help in the kitchen. When Rukhsana's brother offers to help, he is told that boys must save their energy for their studies. It is Rukhsana's responsibility to learn to make such dishes for her future husband.
One afternoon, Rukhsana arrives home from school to find her entire family sitting around the dining table looking at a letter that says she been accepted to Caltech on a full scholarship. Not only is her dream of becoming a physicist one step closer to reality, but perhaps her dream of living a life without secrets and lies might be, too.
This book would be a rich novel study for students in Grade 10 and up. The material focuses on diversity and the contradictions of growing up Muslim within American social norms. The sensitive subject material requires some preparation as students read and discuss what life might be like for a young, gay Muslim girl raised by conservative parents.
Dorothea Bryant, OCT, tutors primary, junior and ESL students in reading, writing and math.
The Love & Lies of Rukhsana Ali, Scholastic Press, New York, 2019, hardcover, ISBN 978-1-338-22701-7, 336 pages, US$17.99, scholastic.com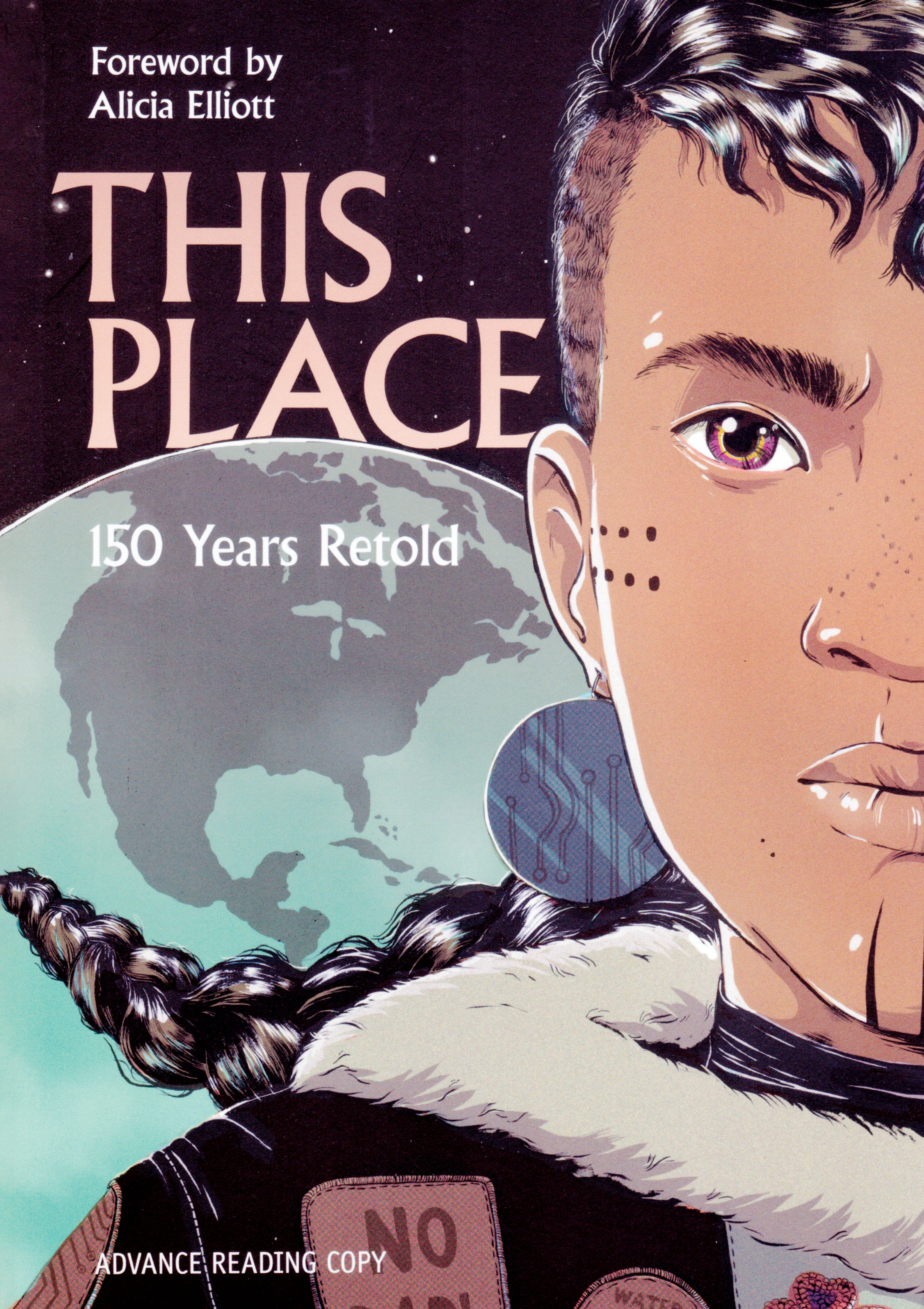 This Place
Forward by Alicia Elliott (Anthology)
How do you empower a people? You can start by simply listening. This anthology, told by Indigenous people, tells the histories that are not included in our textbooks. With the support of the Canada Council for the Arts, 11 authors and almost as many illustrators share the stories of their ancestors in an unprecedented compilation. Traditionally, Indigenous narratives have only been told orally, passed on from one generation to the next. More recently, these accounts have been written down but rarely in graphic short story format. Given the rise in legitimacy, popularity and accessibility of the graphic novel form, these Indigenous stories are now more accessible than ever and likely more appealing to young people. Nations including Chippewas of Nawash, Métis, Mi'kmaq, Cree, Tuscarora and others are represented. The content is suited for ages 15 and up but, if carefully scaffolded, teachers could successfully introduce it to Grade 6 students for social studies and Grade 7–8 students for history curriculums. It would also be a solid addition to the Grade 12 curriculum as it specifically addresses social, political, economic and cultural challenges in Indigenous communities. Most importantly, the collection points Indigenous students toward seeing themselves, hearing their own voices and stories, and reading about the perspectives of their ancestors and their communities.
Jennifer Wyatt, OCT, is head of the junior school at Trinity College School in Port Hope, Ont.
This Place: 150 Years Retold, Highwater Press, an imprint of Portage & Main Press, Winnipeg, 2019, softcover, ISBN 978-1-55379-758-6, 287 pages, $36, highwaterpress.com