Indigenous Artist Explores the Ethical Standards for Teaching
How do you depict the ethical standard of integrity? For artist Elizabeth Doxtater, it starts with painting a corncob.
Illustration: elizabeth doxtater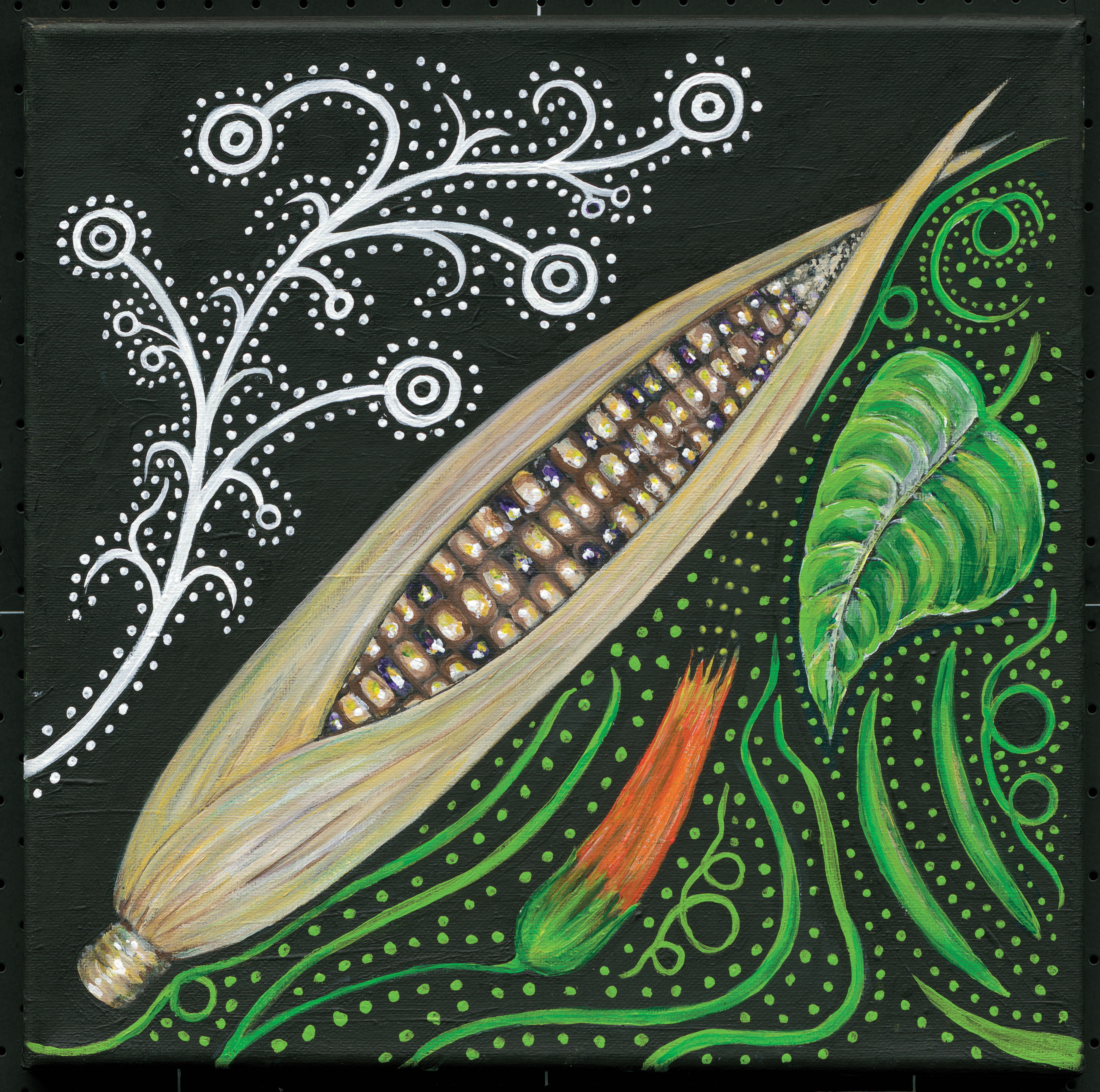 The seeds grown on the cob are protected by the corn husk. That husk has a vital responsibility. It ensures the integrity of each seed on each cob, on every stalk, in each field. That teaches us about the importance of protecting the integrity of everyone and everything that's placed in our care.
This painting and several others appeared in a College AQ resource called Exploring the Ethical Standards for the Teaching Profession through Rotinonhsyón:ni Art.
Being born and raised on the Six Nations Indian Reserve #40 informs Doxtater's artistic representations.
Each standard — integrity, care, respect and trust — has an accompanying image, and each image has an artist's statement (which have also been translated into the Mohawk language by Doxtater's son George.). The document then poses a series of questions related to the statement. For integrity, for example, this includes:
reflect on the role of the corn husk for protecting the integrity of each individual corn seed. Inquire into how your integrity is fostered and protected within your professional practice;
identify how the teachings in this painting can inform your ethical thinking, understanding and professional practice; and
discuss your professional responsibility to honour and respect the integrity of each learner, colleague and family you engage with in your professional practice.
Doxtater was honoured to be selected to provide the paintings. "It was a big responsibility. I wanted it to be accurate and clear," she says.
This new resource supports the Truth and Reconciliation Commission's calls to action. It promises to become an important tool within initial teacher education and AQ courses. These are key professional contexts for deepening ethical understanding and sensitivity.
Education should be a huge part of reconciliation, says Doxtater. She notes the damage done in the past through residential schools, where students were simply cut off from their roots.
That's why Doxtater was particularly moved to unveil her paintings last spring at the Woodland Cultural Centre in Brantford, Ont. Today, the centre serves to preserve and promote Indigenous history, art, language and culture. Yet it is also the site of a former residential school.
Doxtater's son Kody introduced her and spoke in Mohawk, in the very classroom where, years ago, Indigenous children could not even speak their own language.
Now, this new resource aims to inspire critical awareness, reflection and dialogue regarding the ethical standards — all through the use of Doxtater's vivid and thoughtful art.