Letters to the Editor
Tell us what you think!
In the spirit of open conversation and to support an array of perspectives, Professionally Speaking welcomes letters to the editor. The opinions expressed in letters are solely those of the authors and should not be interpreted as the view of the College. We reserve the right to edit letters for length and clarity. Letters should be sent to ps@oct.ca, be in response to content in the magazine and include the writer's phone number and registration number.
We are listening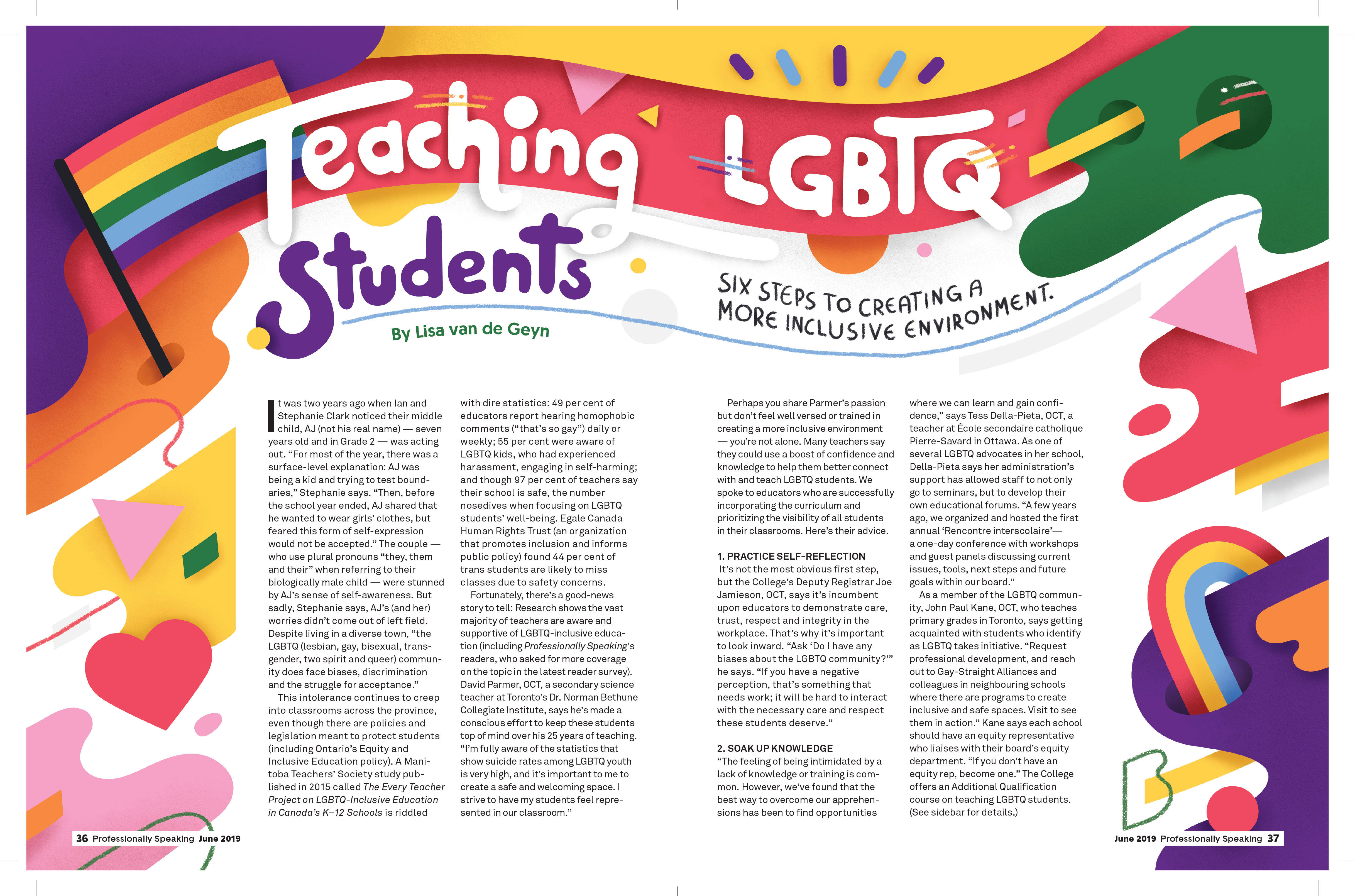 In our December issue, we published a letter to the editor that hurt and distressed many members. We deeply regret the pain this caused.
The letter was in response to the article "Teaching LGBTQ Students," which was published in the June 2019 edition and supported the College's mandate to protect students and the Ethical Standards for the Teaching Profession. The article offered strategies for creating inclusive classrooms and steps to help teachers prioritize the visibility of all students.
The member's letter was a personal reflection and not the position of the Editorial Board or the College. It questioned what to do when one's personal beliefs are in conflict with one's professional and legal obligations. After significant deliberation, our Editorial Board chose to publish the letter as its statements demonstrated that bias still exists and the Letters to the Editor section is a forum for discussion. Further, it shone a light on the need for ongoing education and greater understanding among some of our members.
The College received dozens of letters and more than a thousand social media posts in response to the letter. We are listening. While the Editorial Board's content review policy is robust and sound, there is always room for reflection, improvement and growth. With that, the board will implement an additional step going forward when reviewing potentially sensitive material. In addition to seeking consensus when considering whether or not to publish such material, it will seek opinion beyond the Editorial Board, as necessary.
Furthermore, to address the question at the heart of the original letter to the editor, the Editorial Board has decided to publish an article in an upcoming issue that will explore what members should do if their personal views conflict with aspects of the curriculum, instructional styles or the philosophy of their employer.
Sincerely,
"It should be made glaringly clear to all OCT members that they do not get to choose what they teach. If the author of the letter is personally uncomfortable with topics surrounding 2SLGTBQ+ realities of our society, they do not get to bring that bias with them into the classroom. They are professionally required, by the Ministry of Education, the Elementary Teachers' Federation of Ontario and the College to promote inclusivity and equity in the classrooms they work in."
Emma Rucchetto, OCT, is a teacher with the Peel District School Board.
---
"I want to thank the author of the letter in the December 2019 issue, questioning what teachers should do when asked to engage in pro-2SLGBTTIQ+ topics when they do not necessarily agree with teaching the topic due to their own religious convictions.
We know that not all educators are comfortable teaching about 2SLGBTTIQ+ identities, and perhaps such educators are not aware of the damage that occurs to those of us who identify in our 2SLGBTTIQ+ community daily. Nevertheless, the author raised the question of conflict between personal moral virtues and public moral values.
The author brought up the elephant in the room. To really enact purposeful pro-2SLGBTTIQ+ advocacy in public education, we need to assess where we are in our districts, schools and learning spaces."
Hubert Brard, OCT, is vice-principal at Woodbridge College with the York Region District School Board.
---
"While I understand the principles of freedom of speech, there have always been limits to these rights. As teachers, we do not have the freedom to express ideas and opinions that go directly against any of the prohibited grounds for discrimination in the Canadian Human Rights Act."
Aaren Zavarella, OCT, teaches Grade 4 at Garthwood Park Public School with the Peel District School Board.
---
"Supports and resources are provided at a board level to do this important and necessary inclusion work. I am confident my colleagues in Caring and Safe Schools at the York Region District School Board would concur."
Kelly Krug, OCT, works with the Peel District School Board as the Climate for Learning and Working Co-ordinator.
---
"As an LGBTQ+ educator, I felt it was necessary to offer a reminder that as educators we are compelled to support and nurture all students in our care. This includes and is not limited to acknowledging and respecting diverse lived experiences. Our students deserve to see ALL their teachers as role models, cheerleaders and advocates in their right to an inclusive, supportive learning space." 
Louisa Julius, OCT, is a Grade 8 Core French teacher at Bliss Carman Senior Public School with the Toronto District School Board.
---
"The Ontario College of Teachers is tasked with upholding the standards of the teaching profession, including upholding our responsibility to the Education Act. Professionally Speaking missed a teachable moment in clarifying the College's position on this matter and reminding Ontario Certified Teachers that Ontario public school boards are required by law to 'promote a positive school climate that is inclusive and accepting of all pupils' (Education Act: Part VI 169.1 [a.1])."
Natasha Faroogh, OCT, teaches French on an LTO assignment with the Peel District School Board.
---
"Upholding the human rights of the students under their care does not and cannot constitute an infringement on members' religious freedoms. This has been well established in Ontario and Canadian law."
Catherine Coghlan, OCT, teaches Grade 8 French Immersion at David Leeder Middle School with the Peel District School Board.
---
"The Ontario College of Teachers' Professionally Speaking is a thoughtful, carefully curated publication meant to reflect the high standards and ethics of our teaching profession. This letter diminishes our profession. It does not lift it up."
Michael A. Moore, OCT, is vice-principal at John Ross Robertson Junior Public School with the Toronto District School Board.
---
"To be clear, teaching about inclusion of all identities is a requirement. The existence and humanity of LGBTQ2S+ people are not up for debate, regardless of one's personal religious beliefs. To suggest otherwise by giving this letter a far-reaching platform in Professionally Speaking is to bring real and deep harm to an already vulnerable group of people.
It is clear that more education and support for OCT members on how to respond to these issues are needed going forward."
Jane Sayaka Yajima, OCT, teaches Grade 3 at King George Junior Public School with the Toronto District School Board.
---
"This teacher has a duty to include all students in a publicly funded school regardless of what she believes. We have an inclusive education policy in Ontario schools."
Barry Bedford, OCT, is principal of Coronation Public School with the Durham District School Board.
---
"As educators, we have a moral responsibility to uphold Canadian laws and values, and to teach our students the importance of respect for differences in a pluralistic society."
Cindy Spackman, OCT, was an intermediate teacher at Lakehead Public Schools in Thunder Bay before retiring.
---
"To the teacher who relayed the discomfort she has around teaching LGBTQ issues in the classroom, a reminder that schools (including Catholic ones) are publicly funded and therefore are accountable to the government.
I invite her to read Tonya D. Callaghan's Homophobia in the Hallways, which examines the continued disconnect between Canadian Catholic schools and the Canadian Charter of Rights and Freedoms and how LGBTQ students face a high risk of discrimination, bullying and depression."
Lisa Snow, OCT, is an elementary occasional teacher with the Durham District School Board.
---
"The front matter of all Ontario curricula also requires us to ensure that all our students see themselves reflected in their classroom learning, and that respect and tolerance for diversity be an integral part of classroom teaching."
Oliver Vidal, OCT, teaches French and Spanish at Oakville Trafalgar High School with the Halton District School Board.
---
"The contents of the letter do not align with the Education Act, which states, 'Every board shall promote a positive school climate that is inclusive and accepting of all pupils, including pupils of any race, ancestry, place of origin, colour, ethnic origin, citizenship, creed, sex, sexual orientation, gender identity, gender expression, age, marital status, family status or disability.'"
Pam Strong, OCT, is an Equity and Inclusive Education resource teacher with the Peel District School Board.
---
"A teacher can demonstrate integrity with the following message: 'Whether my beliefs do or do not support LGBTQ+ rights has nothing to do with my respon- sibility to my students. I am not betraying my faith by showing my students that they all deserve safety and respect.'"
Kyle J. McGiverin, OCT is a Grade 7 Core French teacher at Thomas Street Middle School with the Peel District School Board.