New at the Library
Your guide to recently released books and other teaching resources.
Borrow a copy of any of the books reviewed in Professionally Speaking by connecting with the Margaret Wilson Library. Email library@oct.ca, access your College account via oct.ca, use the OCT Membership App, or call 416-961-8800 (toll-free in Ontario 1-888-534-2222), ext. 679. For reviews of French-language resources, visit pourparlerprofession.oeeo.ca.
Stand on the Sky
This is a story of how a young girl smashes cultural and gender norms to become an eagle hunter. In the process, she finds herself, saves her family and teaches her spirit to fly. Aisulu, a Kazakh girl, lives a nomadic life with her parents and brother. When she finds an orphaned eaglet, she decides to raise and train it, a privilege that's traditionally reserved only for Kazakh boys and men.
Erin Bow, an acclaimed young adult author who lives in Kitchener, Ont., has clearly done her research. Her portrait of life in the mountains of Mongolia is rich in its detail of a traditional family who lives on the land and moves with the seasons. Middle school readers will identify with the family relationships and the vivid natural settings.
Aisulu encounters what happens to many protagonists in children's literature: the disruption of the life she has known and loved. When her parents leave her with her stern aunt and uncle so they can take Aisulu's brother, Serik, to a far-off hospital for treatment, her life is shattered. Aisulu discovers that families are not necessarily the biological networks we are born into. Family can also mean the people who love, support and nourish you, too.
With her resolute attachment to her eagle as a support, Aisulu is able to adapt to the many emotional hardships that her life presents to her.
As part of a set of classroom novels, or as a stand-alone work, this book sends students a powerful message about friendship, interdependence, and fighting for your beliefs.
Gail Lennon is a writer and reviewer with decades of teaching experience at all levels in Ontario.
Stand on the Sky, Scholastic Canada, Toronto, 2019, hardcover, ISBN 978-1-4431-6379-8, 320 pages, $27.97, scholastic.ca
---
The Life of Anne Frank
The Life of Anne Frank is described by its publisher, Firefly Books, as being "a compelling visual account of how a Jewish family tried to escape Nazism." It is that, and more; it is an important historical work that everyone from age nine and up should read.
It begins with Anne's birth in Germany and follows with the family's move to Amsterdam and then hiding in "The Annex." Beautifully laid out with photos and a comprehensive timeline, it includes details not just about Anne and her family, but also of the others who shared the hiding place.
The author deftly handles the description of Hitler's rise to power and defines terms such as anti-Semitism, nationalism, and holocaust in a way that allows young readers to understand the background to this tragic story.
With last year being the 75th anniversary of her death, The Life of Anne Frank, published in association with the Anne Frank House in Amsterdam, is a fitting tribute to Anne, her family and the brave few who helped them.
The Anne Frank House website notes that, though mainly young people visit the museum, most do not have a sound knowledge of World War II and the Holocaust. Not only will this book remedy that deficit, it also touches on history, sociology and writing, so could be used as a resource for many lesson plans across several subject areas.
Terri Lawrence, OCT, is an adjunct professor (anatomy and physiology, microbiology), in the faculty of nursing, University of Windsor, and School of Nursing, St. Clair College.
The Life of Anne Frank, Firefly Books, Richmond Hill, Ont., 2020, ISBN 9780228103011, hardcover, 48 pages, $19.95, fireflybooks.com
---
Little Readers, Big Thinkers (ebook)
A conversational tone and practical approach makes Stewart's book an accessible guide for primary teachers seeking to dive deeper into the minds of their young readers. Similar to a casual conversation in a teachers' break room, the book gradually unfolds and explores the author's classroom strategies.
The author showcases how close reading can teach even the youngest students new ways to enjoy texts, think about them critically, and share that thinking with peers and adults. Filled with samples of student work, Little Readers, Big Thinkers includes practical templates to help children in primary grades generate more thoughtful multiple readings of a text.
Stewart provides everything a teacher needs to harness the big thinking inside students' inquisitive minds, from background on the practice to personal lessons about what texts work well. She clearly demonstrates how effective questioning and word examination can improve comprehension beyond the typical reading of a text.
As well, the author shares ideas for organic thinking, deep conversation and how to "read like detectives"
The book has an excellent layout that clearly displays the practice being explored, and moves along with a voice that encourages and cheers on fellow educators.
Joe Restoule General, OCT, is a learning resource teacher at Jamieson Elementary School in Ohsweken, Ont.
Little Readers, Big Thinkers: Teaching Close Reading in Primary Classes, Stenhouse Publishers, Portland, Maine, 2019, softcover, ISBN 978-1-62531-212-9, 168 pages, $37.95, stenhouse.com
---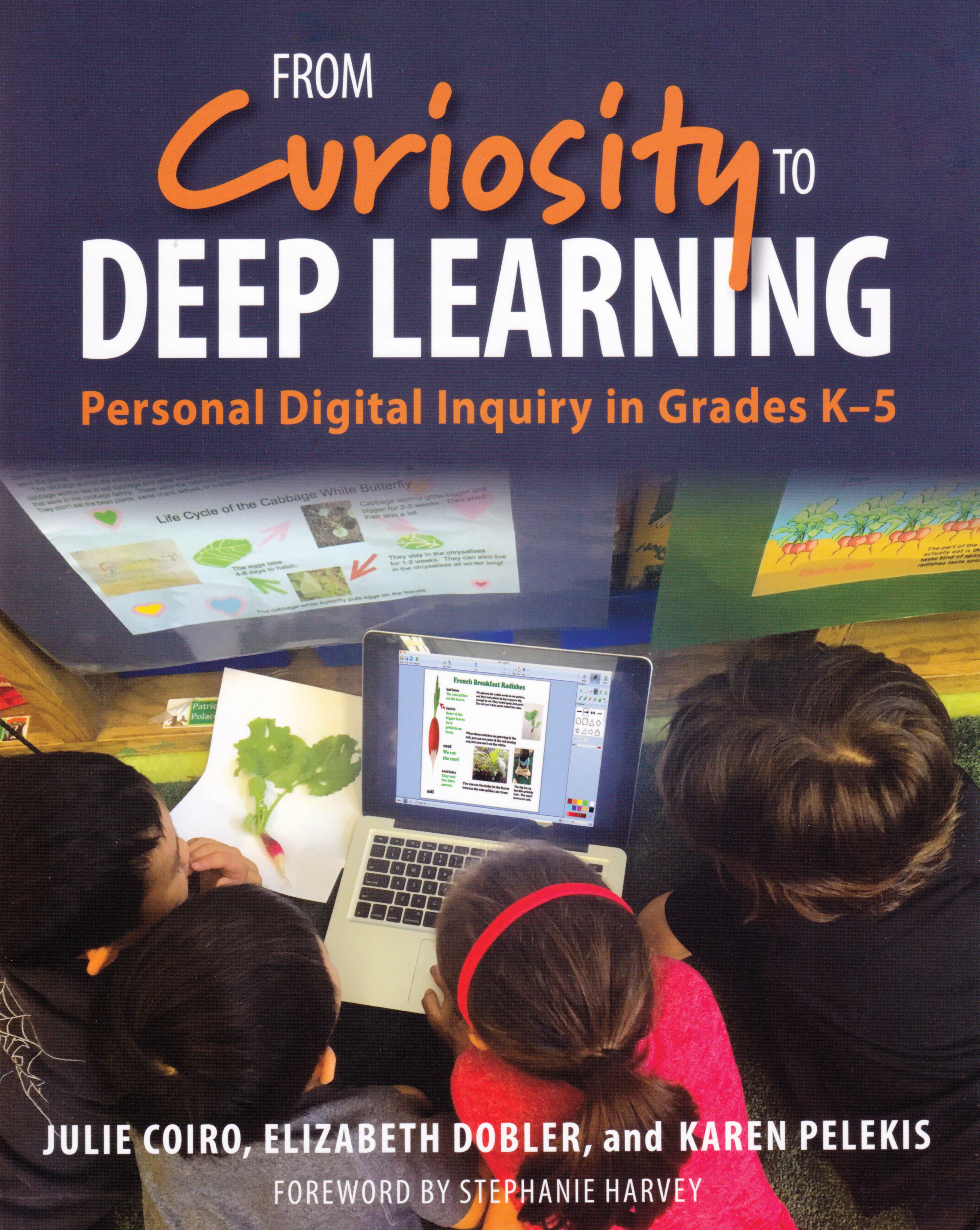 From Curiosity to Deep Learning (ebook)
By Julie Coiro, Elizabeth Dobler, and Karen Pelekis
As a rotary teacher for visual arts and kindergarten prep, my world is all about inquiry and wonder. I was drawn to this book because I wanted more digital tools available to me in my lesson plans and programming.
This book, with its many provocative questions, has been a useful tool for assessing my program and has offered me a more thoughtful way to deliver it. At the outset, it introduced the acronym PDI, which stands for Personal Digital Inquiry. The three principles of the framework are: personal — having the students feel responsible and connected to their learning through close personal relationships; digital — tools at our disposal for learning; and inquiry — authentic questions that lead to finding answers and discovering more questions, and sometimes, even more answers.
It's natural to assume solitary interaction with a machine and the use of digital technology could lead to feelings of isolation. This book, however, emphasizes both personal interaction and collaboration, with many examples for how to integrate purposeful technology into the whole classroom culture.
The publisher also offers a companion website, where educators can access a variety of resources. These include a review of key concepts for each chapter, an online study guide, downloadable and printable templates, and more about the inspiration behind this book.
Margaret Buckworth, OCT, is a full-time kindergarten teacher at Red Maple Public School in Richmond Hill, Ont.
From Curiosity to Deep Learning: Personal Digital Inquiry in Grades K–5, Stenhouse Publishers, Portland, Maine, 2019, softcover, ISBN 978-1-62531-156-6, 256 pages, $44.95, stenhouse.com
---
Start with Joy (ebook)
Happier people are more resilient, have stronger relationships and express greater confidence and creativity. It's likely something we always knew, but now research in the science of happiness proves it. Building on that research and her own experience as a teacher, literary specialist, consultant and teacher educator Katie Egan Cunningham focuses on joy as a catalyst for learning. As the title suggests, by intentionally designing literacy learning that stirs joy, we naturally create experiences for our students that are engaging, purposeful, meaningful and memorable.
Cunningham shows us that, just as we are intentional in our instruction of content, we can purposefully create joy in learning by focusing on her Seven Pillars of Happiness: Connection, Choice, Challenge, Play, Story, Discovery and Movement. We may already be incorporating many of these into our teaching. However, Start with Joy is structured in a way that makes it easy to jump in based on our particular needs. The book's first section has a chapter about each pillar that includes examples, techniques for us to try, and a rich trove of resources for digging deeper. Need help designing for connection? Try her happiness lists, journal prompts, extensive read-aloud suggestions, and simple ways to deepen and encourage conversation. Need ways to design for story? Try her three-part structure, quick-writes, or "Stories are Everywhere" board to help students discover their inner storyteller. Each pillar is well explored and includes practical and simple ways to share it in your classroom.
The second section of the book has 10 "Invitations" or lessons that build upon the pillars. Examples include: Power Poses, Listening with Love and The Best Part of Me. Each Invitation also provides a warm-up activity, children's literature suggestion, teacher tip and sample teacher talk.
The final section, the Appendices, offers tools to help students tell their stories, such as story frames and writing prompts, lesson-planning templates to design for happiness, suggestions to help with the design of physical space, and recommendations for children's literature and professional works.
We can give our students the tools to greater resilience, connection, confidence and creativity through our literacy lessons, if we are intentional about it. By focusing on the author's seven pillars, we can create deeper, richer and more meaningful learning experiences. Design learning with happiness in mind — and Start with Joy.
Caroline Pignat, OCT, is a two-time Governor General's Award winning author. She is currently teaching English at St. Mother Teresa High School with the Ottawa Catholic School Board.
Start with Joy: Designing Literacy Learning for Student Happiness, Pembroke Publishers, Markham, Ont., 2019, softcover, ISBN 978-1-62531-283-9, 256 pages, $42.95, pembrokepublishers.com