Ready, Set, Learn
BY BRENDA STEIN DZALDOV
This practical book transcends the often vague descriptors for assessing learning skills and delves into explicit instruction about how to actually teach those skills so that students can learn how to expand their knowledge.
Learning skills transfer between all subject areas and are essential components and indicators of student success. Organization, collaboration and initiative are among some of the basic skill sets explored in this treasury of high-interest lessons and activities for elementary-level students. As the book progresses, communication and memory skills are also considered. The book includes rubrics, organizers and models designed to meet the needs of both individual students and whole classes. Students' learning styles, preferences and interests are acknowledged throughout the book, and closure for each activity includes a self-reflection piece and suggestions for descriptive, ongoing feedback to both students and their parents about learning skills
Teachers recognize the valuable role next steps play in assessment. This book shows them how to create opportunities for discussion and for modelling strategies so that students can learn how to set specific goals and success criteria for measuring their own development. Open the pages of this book to identify what learning skills your students need. Then learn how to collect the evidence and take the next steps to support their continued growth as part of your daily instruction.
Ready, Set, Learn: Integrating powerful learning skills and strategies into daily instruction, Pembroke Publishers, Markham, 2015, softcover, ISBN 978-1-55138-302-6, 144 pages, $24.95, pembrokepublishers.com
Anne Marie Landon, OCT, is acting principal at George Vanier Catholic School in Combermere, Ont., with the Renfrew County Catholic District School Board.
---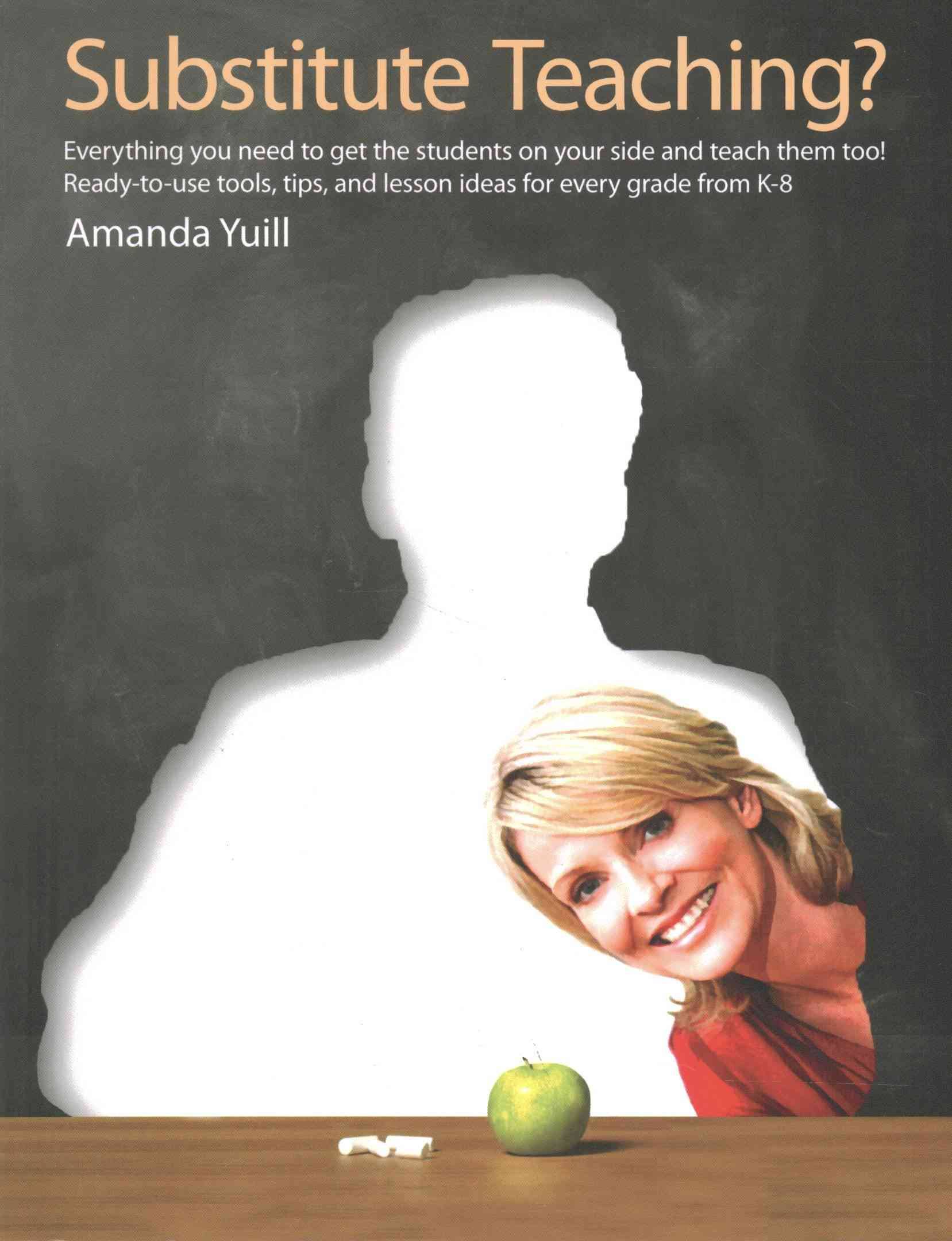 Substitute Teaching?
BY AMANDA YUILL
Called in at very short notice to primary/junior classrooms, substitute teachers are often at a loss for how and where to begin teaching a classroom of sometimes unruly and certainly unknown students. In this enthusiastic combination tool kit/ instruction manual, Yuill explores how substitute teachers can re-engage their original passion for making a difference in students' lives and actually teach.
To help set the stage, this highly readable guide for new or experienced teachers begins with relationship-building activities. It moves on to ready-to-use ideas for lessons (with companion reproducibles), along with a collection of strategies for managing your attitude and expectations, and dealing with typical problems. Solid classroom management techniques are examined as are practical curriculum plans.
A unique component of the book is a brief description of typical student development, which takes a quick look at physical, social, emotional and academic characteristics at every primary grade level. Organized by grade, it is a helpful snapshot for teachers who are parachuted into teaching students with whom they have little or no experience and few reference points.
Yuill outlines proactive job-finding techniques for the substitute teacher seeking a full-time position, the career-substitute teacher looking for the next assignment, or the retired teacher who may be seeking a different perspective on the classroom experience
Substitute Teaching? Everything you need to get the students on your side and teach them too! Ready-to-use tools, tips, and lesson ideas for every grade from K-8, Pembroke Publishers, Markham, 2016, softcover, ISBN 978-1-55138-312-5, 160 pages, $24.95, pembrokepublishers.com
Nadira Baksh, OCThas recently completed a combined honours specialist in English and history and is a classroom volunteer with the Peel District School Board.
---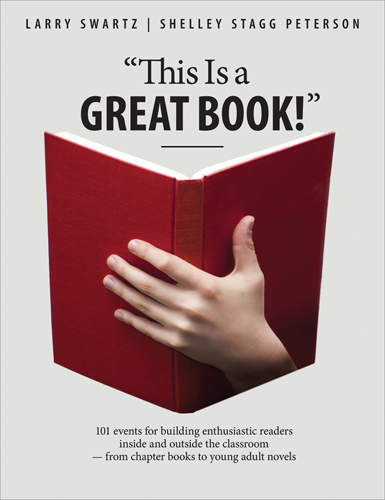 "This is a Great Book!"
BY LARRY SWARTZ AND SHELLEY STAGG PETERSON
This is a Great Book! is rooted in the belief that offering your students great books to read and showing them how to dig deeper into their own responses to them is the foundation of turning them into real readers. This all-inone guide, which starts with the underpinning educational research and ends at assessment profiles, blackline masters and appendices, represents a continuum of reading in many genres from chapter books to young adult novels.
Novels are a great way to stimulate students' critical abilities and to engage with a wide range of responses that can transcend words and open possibilities and concepts in the wider world. The 101 literacy events outlined in the book invite students to delve into a text not only with written responses but with discussion, through the arts and using online media. Attention is given to exploring reading that is based on the preferences and tastes of students as they develop a lifelong love of reading.
"This is a Great Book!": 101 events for building enthusiastic readers inside and outside the classroom — from chapter books to young adult novels, Pembroke Publishers, Markham, 2015, softcover, ISBN 978-1-55138-308-8, 136 pages, $24.95, pembrokepublishers.com
Janet Cottreau, OCT, is an occasional elementary school teacher with the Ottawa-Carleton District School Board.
---
The Way to School
BY ROSEMARY McCARNEY WITH PLAN INTERNATIONAL
Stunning colour photographs fill this picture book illustrating how students around the world get to school. Children are shown traversing long distances on treacherous water, cliffs, valleys, tunnels, mountain paths, bridges and roads. Various modes of transportation are depicted including carts, dogsleds, rafts, boats, zip lines, and animals such as donkeys and water buffalo. Some pictures are shocking — such as the one where a child is crossing a river on a tightrope in the Philippines. The pictures are from all over the world including China, Indonesia, Cambodia, Nepal, Brazil, Canada, United States and Africa. The photographs are generous, taking up most of the space on the pages. The minimal text is large and easy to read.
This book could be used in association with many topics including diversity, cultural studies, transportation, landforms and the effects of natural disasters. The main message of the book is that it is a great privilege to be able to attend school.
The Way to School, Second Story Press, Toronto, 2015, hardcover, ISBN 978-1- 927583-78-4, 32 pages, $18.95, secondstorypress.ca
Margaret Grift, is a librarian at John Knox Christian School in Brampton, Ont.
---
Susanna Moodie
BY CAROL SHIELDS AND PATRICK CROWE
Susanna Moodie became one of Canada's first literary icons with the publication of Roughing It in the Bush, her memoir of life in the Canadian wilderness. She was born into the English gentry, and after her father died she and her sisters turned to writing to assist with the family finances. Shortly after marrying Captain Dunbar Moodie, the young couple immigrated to Canada with hopes of finding prosperity in a new land. Instead, they faced innumerable hardships and setbacks, including a house fire, sickness and the death of a child. Susanna was angry and felt that the land agent's promise of a new and easy life was false and misleading. While her husband was away on active military duty, she began writing and selling short pieces detailing their struggles. These stories would eventually become Roughing It in the Bush, published in 1852.
This graphic novel adaptation of her memoir is a perfect conduit for introducing Moodie's book to readers in Grade 8 and above. The text is based on Carol Shields's original screenplay for a movie. Selena Goulding's clear and captivating illustrations make the material very accessible by bringing the story to visual life.
Moodie's work has influenced a number of Canadian authors, including Shields and Margaret Atwood, who wrote the introduction. Budding writers will no doubt find inspiration in this tale of a pioneer woman and author. With the publication of this graphic novel, a new generation can be introduced to this classic tale of one woman's determination and courage.
Susanna Moodie: Roughing It in the Bush, Second Story Press, 2016, Toronto, softcover, ISBN 978-1-77260-003-2, 152 pages, $22.95, secondstorypress.ca
Joe Restoule General, OCT, is a learning resource teacher at J.C. Hill School in Ohsweken, Ont.
---