By Brian Jamieson
At the end of March, after six years with the College, the last two at the helm as Registrar and Chief Executive Officer, Joe Atkinson will retire. The career he gave his heart to is being cut short by heart disease.

Calling it "the hardest decision of my professional life," Atkinson announced his retirement following a surprise hospitalization last summer for what was diagnosed as a heart virus. He returned to work as soon as possible in the fall, but while his focus was intact, he found his stamina wasn't. Knowing he couldn't meet his own expectations, he refused to fail to meet others'.
It's those same high standards - personal and professional - that have become synonymous with the Atkinson name.

When he arrived at the College in 1997, hand-picked by the first Registrar Margaret Wilson, Joe Atkinson had a reputation the size of the province for promoting professional growth among teachers. Armed with school board and federation experience, he was just the go-to guy needed to develop standards of practice, ethical standards for teachers, and a framework for professional learning. That and hitting the road to explainthe purpose of the College itself. Consultation was his specialty; his trademark, the personal touch.
Teachers' Teacher
"Joe was always a teacher's teacher," says friend and former Waterloo District School Board education director Patti Haskell. "He's made contributions to many provincial organizations including OPSTF, OTF, the Leadership Academy and the Ontario College of Teachers. Joe was everywhere; you just felt his presence there all the time."

Having completed his teacher training at Lakeshore Teachers' College, where he served as president of the student body, Atkinson was awarded the Prince of Wales Prize as the top-graduating teacher of 1966. He began teaching with the Toronto Board of Education in the same year, completing his BA from York University and earning a MEd from the Ontario Institute for Studies in Education/University of Toronto.

His early experience included teaching in inner city Junior and Intermediate classrooms. He also worked in outdoor education, gifted education and adult education programs as well as in the board's curriculum and program department.

In 1974, he joined the professional staff of the Ontario Public School Teachers' Federation (OPSTF) and was named the first Director of the federation's Professional Development Services Department in 1991. Under his leadership, the OPSTF established an international reputation for excellence in the development and delivery of quality professional growth programs.
Unparalleled Commitment
Some believe it was there that Atkinsoncreated a lasting legacy to teacher professionalism in Ontario. Haskell says his commitment to professional growth and leadership is unparalleled. Marg Couture, who followed Atkinson at OPSTF as Director of Professional Development Services, agrees.

"Twenty-six years ago, he brought many of the credit courses to Ontario that teachers could use to learn and upgrade their salary levels," Couture says. "Joe had the insight to bring those courses. His commitment to the welfare of teachers' professional development can't be matched by anyone else.

"He does what he does because he believes in it. He went to the College because he believes in accountability," Couture says. "He is admired and respected across Canada and internationally."
Noel Clark, former OPSTF deputy secretary, says Atkinson spent countless hours creating "teacher friendly" courses for university credit, packed with good material and methodology they could use immediately in their classrooms. As a result, he helped to shape a generation of teachers.

"He is an open champion of the people who work with and for him," says Clark. "He believes not only in the mandate of the College but in the people who work there."

The College's Deputy Registrar Doug Wilson concurs. Treating staff as family has contributed significantly to the respect people have for Atkinsonas a leader and as an educator, Wilson says.

"I've never met a person more admired and respected by his staff than Joe Atkinson. Joe realized when he became Registrar that he had a huge responsibility to maintain the high standards of leadership provided by Margaret Wilson. And he's done a wonderful job. He's provided strong, dynamic, visionary leadership in his roles as Co-ordinator, Deputy Registrar and Registrar. We've come to count on his strength, his wisdom, his advice, his honesty and his integrity."

Jack Martin, a former member of the OSSTF secretariat and the organizational architect of the Ontario Principals' Council, says Atkinson is conscientious, credible and courageous. He's always looking at what's in the best interest of teachers, always conscious about doing the right thing and he always takes the high road in difficult situations.

"He was the champion of a very challenging issue in the Professional Learning Program," says Martin. "Joe recognized that the program needed to be modified for it to work at all and it was his job to find common ground between what the government wanted and what would work."

In 1992, in recognition of his contribution to the professional learning of educators in Ontario, across Canada and throughout the U.S., the OTF awarded Atkinson a fellowship.

In 1997, he brought his experience to the College as Co-ordinator of Professional Affairs. He became Deputy Registrar in June 1999 and was appointed as Registrar in November 2000.

"I didn't take the job because I saw it as a challenge," Atkinson says. "I took it because I saw it as the next logical step for me in my career and the next natural step for the profession, and I wanted to be part of that. I still believe in it. Passionately."
Three Promises
As College Registrar, Atkinson has become famous for his three-promise mantra on behalf of the teaching profession. "We have promised members of the public that when they send their children to our schools, they will be taught and supervised by qualified and certified teachers, principals and supervisory officers," he says. "We have promised that each of these individuals will be competent, and we have said, send us your children and we promise that they will be safe in our charge."

It's the College's work to live up to those promises that enables Atkinson to retire satisfied.
For example, he says that the Standards of Practice for the Teaching Profession, developed during his tenure and true to his own standards for consultation, have become the "fire in the belly" statements for the profession.

"This is what we believe in as educators. This is what we stand for. This is what we base our existence upon," Atkinson says. "The standards are fundamental to all that's done at the faculties of education right now. The work of students who graduate from the faculties now is grounded in the standards of the teaching profession. The rest of us who have been at teaching for a while are trying to define our work on the basis of those standards.
Dynamic Standards
"If I take any satisfaction at all, it is that everything that will ever happen in education in Ontario will reflect the Standards of Practice for the Teaching Profession. They're dynamic. They will change. But, overall, they need to reflect and direct the vision for our society."

The ethical standards, he says, became a partner to the standards of practice because they established the ethics under which the profession operates. "They reflect the morality of our profession.

"The professional learning framework defined for the first time how we keep ourselves recent and relevant, what defines our basic practice and how we review and reflect on it in order to improve it," Atkinson says. "Whether you are a director of education or a supply teacher, you now have a responsibility to be recent and relevant in your practice. The framework acknowledges, recognizes and values ongoing professional learning."

Atkinson calls himself "a womb to tomb learner. From the day you're born to the day you die, you're learning something all the time, reflecting on it, and moving it into your practice." You change, reinforce, and eliminate what you need to based on information, research, experience, and your own maturation, he says.
A Birthright
For Atkinson, being a teacher was almost a birthright. His mother was a teacher. His wife Judy just retired as a principal. And two of their three children have chosen teaching as a profession. "We call it the family business," he says.

Since becoming Registrar, Atkinson has made it a priority to speak to teacher graduates at every Ontario faculty "to talk about the profession and why the College represents the future of the profession." He wants newcomers to feel that they've made the right decision.

As a teacher himself, Atkinson liked to work with the kids who were different. The ones in the margin. The ones that might have been written off by others. The ones whom, he says, "if left unattended, would've been takers instead of givers." One such lad, now grown, stopped Atkinson in the mall one day some time ago to tell him he never forgot the difference Atkinson made in his life. Then he introduced his son, Joe.

Atkinson trusts that someone else helped the students he may have missed. Maybe, just maybe, another teacher on the team made the connection those students needed.

"I've always been proud to say at a family gathering or a cocktail party that I'm a teacher. And even though I'm Registrar of the College, I still see myself as a teacher and inculcating the values of the society in which we find ourselves."

With his rapier wit and penchant for one-liners, he also could've been a stand-up comedian, friends say.

Raymond Lemley, author and former director of training for the U.S.-based National Association ofSecondary School Principals, goes back 25 years with Atkinson. At Lemley's 60th birthday party, Atkinson seized the spotlight and wouldn't give it up. "Once you give him a microphone, you pretty much have to drive a stake through him to settle him down," says Lemley, adding "As with other such occasions, it became Joe's party. The only thing he didn't do was open my presents."
Dedicated Volunteer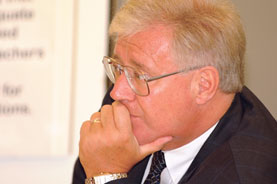 He's used that same passion, vitality, and commitment to purpose to better his community as a volunteer.

He has served as President of the United Way of Ajax-Pickering, as Chairman of the Board of Directors of the Ajax-Pickering General Hospital and was a founding member of the Hospital Council of Durham Region. He was elected to the Town of Ajax Council in 1985 and over eight years in public office served in a number of positions including local councillor, Durham regional councillor and deputy mayor. Atkinson has served as a board member of the Central Lake Ontario Conservation Authority, as vice-chair of the Ajax Hydro Electric Commission and as a member of the Rogers Cablesystems Advisory Board. For his outstanding contribution to his community, he was named the citizen of the year for 1995 and was the recipient of the Ajax Civic Award.

Bruce Cliff, former President and CEO of the Ajax-Pickering General Hospital, calls Atkinson a great guy, community-minded and progressive. The two worked hand in hand, Joe as the chair of the hospital board between 1993 and 1995, to press for the expansion of the hospital to meet the needs of the growing community. One of Cliff's fondest moments was the opening of a new tower to the hospital with Atkinson presiding over the celebration. "He's one of the finest board chairs I've ever worked with," Cliff says.

He credits Atkinson's ability to get the support of the board and the hospital and medical staff behind him to save time dealing with the government. "He's politically astute. He sets goals and motivates people to achieve those goals."

Cliff also expresses admiration for Atkinson as a "solid family man, a man of strong beliefs and ethics, and one who follows through on things."

"He's bigger than life," Cliff says. "He has a great sense of humour, and is very positive and fair minded. He sees the other person's point of view on an issue. I don't think I've met an individual who loves his community more."
Pride and Frustration
As Registrar, Atkinson says he's proudest of how the College has met its mandate in being able to accredit pre- and in-service teacher education programs, and for issuing the College's first professional advisory, advising members of the boundaries of their responsibilities and their responsibility to the safety of children.

He says his greatest frustration has been "the inability of our profession to deal with change constructively, creatively and positively," and cites examples such as multiple grade classrooms, recommendations of the Hall-Dennis Report, curriculum change, and the establishment of the College of Teachers itself.

"Our education system is still set up for an agrarian society," Atkinson says. "The kids are off in the summer to work in the fields. There aren't as many fields as there were. Today, we should be looking at things such as year-round schools. It's more efficient, more effective, better learning pedagogically, and it's cheaper."

He's also aggravated by the notion that anyone can teach. Not so, he says.

"Everybody who comes into a school, either as a student, a parent, a grandparent, an aunt or an uncle, knows a better way to do it because, after all, they were part of the process. Well, no. There's more to being a good teacher, a good principal or a good superintendent than just having been to school yourself."

What does he think about opposition to the College from within the profession itself? A great deal of it is organized spin, he says.

"When you talk to individual teachers, they want to be recognized as part of a profession. When I first came into teaching, I took a job. When my youngsters come into teaching now, they enter a profession. That's the difference. The reason is that we now have a self-regulatory responsibility. We're responsible and accountable for our actions."

When asked what he'd like to see the College eventually achieve, his answer is familiar and unwavering-delivering on the College mandate and the three promises.

"My wish-and we are moving that way-is for the College to guarantee to the public that there is a certified, qualified teacher in every classroom, that they are competent, and that students are safe in the charge of those people. I want the College to be respected for that. I have no question that over time all our members will believe that."