The Bully, the Bullied, and the Bystander
By Barbara Coloroso
Reviewed by Michael Reist

For Americans it was Littleton, Colorado. For Canadians it was Tabor, Alberta. During the spring of 1999, the issue of school bullying came out in the open when bullied students turned into bullies with guns.

In her most recent book, Barbara Coloroso gives her perspective on the bullying problem and offers helpful remedies. She makes the point that too often bullies are simply punished. No attempt is made to get at their feelings. These feelings, in fact, are usually the driving force behind the bully's hurtful actions. Bullying is a symptom not a disease, and we need to address the causes if we're going to stop it.

Coloroso is very critical of the zero-tolerance approach. She calls it a "zero-thinking" approach, punitive sometimes to the point of absurdity. She cites the example of the girl who was suspended because she brought her mother's lunch to school by mistake and it contained a plastic knife. Zero tolerance is easy to administer because it doesn't require all the time and "messiness" of getting involved in a child's emotional life.

We live in a culture that promotes bullying. We see it in politics, sports, entertainment and business. Many parents, as well as teachers and administrators, use bullying tactics. As Coloroso puts it, "bullies learn to be bullies in large part by the way they were treated by bigger or more powerful people in their lives." A strong sense of self is the best insurance policy against bullying. As with so many issues involving children and teenagers, the causes and the methods of prevention go back to the earliest years.

Bullying happens in every school - much of it unseen by teachers. Coloroso reminds adult readers that it is their responsibility to take care of children and this means being proactive. Don't wait until bullying becomes an issue. Learn about it and talk about it first in order to prevent it.

The Bully, the Bullied, and the Bystander; New York, 2002; ISBN: 0-00-200648-0; Hardcover, 218 pages, $34.95; Harper Collins; 212-207-7000; www.harpercollins.com

Michael Reist is Head of English at Robert F. Hall Catholic Secondary School in Caledon East.

---
Moving On Made Easier
By Brenda Whaley and Neil Faba
Reviewed by Helen Dolik
High shool students with disabilities making the transition to postsecondary education get a boost from this unique book.

A blind high school student wants to attend university and needs help getting around campus. Who does she turn to? A student with a learning disability in Québec wonders what scholarships are available in his province. Who does he contact?

A new book, Moving On, provides a complete guide for high school students with disabilities making the transition to postsecondary education. All they have to do now is flip through the user-friendly 137-page book or click on the web site www.neads.ca/movingon/index.html for the online version to get information.

Brenda Whaley co-authored Moving On with colleague Neil Faba. The book is edited by Frank Smith, executive director of the National Educational Association of Disabled Students (NEADS) while Chris Gaulin designed the web version.

"This book is a wonderful resource," says Whaley, a Mount Allison University graduate. "There are so many things we've presented in it. I would have loved to have it when I was at school. Students with disabilities really need to know where the resources are because there's a lot available for them."
Whaley has a passion for helping students with disabilities and has been involved in the disability field for the past six years.

The book contains information about national funding and scholarship programs, transition programs for students with disabilities, federal programs for students, national non-governmental organizations and a section on disability student groups on campuses. The book is further divided into sections to provide provincial resources. It also provides a frequently asked questions section and student success stories. Many people were consulted about the book, including asking high school students directly what they wanted in the guide.

The book was funded by the Social Development Partnerships Program of Human Resources Development Canada.

Whaley also co-authored another NEADS' publication called Faculty Awareness and Training in the Post-Secondary Community: An Annotated Bibliography.

Moving On can be downloaded from www.neads.ca/movingon/index.html. For a printed copy contact the NEADS office at 613-526-8008.
---
The Care and Education of Young Bilinguals: An Introduction for Professionals
By Colin Baker in association with Anne Sienkewizc
Reviewed by Helen Donohoe
This text provides a very comprehensive survey of the situation facing students who operate, to varying degrees, in more than one language. The writer is a Welshman who has played a role in bilingual Welsh/English education and he examines every possible aspect of monolinguism, bilingualism and multilinguism.

The approach is global-there are frequent references to Canada. It is entirely applicable to our schools, where the population is among the world's most diverse and provides us with the tools to create a linguistic profile of our students.

As the world's population becomes more mobile, linguistic configurations multiply.
The monolingual teacher is challenged to think of the state of monolingualism as something other than the point of reference and for the anglophone teacher who functions entirely in English, this is not easy.

This aptly titled text supplies the definitions to encourage schools to go beyond the acronym ESL and to create specific linguistic profiles of the student body. This is a text that belongs in the professional section of all school libraries.

The Care and Education of Young Bilinguals. NY, 2001; ISBN 1-85358-465-2; softcover, 200 pages, $19.95; Multilingual Matters; 44 (0) 1275 876519; fax 44 (0) 1275 871673; www.multilingual-matters.com

Helen Donohoe teaches at Sanford Avenue School in Hamilton.

---
10 Best Teaching Practices: How Brain Research, Learning Styles, and Standards Define Teaching Competencies
By Donna Walker Tileston
Reviewed by Marjan Glavac
How can a school with low test scores, a high dropout rate and many discipline problems be turned around to enjoy the highest test scores in the state, low incidences of discipline problems and sustain these results? Teacher, author and consultant Donna Walker Tileston believes any school can accomplish this task through the use of 10 best teaching practices.

Each chapter in her book 10 Best Teaching Practices focuses on a teaching practice essential to make an impact on student learning and provides at the end of each chapter a handy chart with assessment tools and indicators of success for each teaching strategy.

This book provides a good overview of each of the teaching practices that Tileston has chosen to highlight but, being only 83 pages in length, lacks the necessary depth to examine each in detail. When only four pages are devoted to "bridging the gap between all learners, regardless of race, socioeconomic status, sex or creed," and only three pages are devoted to promoting real-world application of learning, there's ample room to expand this book.

10 Best Teaching Practices; Thousand Oaks, CA, 2000; ISBN 0-7619-7585-3; softcover, 83 pages, US$27.95; Corwin Press; 805-499-9734; Toll free fax: 800-4-1-SCHOOL; www.corwinpress.com

Marjan Glavac is a Grade 5 teacher at Wilfrid Jury Public School in London.

---
Chicken Soup for the Teacher's Soul: Stories to Open the Hearts and Rekindle the Spirits of Educators
By Jack Canfield & Mark Victor Hanson
Reviewed by Quentin D'Souza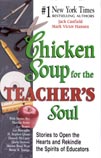 Chicken Soup for the Teacher's Soul is a heartwarming book that shows how educators change the lives of their students. It is written from a wide range of perspectives. Teachers, counselors, administrators, educational consultants, coaches and former students from preschool to university have all contributed their stories in this volume.

Each of the 11 headings covers a different part of an educator's life. The sections contain short stories-only a few pages long-that both entertain and motivate. Many of the stories begin with a beautiful quote that sets the tone of the narrative. Cartoons scattered through the book add a touch of humour.

A story, quote or cartoon would be great to start a staff meeting, workshop or provide some inspiration to a colleague. This book is excellent reading when you need a pick-me-up, especially if you are wondering what effect you can have on those you teach. Chicken Soup for the Teacher's Soul is the perfect book for an educator's bedside table.

Chicken Soup for the Teacher's Soul; Deerfield Beach, FL, 2002; ISBN 1-55874-978-0; softcover, 385 pages, $21.95; Health Communications Inc. 3201 S.W. 15th Street, Deerfield Beach, FL, 33442-8190; Available through www.Amazon.com; www.chapters.indigo.ca and other bookstores.

Quentin D'Souza teaches Grade 8 at The Divine Infant Catholic School in Toronto.