<!Begin Text Edit Here> Teachers have new support materials to help them use the new Health and Physical Education curriculum for K to Grade 10. The materials provide direction and assistance in the delivery, assessment and evaluation of the curriculum.

The materials were developed through partnerships between the Ministry of Health, school boards and the Ontario Physical and Health Education Association (OPHEA). Over 80 writers from 12 different district school boards, health units and health organizations were involved in producing the materials. The K to Grade 8 materials comprise about 30 health lessons and 100 physical education lessons per grade. Each document also has extensive background information and assessment tools, tracking sheets and student sheets.

The Grade 9 and 10 documents supplement the public school and Catholic school course profiles and provide background information, student materials and supplementary activities for all Grade 9 and 10 Health and Physical Education course profiles.

The materials were distributed through participating school boards earlier this year and OPHEA is holding workshops to help teachers use the new resource.

For more information about the materials and workshops, contact the Ontario Physical Health Education Association at 416-426-7083 or visit their web site at www.ophea.net .


---

Ottawa Teacher Wins ACELF Award

Drama teacher Lise Paiement from Collège catholique Samuel-Genest in Ottawa has won the Prix national 2001 de la francophonie for her outstanding contribution to French cultural life in Canada. Paiement received her award at a ceremony in Ottawa on March 20. The Prix de la francophonie, awarded by the Association cana-dienne d'éducation de langue française (ACELF), honour students and education professionals in Canada's French-language schools. The awards recognize ongoing dedication to the promotion of French-language education and culture.

In nominating Paiement for the award, Samuel-Genest vice-principal Sylvio Granger said the student population as a whole and the community benefit from her teaching practice and her promotion of French-language cultural activities. She devotes a great deal of time to producing two shows every year that highlight French of a high calibre and conveys her passion for French culture. She has given lectures and led workshops all over Canada on the importance of speaking French in Canada's small communities.

ACELF is a national association for the promotion of French-language education and culture in Canada. In addition to research activities, it promotes co-operation among the driving forces behind French-language education. For more information about ACELF and the Prix de la francophonie, visit www.acelf.ca.


---

Women in IT Urge Girls to Jump in

More than 80 professional women came to the Canadian Information Processing Society's Women in IT: Looking Towards the Future conference in Toronto with a message for female students from two local school boards.

"It's been my experience that the glass ceiling doesn't exist in the IT sector," said Jill Velenosi, Deputy CIO of the Treasury Board Secretariat of Canada. Deloitte Consulting's studies showed that women who remain in the information technology field are being promoted. In 1993, 6.5 per cent of partners were women. By 2000, the number had grown to 14 per cent. Loretta Fladhamer, Manager of Web Evolution for Small Business Solutions at Nortel confirmed that gender discrimination is fading, based on her experience in the field over the past two decades. When she was younger, she was very good at math and sciences.

"But I kept that a secret from my friends because it was geeky to be smart. Now that I'm in the industry it's very cool to be smart and to be technology savvy... Everyone uses technology. [It's] pervasive in almost every job now." She said she hasn't witnessed gender-related discrimination in more than four years. Participants were told that, although more and more women are going into the field of information technology, the percentage of women in the field is shrinking. Girls have many misconceptions about IT careers, not understanding the great choice available in jobs, responsibilities, activities and working situations.

Women are still the minority in this field, and the numbers are rapidly shrinking. Three years ago, women made up more than 36 per cent of the high-tech workforce. Today, they account for only 27 per cent, virtually the same percentage of girls enrolled in high school computer courses. At the university level, "females comprise only 15 to 20 per cent of students enrolled in computer science," said Faye West, president of CIPS. This worrisome statistic was just one of the driving forces behind CIPS's decision to host the first-ever event for girls from the Peel District and Toronto Catholic school boards. "Considering the IT industry is a sector where we need more skilled professionals, it is important for the future of our industry that we attract more women," said West.

Teachers and guidance counsellors were encouraged to discover female-oriented computer software, programs and activities that change girls' perceptions of a career in information technology.

For more information, visit www.cips.ca.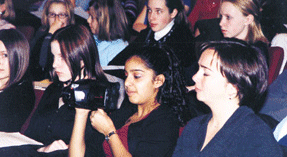 No glass ceiling here, women professionals in IT told girls from two Toronto-area school boards as they urged them to jump into an industry that values their science and math skills.
---

New York Faces Difficulties Hiring Certified Teachers

A court order that forced the New York City school board to ensure that its lowest-performing schools are assigned newly certified teachers has resulted in 2,000 of those newly certified teachers turning down jobs that would have placed them in poor schools, said the city's school board. By 2003, New York's approximately 1,100 schools at all levels will have to hire certified teachers.


---
OSClub Showcase
Students Andrew Smart, Steven Lambruschini and Nadeesha Jayasinghe, Ontario Science Centre staff members Maureen Kinghorn and Allan Busch, and students Yvette Lam and Vinayak Viswanathan inspect one of the many science and technology projects exhibited at the OSClub showcase held recently at the Science Centre.
Teacher Nita Singh of D. A. Morrison Jr. High School welcomes participants to the OSClub showcase, a joint project of the Ontario Science Centre, the Toronto District School Board and the Lucent Technologies Foundation held to present the work of Ontario science students.

Student Vijeetha Raviraj and Paul Nicholls, a teacher at Weston Collegiate Institute were, among the 63 students and 11 teachers who participated in OSClub's hands-on science, mathematics and technology projects during the fall and winter along with mentors from Lucent Technologies, Atomic Energy of Canada, Glaxo-Wellcome, M.D.Robotics, the Lunenfeld Research Institute and the Ontario Science Centre. For more information about next year's OSClub, visit www.geocities.com/edm.rm/osclub.html.

<!End Text Edit Here>