<!Begin Text Edit Here> By Rosemary Kennedy

"Summertime, and the livin' is easy"... not really, but most of us still look forward to summer as a time when we can relax a little, and maybe catch up on some reading.

One of our reviewers told us he'd found the perfect book to take along on a camping trip – Skeptics and True Believers: The Exhilarating Connection Between Science and Religion by Chet Raymo. (Doubleday, 1999, softcover, $16.95; ISBN 0385257643). "I actually found myself walking around the house looking for someone, anyone, to whom I could read favourite passages aloud." When a teacher writes that a book is so inspirational that it "totally bowled me over" it bears investigation. Our reviewer writes that The Courage to Teach by Parker J. Palmer (Jossey-Bass Publishers, 1999; hardcover, $35.95; ISBN 0787910589) is a beautiful book that shows teachers how to maintain their courage and provide students with the very best in education.

Comments about Making Your Classroom Work by Carol Ross (Pembroke Publishers, softcover, $12.95; ISBN 1551380358) included: "When things are not going as smoothly as I would like, I turn to this book. It helps me get back on track", "This book has practical hints on everything from discipline to communication, team teaching to classroom decor, record-keeping to report cards," and "I read it at least once a year." Our reviewers recommended Classrooms That Work: They Can All Read and Write by Richard Allington and Patricia Marr (Dale Seymour, 1998; softcover, $38.95; ISBN 0321013395) for teachers of Kindergarten or primary classes. Secondary school teachers will find some interesting ideas in Rethinking High School: Best Practice in Teaching, Learning, and Leadership by Harvey Daniels, Marilyn Bizar and Steven Zemelman (Heinemann, 2000; softcover, 300 pages, US$23.50; ISBN 0-325-00324-6) which is reviewed on page 54.

It would take much longer than a summer break to read half of the books our reviewers recommended. For the full list of recommended reading visit the College web site at www.oct.ca/english/ps/june_2001/read_list.htm.


---

Classroom Classics Your Summer Reading Pleasure

Asking teachers to name three books they couldn't possibly be without in the classroom is a little like the old game of naming the three books you would take to a desert island.

By Rosemary Kennedy

A few favourites surfaced time and again in Professionally Speaking's recent informal poll of reviewers' can't-do-without classics. The wide range of choices often reflected particular areas of expertise, but a number of books showed up on many top-three lists.

Among these, a clear favourite was How to Talk So Kids Will Listen, and Listen So Kids Will Talk by Adele Faber and Elaine Mazlish. (Avon Books, New York, 1999, softcover, $19.95; ISBN 0380570009). This book, now in a 20th anniversary edition, offers advice and solutions that are as timely today as they were when it was first published. The authors offer innovative ways to solve common problems in a supportive, friendly and effective manner and the book is packed full of good suggestions that are down to earth and easy to use. For new teachers, The First Days of School: How to Be an Effective Teacher by Harry K. Wong and Rosemary T. Wong appears to be a must read. (Harry K. Wong Publications, Inc., Mountain View, CA, 1998, softcover, 352 pages, US$29.95; ISBN 09629360-2-2). Our reviewers say this excellent publication continues to be a valuable resource to veteran teachers too. It will walk you through the most effective ways to begin a school year.

Another popular choice was Special Education in Ontario Schools by Ken Weber and Sheila Bennett. (Highland Press, 1999, softcover, $29.95; ISBN 0969306172). Now in its fourth edition, this best-selling book has been completely revised. It details and discusses various exceptionalities and terms, provides case studies to further illustrate the topics, and addresses questions and concerns of both educators and parents. It also explains the process that students go through in order to get into special education classes in Ontario.

Reviewed in the June 1999 issue of Professionally Speaking, another valuable Canadian resource is How to Grade for Learning by Ken O'Connor. (Skylight Professional Development, 1999, softcover, US$27.95; ISBN 1-57517-123-6). In clearly written language, O'Connor sets down guidelines and sample assessment tools and presents lucid assessment strategies that will reflect what students know and have learned.

<!!!!!!!!!!> <!For the full list of classic books on education our reviewers recommended, visit> <!a href="http://www.oct.ca/english/ps/june_2001/read_list.htm"> <!www.oct.ca/english/ps/june_2001/read_list.htm> <!/a> <!br><!br> <!!!!!!!!!!>
---
That Body Image Thing: Young Women Speak Out

Edited By Sara Torres
Reviewed by Eileen C. Winter

Over the years, the Canadian Research Institute for the Advancement of Women (CRIAW) has expressed concern about society's emphasis on unrealistic standards of beauty and personal appearance and its impact on young women.

To gain a more personal perspective, CRIAW, in collaboration with Chatelaine magazine, invited young women from across Canada to write about body image and self-esteem. This volume presents a selection of those essays.

The voices of these young women are remarkable. Many speak out about their despair and self-loathing, of hating themselves and their bodies. Bombarded by media images of who they should be and how they should look, young women today face many challenges if they are to be true to themselves and accept their bodies just the way they are.

That Body Image Thing is important reading for all of us – parents and educators – who deal with young people on a regular basis. It would be an excellent addition to any school library and could usefully be integrated into the curriculum in a number of ways. In our society today, we have young women damaging themselves irreversibly in an attempt to live up to some sort of image of perfection. We all need to listen to what they are saying and to their discovering of who they really are.

That Body Image Thing: Young Women Speak Out, Ottawa, 1999; ISBN 0-919653-83-9; softcover, 128 pages, $13.95; CRIAW/ICREF; 613-563-0681.

Eileen C. Winter currently teaches BEd and MEd students at the Faculty of Education, Nipissing University.


---
Rethinking High School: Best Practice
in Teaching, Learning, and Leadership

By Harvey Daniels, Marilyn Bizar, Steven Zemelman
Reviewed by Rick Chambers

Rethinking High Schools is the story of the first four years of Best Practice High School (BPHS). The authors – all professors at National Louis University in Chicago – use their 10 principles for good schools as the chapter divisions in the book – school size, climate, voice and leadership, teaching, curriculum, community experience, scheduling, technology, assessment, professional development and relationships.

The engaging point about the book, however, is that it is not a record of the school's achievements, but of its struggles to implement the ideas suggested by the 10 principles. Daniels, Bizar and Zemelman candidly admit that some elements of each principle are difficult to operationalize. As part of the Chicago public school system, BPHS had to play by the system's rules, which inevitably created problems with staffing, technology, assessment and school climate, among others.

Using Best Practice High School as the example, Rethinking High School presents sensible, humane principles for restructuring secondary schools as safe learning centres. The authors concede, however, that after four years, there is still much work to do. After Columbine, it was a sobering moment for the staff when the students insisted that the metal detectors be re-installed on the outside doors. Despite everyone's best intentions, the students explained that they could not trust everyone who might enter their school.

The book ends with the graduation of the first class, and the valedictorian's comment, "I didn't go to a high school – I created one!" Rethinking High School with its conversational and self-deprecating tone makes engaging and highly readable research.

While admitting that their plans have not been perfect, the authors manage to convey their affection for and commitment to students, and their determination to keep working to create a school that embraces best teaching practice for improved student learning.

Rethinking High School: Best Practice in Teaching, Learning, and Leadership, Portsmouth, NH, 2001; ISBN 0-325-00324-6, softcover, 282 pages, US$23.50; Heinemann, (Irwin Publishing); 416-798-0424, fax 416-798-1384; e-mail: ipt@irwin-pub.com .

Rick Chambers is a program officer in the College's Professional Affairs Department.


---
Teacher Adviser Groups: A Complete Program, Grades 9-11

By Leo Plue
Reviewed by Belinda M. Mooney

In one slim three-ring resource binder, Leo Plue has compiled a creative, comprehensive Teacher Adviser Groups (TAG) program. It is divided into three sections. The first gives an overview of teacher adviser groups and covers such topics as key roles and duties of teacher advisers; characteristics of effective advisers; role of and benefits to the student; a refresher on adolescent development and suggestions for guest speakers. All information is bolded, bulleted, quick and easy to read. The second and third sections contain an abundant supply of activity planners and reproducible blackline masters for Grades 9-10 and Grade 11. All activities are cross-referenced to the Ontario Annual Education Plan, the Grades 9-12 report card, the Guidance and Career Education document and the Choices into Action document.

Every activity planner outlines the purpose of the activity, lists resources needed, describes how the activity should proceed and suggests follow-up activities. The blackline masters feature student-friendly fonts and typography with attractive graphic organizers to inspire and engage students in today's diverse multilingual multi-ability classroom.

Plue anticipates that each activity can be completed in 30-45 minutes. The activities are fun to do while addressing meaningful topics, promoting self-reflection and fostering positive interactions with others. Examples of some of the Grades 9-10 blackline masters are: Coat of Arms, Designing a T-shirt, Peer Interview, People 101 and Scavenger Hunt Bingo. The Grade 11 activities progress to more senior topics, such as emotional intelligence, philosophy of life, student leadership, career planning, marketing yourself and planning for postsecondary education.

Leo Plue has created a vehicle that will engage students in the introspection and goal-setting necessary to planning for successful futures and for completing their annual education plans and has given teachers a program that can be facilitated easily and effectively. A similar publication is available for Grades 7 and 8.

Teacher Adviser Groups: A Complete Program, Grades 9-11, Toronto, 2000; ISBN 0-7725-2745-8; 3-ring resource binder, $49.95; Irwin Publishing; 416-798-0424; fax 416- 798-1384; www.irwin-pub.com; Grades 7-8; ISBN 0-7725-2744-X.

Belinda M. Mooney teaches at Lincoln M. Alexander Secondary School in the Peel District School Board.


---
Learning to Change: Teaching Beyond Subjects and Standards

By Andy Hargreaves, Lorna Earl, Shawn Moore and Susan Manning
Reviewed by Rick Chambers

Many teachers will read Learning to Change and feel vindicated, or at least relieved, that someone has finally confirmed what they have been saying about education reforms. Respected researchers and writers Andy Hargreaves, Lorna Earl, Shawn Moore and Susan Manning focus on 29 Grade 7 and 8 Ontario teachers "to understand how change-oriented teachers make sense of the required, complex educational changes, how they bring them to life or make them real in their classes, what helps or hinders them, and what the process of change requires and demands of them."

The upside of the new educational orthodoxy emphasizes the quality and character of what students are expected to learn, tries to ensure that all students will meet the same high standards and recognizes that assessment has become the tail wagging the curriculum dog.

The downside of the reform movement has meant that curriculum coverage has become more important than learning, that the student's voice has been eliminated in the learning process, and that an emphasis on literacy, numeracy and science has occurred at the expense of the arts. The teachers who were part of the study needed to rely on each other to wade through the new curriculum expectations and outcomes. With complex and sophisticated standards or outcomes, or in some cases, contradictory and vague outcomes, planning time with colleagues was essential so that intellectual challenges could be met together. "Professional collaboration can be an exceptionally important asset to the curriculum planning process, giving it clarity, consistency, and momentum" and "cannot be regarded as an expendable frill by budget-conscious reformers."

The authors' study of the teachers in question also focused on the emotional work of change. "Our data clearly show that teachers' classroom commitments extend beyond issues of cognitive learning to encompass their emotional relationships with and connections to students, to care for students, to pursue a strong social mission of teaching their students in ways that develop them as tolerant and respectful citizens and not merely high-performing learners and future workers". Learning to Change supports thoughtful school reforms, but not at any cost. Teachers should read this book for its cogent arguments and documented evidence. Administrators should read it for methods to sustain improvements in their schools. Policy-makers should read it and readjust their timelines and tactics to ensure co-operation in the field and not just compliance.

Learning to Change; San Francisco, 2001; ISBN 0-7879-5027-0; hardcover, 224 pages, $43.50; Jossey-Bass; 1-888-378-2537, fax: 1-800-605-2665, www.josseybass.com.

Rick Chambers is a program officer in the College's Professional Affairs Department.


---
Weaving Literature Into the Writers' Workshop

By Blanche Lamont
Reviewed by Angela D'Alessandro

Looking for a well-written, practical book for teachers of the elementary level to engage students' writing? In her book, Weaving Literature Into the Writers' Workshop, Blanche Lamont offers teachers a variety of ways to enhance students' writing through reading and provides an array of pragmatic, practical suggestions that are easy to use and easy to follow in the classroom.

Lessons to help students create written works are clearly outlined and exemplified. An extensive bibliography of quality children's literature is categorized for ease of use in the writing classroom. The appendices contain excellent sample letters and suggestions for conferencing and proofreading with students. Lamont offers us a book about the writing process with a genuine difference – quality published children's literature is used in a mentoring capacity to stimulate ideas for student writing. Children are encouraged to learn about writing through reading.

Encouraging children to read like writers and providing them the opportunity to do so is an intriguing concept. Shortly into the book, I was engrossed with this notion and began thinking of all the new strategies I was going to apply to strengthen my reading and writing program.

Weaving Literature Into the Writers' Workshop; London, 1999; ISBN 0-920354-44-0; softcover, 176 pages, $23.95; The Althouse Press; 519-661-2096, fax: 519-661-3833; e-mail: press@julian.uwo.ca.

Angela D'Alessandro is a Grade 7 teacher for the Greater Essex County District School Board.


---
Information Technology for Schools: Creating Practical Knowledge to Improve Student Performance

Bena Kallick and James M. Wilson III, editors
Reviewed by Patrick Abtan

This book attempts to provide strategies to create a framework where student performance can be improved by using IT. Using chapters written by practitioners, it discusses what has been done, what should have been done, whether it worked and where we are going now.

The authors focus on American and elementary issues, but it's a good read for educators involved in IT and offers many good points, including expertise and PD for teachers.

Information Technology for Schools: Creating Practical Knowledge to Improve Student Performance; San Francisco; Jossey-Bass, 2001; softcover, 121 pages; $29.95; ISBN 0-7879-5522-1; John Wiley & Sons, 416- 236-4433, 1-800-567-4797, fax 416-236-8743, 1-800-565-6802

Patrick Abtan is vice-principal at Georges Vanier S.S. in Toronto.


---
Who Will Teach? A Case Study of Teacher Education Reform

Rena Upitis, Senior Editor
Reviewed by Meredith Lordan

This collection examines the implementation of, responses to and issues arising from a new model of pre-service education at the Queen's University faculty of education. Central to this model is an extended practicum. Although this specialized discussion would be of greatest interest to administrators at faculties of education and the Ontario College of Teachers, the text raises pertinent questions that may guide the emergence of responsive pre-service education.

Who Will Teach? A Case Study of Teacher Education Reform, San Francisco, 2000; ISBN 1-880192-32-2; softcover, 318 pages, US$29.95; Caddo Gap Press, 416-922-1911; e-mail: caddogap@aol.com.

Meredith Lordan teaches English, History and Contemporary Studies at R. H. King Academy in Toronto.


---
From Reader to Writer

By Sarah Ellis
Reviewed by Sandra Jack-Malik

This thought-provoking book allows students to see themselves as members of the reading and writing community, along with some of their favourite authors. Each chapter follows the same format, making the book very easy to use, and takes a real life story from the writer's childhood – one that often appeared years later in the author's writing. Specific writing activities are included, as well as a related, annotated list of books by other authors that students might enjoy. I highly recommend this book, which is thoughtful, original, teacher and student- friendly, and a pleasure to read.

From Reader to Writer – Teaching Writing Through Classic Children's Books, Toronto, 2000; ISBN 0-88899-372-2; hardcover, 168 pages, $28.95; Groundwood Books; 416-537-2501; fax: 416-537-4647

Sandra Jack-Malik is an elementary teacher at Elizabeth Bagshaw School in Hamilton.


---
The Art of Evaluation – A Handbook for Educators and Trainers

By Tara Fenwick and Jim Parsons
Reviewed by Susan Elliott-Johns

This book is very timely as educators across the country continue to grapple with the complex issues involved in authentic evaluation. Written by two Canadian university professors, it pulls together an invaluable collection of resources related to the theory and practice of evaluation and underscores the importance of what we are doing, and why we are doing it, if we are to better understand how to evaluate. Although the book is directed specifically towards instructors in adult education, many examples are equally informative and applicable whether one teaches primary or postgraduate students. This is an excellent resource.

The Art of Evaluation – A Handbook for Educators and Trainers; Toronto; 2000, Thompson Educational Publishing; ISBN 1-55077-104-3; softcover, 244 pages; $39.95; 416-766-2763; fax: 416-766-0398; e-mail: publisher@thompsonbooks.com

Susan Elliott-Johns, a former principal in Ontario, is currently completing her PhD at McGill University and teaches at the University of Prince Edward Island.


---
Plant a Garden in Your Sneaker

By Diane L. Burns and Jill A. Burns
Reviewed by Heather Wheeler

This is a 60-page, well-organized, well-written and colourfully illustrated book for gardeners young and old. It contains great projects, interesting facts and fun-filled challenges. It is easy to understand and the materials required for each project are readily available. Both my 10-year-old son and I thoroughly enjoyed reading the book and trying out some of the projects. Geared towards kids, this would be a great resource book for teachers who are looking for fun science projects to do with their class.

Plant a Garden in Your Sneaker; New York, 1998; softcover, 64 pages, $17.95; ISBN 0-07-009228-1; McGraw-Hill, McGraw-Hill Ryerson; 905-430-5010, fax: 905-430-5020; www.mcgrawhill.ca.

Heather Wheeler teaches at Cordella Avenue Junior Public School in Toronto.


---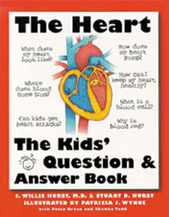 The Heart: The Kids' Question and Answer Book

By J. Willis Hurst, M.D. and Stuart D. Hurst
Reviewed by Heather Wheeler

This is a science book that kids will read and teachers can feel confident in using. Between the colourful illustrations and child-friendly language – approved by the author's 10-year-old grandson – this is a book that will interest your students and support the curriculum at the same time. I suggest you have this book around your classroom, not just while you are studying the human body, but all year long as a reference book for any kid interested in how the heart works.

The Heart: The Kids' Question and Answer Book; New York, 1999; ISBN 0-07-031829-8; softcover, 30 pages, $14.95; McGraw-Hill Ryerson; 905-430-5010, fax: 905-430-5020; www.mcgrawhill.ca.

<!End Text Edit Here>